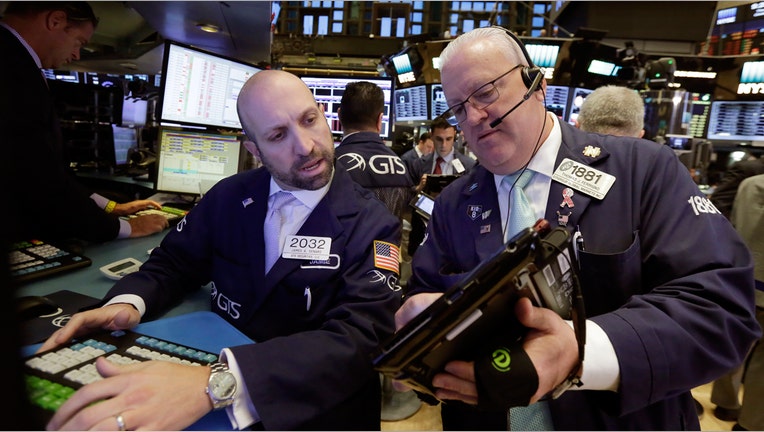 The Dow Jones Industrial Average headed toward a fourth consecutive record close Tuesday, even as investors pulled back from some of the most popular post-election trades.
In recent sessions, investors have sold bonds and their stock-market proxies, dividend-paying shares like utilities, while snapping up stocks of banks and infrastructure companies. Many of those bets reflected expectations that President-elect Donald Trump will increase fiscal spending, lower corporate taxes and ultimately boost growth and inflation.
But on Tuesday, the "reflation trade" showed signs of slowing.
"The markets are still trying to make assumptions about what Trump may be putting in place once he becomes president," said Thomas Brinker, senior investment manager at Brinker Capital.
Financial stocks, which have rallied since Election Day as investors bet on looser regulations and higher interest rates, lost 0.3% in the S&P 500.
Dividend stocks rebounded, with the S&P 500 utilities sector rising 1.5% after four sessions of losses. Gold, which had closed lower six sessions in a row, settled up 0.2% at $1,224.40 an ounce.
The Dow Jones Industrial Average rose 34 points, or 0.2%, to 18902. The blue-chip index has gained more than 3% since the election.
The S&P 500 rose 0.7% Tuesday. The Nasdaq Composite, lifted by a rebound in tech stocks, added 1.2%.
Long-term government bonds extended a post-election selloff on Tuesday. The yield on the 10-year U.S. Treasury note rose to 2.240% from 2.224% on Monday and posted its largest six-day yield gain since December 2010. Yields move inversely to prices.
Short-term debt fell after data from the Commerce Department showed a rise in October retail sales. The yield on the two-year U.S. Treasury note rose to 1.008%, their highest level since Jan. 5 and up from 0.988% Monday. A stronger economy bolsters the case for the Federal Reserve to raise rates, which makes government bonds less appealing to hold.
"We may be in for a bit of a tussle here," said Scott Colyer, CEO and chief investment officer of Advisors Asset Management, who added that he expects bond prices will remain lower for the foreseeable future.
In currencies, the WSJ Dollar Index, which measures the dollar against a basket of 16 currencies, inched up less than 0.1%, on course for a seventh session of gains.
In commodity markets, U.S. crude-oil prices snapped a three-session losing streak as traders positioned for a meeting of the Organization of the Petroleum Exporting Countries at the end of the month, where members are set to discuss a proposed production cut. U.S. crude oil rose 5.7% to $45.81 a barrel, their biggest one-day percentage gain since April.
Energy stocks rallied. Chesapeake Energy rose 10%, Murphy Oil rose 8.2% and Apache gained 7%.
Elsewhere, the Stoxx Europe 600 rose 0.3% following a subdued session in Asia. The Shanghai Composite Index and Japan's Nikkei Stock Average ended with small losses after three sessions of gains, while Hong Kong's Hang Seng rebounded 0.5%.