Dow Logs Highest Close Since '07; Eyes Record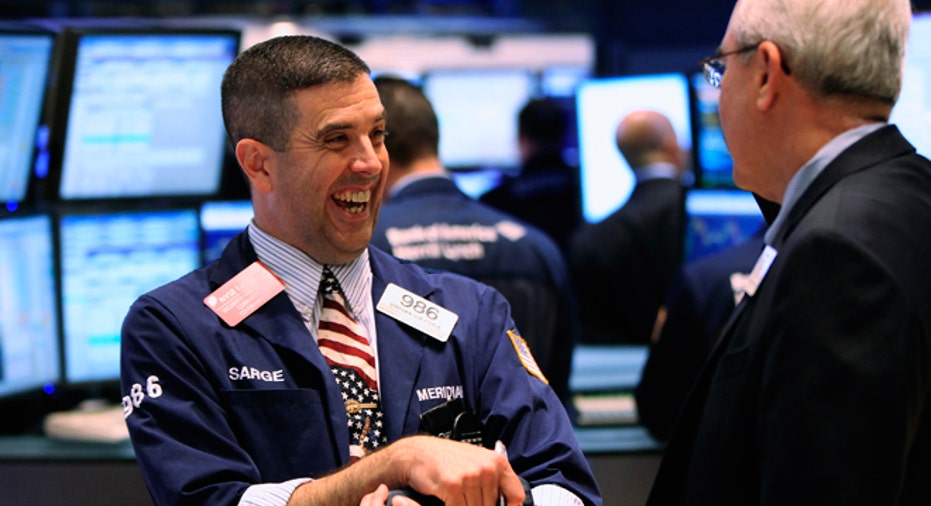 FOX Business: Capitalism Lives Here 
The blue-chip average ended at its highest level since October 2007 Tuesday, climbing within 130 points of its all-time closing high. The broader S&P 500 also logged a five-year high, while the Nasdsaq ended at its best level in 12 years.
Today's Markets
The Dow Jones Industrial Average rose 53.9 points, or 0.39%, to 14036, the S&P 500 gained 11.2 points, or 0.73%, to 1531 and the Nasdaq Composite climbed 21.6 points, or 0.68%, to 3214.
Every major closed in the green with the exception of materials. The energy, consumer staple and utility sectors posted the best performance. On the other end of the spectrum, material stocks struggled.
While the Dow is less than 1% off its record close, the S&P still has about 2.2% to go and the Nasdaq is 36% off its dot-com era high. The recent race higher on Wall Street has been accompanied with very smooth trading. Indeed, volatility, as tracked by the CBOE's VIX, has receded to levels not seen since 2007.
German Sentiment Data Top Expectations
The focus early in the day was on a closely-watched survey from the Centre for European Economic Research (Zew) on German economic sentiment. The Zew gauge surged 16.7 points to 48.2 in February, easily beating estimates of 35 and marking its highest level since 2010.
"The financial market experts have made their peace with the weak fourth quarter of 2012," Zew President Wolfgang Franz wrote in a report.
"In their opinion the German economy faces less headwinds from the euro crisis than throughout the last months. If this situation remains unchanged during the next months, German business activity may pick up speed moderately."
Germany is Europe's biggest economy and a major exporter. It has struggled with headwinds from the eurozone debt crisis, but has began to show signs that it is ready to rev up again this year.
On the corporate front, Office Depot (NYSE:ODP) and OfficeMax (NYSE:OMX) were said to be in advanced negotiations for a potential merger, according to multiple media reports. A combination could help the two office-supply stores rival giant Staples (NASDAQ:SPLS).
Google (NASDAQ:GOOG) hit a fresh record high above $800 a share. Quarterly results from Dell (NASDAQ:DELL), which has revealed plans to be taken private by its founder Michael Dell and a consortium of investors, are due after the closing bell. Microsoft (NASDAQ:MSFT) said it now has 60 million active users on Outlook.com, the software heavyweight's online email suite designed to compete with Google's Gmail.
Elsewhere, a report from the National Association of Home Builders showed sentiment unexpectedly dropping slightly in February. The group's gauge slipped to 46 from 47 the month before, missing expectations of an increase to 48.
President Barack Obama also held a speech, urging Congress to pass legislation that avoids sequestration -- painful, arbitrary spending cuts due to kick in in two weeks. Goldman Sachs Chief U.S. Economist Jan Hatzius issued a note to clients over the weekend saying the investment bank believes fiscal downside risks to U.S. economic growth have "diminished;" however, so-called fiscal drag is expected to weigh throughout 2013.
In commodities, oil prices drifted higher. The benchmark U.S. crude contract gained 80 cents, or 0.83%, to $96.66 a barrel. Wholesale New York Harbor gasoline fell 0.42% to $3.121 a gallon. Gold dipped $5.30, or 0.33%, to $1,604 a troy ounce.
Foreign Markets
The Euro Stoxx 50 rallied 1.3% to 2650, the English FTSE 100 rose 0.52% to 6352 and the German DAX jumped 1.2% to 7717.
In Asia, the Japanese Nikkei 225 fell 0.31% to 11372 and the Chinese Hang Seng sold off by 1% to 23144.