Dow Logs Fresh Record Close on Strong China Data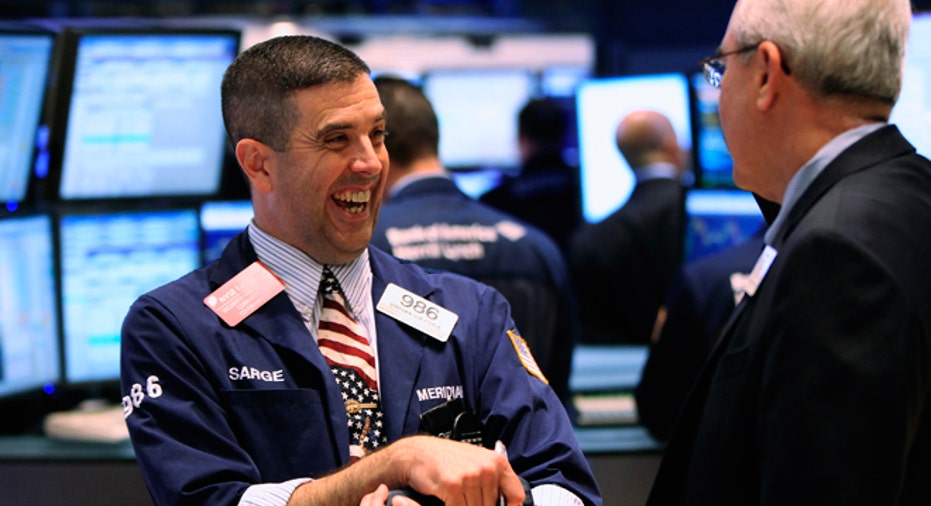 FOX Business: Capitalism Lives Here
The blue-chip average notched a fresh record close on Tuesday after data suggesting price pressure in China is in check overshadowed a weak U.S. wholesale inventory reading.
Today's Markets
The Dow Jones Industrial Average rose 60 points, or 0.41%, to 14673., the S&P 500 gained 5.5 points, or 0.35%, to 1569 and the Nasdaq Composite climbed 15.6 points, or 0.48%, to 3238.
Retail-level inflation in China fell to a year-to-year rate of 2.1% in March from 3.2% the month before. Economists expected a reading of 2.4%. The data "put to bed any fears that the People's Bank of China will hike interest rates," David Madden, a market analyst at IG in London wrote in an e-mail.
That comes as good news to many traders who have worried that the world's second-biggest economy may see its growth slow down rapidly, especially if the PBoC pulled back on its monetary policy levers.
However, counterbalancing those data, was a weaker-than-expected wholesale inventories report. Wholesale inventories slumped 0.3% in February from the month before, compared to expectations of a 0.5% gain. It was the biggest decline since September 2011. Inventories are generally seen as an indicator of expected demand.
On the U.S. front, Alcoa (NYSE:AA) unofficially kicked off earnings season with mixed results. The blue-chip aluminum maker revealed adjusted first-quarter profits of 11 cents a share, topping expectations of 8 cents. Meanwhile, revenues came in at $5.8 billion, shy of expectations of $5.88 billion.
J.C. Penney (NYSE:JCP) ousted Apple (NASDAQ:AAPL) alumnus Ron Johnson from its top spot, installing its former chief executive, Mike Ullman, at the helm. Traders panned the news, sending the stock sinking close to 10%. Still, analysts at Citigroup (NYSE:C) told clients Tuesday Ullman is a "strong choice" based on his deep experience in retail and at struggling Penney.
Elsewhere, energy and gasoline futures were in the green. The benchmark U.S. crude oil contract rose 21 cents, or 0.22%, to $93.57 a barrel. Wholesale New York Harbor gasoline climbed 0.88% to $2.935 a gallon. In metals, gold fell $1, or 0.06%, to $1,572 a troy ounce.
Foreign Markets
The Euro Stoxx 50 climbed 0.65% to 2606, the English FTSE 100 gained 0.5% to 6308 and the German DAX rose 0.32% to 7686.
In Asia, the Japanese Nikkei 225 was flat at 13192 and the Chinese Hang Seng jumped 0.7% to 21870.