Dow Closes Above 18K for First Time Since July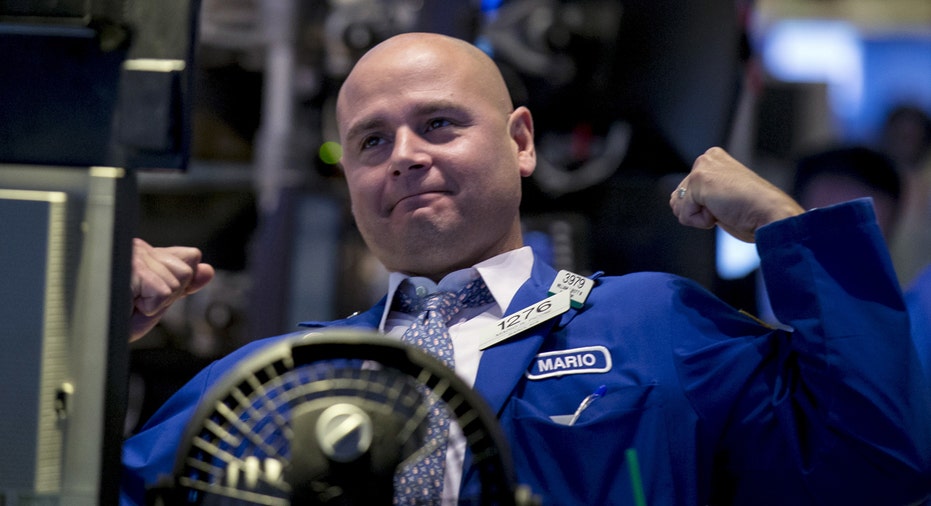 U.S. equity markets kicked off the week on a high note thanks to momentum from the energy sector and Dow components Disney (NYSE:DIS) and Chevron (NYSE:CVX).
The  Dow Jones Industrial Average rose 105 points, or 0.59% to 18003. The S&P 500 gained 13 points, or 0.65% to 2094, while the Nasdaq Composite added 21 points, or 0.44% to 4960.
The energy and health care sectors led all 10 S&P 500 sectors into positive territory.
Today's Markets
The Dow Jones Industrial Average closed the session above the 18000 level, crossing the psychologically-significant milestone for the first time since July. The blue chip average was led by heavyweights Disney, Chevron, and Microsoft.
Shares of Disney rallied more than 2.5% on the session after a strong opening at the box office for Jungle Book. The flick grossed $103.6 million over the weekend, the second-biggest April opening is history behind "Furious 7's," which brought it $147.2 million during its launch.
Chevron, meanwhile, posted gains of more than 1%, as the broader energy sector rallied and oil prices recovered much of their lost ground after a breakdown in talks among the world's biggest crude producers over the weekend. A scheduled meeting in Doha, Qatar on Sunday ended with no agreement to curb production at early-2016 levels. Many on the Street expected producers to emerge with an announcement of a freeze, which would be aimed at helping alleviate a global supply glut that has dragged oil prices to multi-year lows around the world.
"The political tension between Saudi Arabia and Iran trumped the economics for agreeing to a deal," analysts at Barclays wrote in a Sunday note. "The producer countries are likely to meet again at the OPEC meeting in June, but we assign little meaning to the process in light of the fundamental rebalancing that is underway."
Crude oil prices initially saw a drop of nearly 7% in the hours after the meeting's conclusion, but regained their footing by midday Monday. West Texas Intermediate crude, the U.S. benchmark, settled down 1.44% in recent action to $39.78 a barrel, while Brent crude tiptoed into positive territory, before sliding back 0.44% to $42.91 a barrel.
Elsewhere in commodities, metals moved mostly lower as traders ditched their safe havens for riskier assets. Gold prices ended the session up 0.04% to $1,233 a troy ounce, while silver declined 0.37% to $16.24 an ounce. Copper gained 0.56% to $2.16 a pound.
Meanwhile, traders also kept an eye on the outlook for interest rates after New York Federal Reserve President William Dudley repeated his assertion the central bank is in no rush to raise rates. His comments came in opening remarks at a conference called "The Transatlantic Economy: Convergence or Divergence."
The Federal Open Market Committee raised interest rates for the first time in nearly a decade back in December, but has kept short-term rates steady since that meeting thanks to worries about slowing global growth. The policy-setting FOMC meets again next week to discuss changes to the economic outlook. Fed Funds futures, a gauge of the market's views on changes in monetary policy, show just a 3% chance of a rate hike at that meeting.
The yield on the benchmark 10-year U.S. Treasury bond gained 0.033 percentage points to 1.785%. Yields move in the opposite direction as prices.