Dow Chemical's Andrew Liveris to Depart; Jim Fitterling to be CEO of New Dow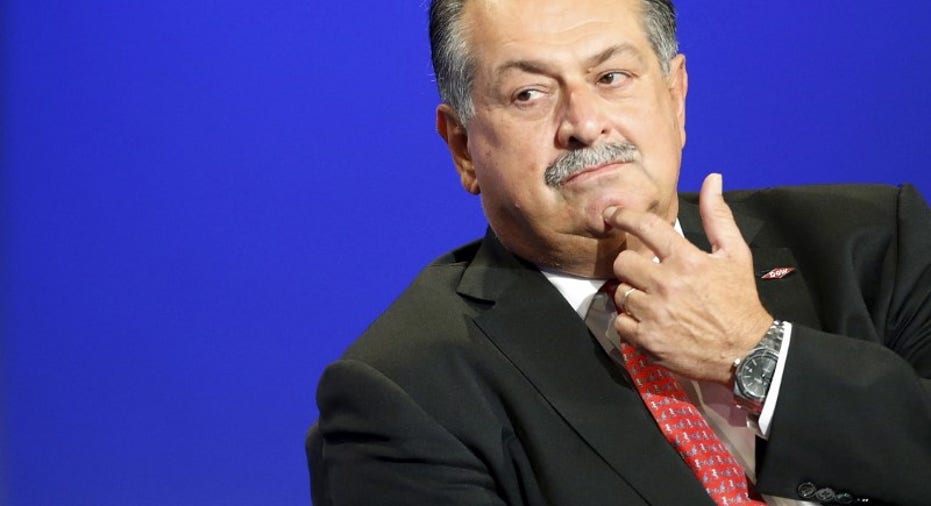 Longtime Dow Chemical leader Andrew Liveris plans to step down next month, ending a nearly 14-year tenure that culminated with the chemical giant's combination last year with rival DuPont.
Mr. Liveris will relinquish the role of executive chairman of the combined company April 1, it will announce Monday. Co-lead director Jeff Fettig will assume that role at the company, now known as DowDuPont and soon to be broken apart.
Liveris lieutenant Jim Fitterling will be chief executive of the materials-science company, to be known as Dow, that is expected to be created when the breakup takes place next year.
Mr. Liveris, 63 years old, had said he would likely depart this year, but he had already delayed the move once and the advisory board of the materials-science company hadn't yet named a successor.
Dow's board and Mr. Liveris had gone through a search process that involved Mr. Fitterling, who is chief operating officer for the materials business, and Howard Ungerleider, DowDuPont's chief financial officer, according to people familiar with the matter. The candidates, both of whom have spent their entire careers at Dow and held several roles, met with directors and made presentations in recent months, the people said.
Mr. Fitterling, 56, won the job in recent weeks, they said. Mr. Ungerleider, 50, will be named president on top of his CFO role.
In an interview, Mr. Liveris said he decided the timing was right with the stock hitting all-time highs this year and the company completing two projects he bet his legacy on: the combination with DuPont and a gigantic petrochemical plant in Saudi Arabia, the people said. He said he made up his mind while on Christmas holidays with his family in his native Australia, feeling the transformation he had wanted was done.
A 40-year veteran of the company, Mr. Liveris will remain a director on the combined board until July 1.
"This is a very, very good time; the Andrew Liveris era should end and the Jim Fitterling and Howard Ungerleider era should begin," Mr. Liveris said. "I've achieved my goals."
The handoff marks the retirement of one of the most recognizable figures in American industry. The chemical and materials giant is a household name, and Mr. Liveris became a common sight in Washington and at global gatherings, like Davos, Switzerland, discussing everything from science to economic policy.
Mr. Liveris had a relationship with President Donald Trump but publicly disagreed with him on issues including climate change and tariffs. He had led the White House's advisory council of CEOs in the manufacturing industry before it disbanded. He had also served on a council advising President Barack Obama.
He took over Dow in November 2004, and his 13 1/2 -year tenure in Midland, Mich., was both transformational and turbulent.
He struck two major deals and many smaller ones as he restructured the business into what is expected to be a leaner and more stable company after the breakup, shedding many legacy products that made Dow famous.
The financial crisis nearly sank the company before Warren Buffett threw it a $3 billion lifeline. An activist investor twice tried to oust Mr. Liveris.
In total, Dow stock has returned more than 150% since he took over, which underperforms the S&P 500, though it far outpaces the index since the market lows and the DuPont deal.
Mr. Liveris has faced and survived his share of critics on everything from his sometimes-lavish lifestyle to Dow's performance. Most notably, activist Daniel Loeb called for a breakup and was set to attack Mr. Liveris's tenure in 2014 before the two reached a detente with a board shake-up. Mr. Loeb had threatened a second fight in 2015 but backed off when Mr. Liveris said he would step down in 2017. Mr. Liveris later delayed that.
Mr. Liveris's crowning achievement was the roughly $70 billion deal to combine with DuPont and then break it partly into a materials company that will be the new Dow, a specialty-chemicals company that will be the new DuPont, and an agricultural company that will be called Corteva Agriscience.
Mr. Liveris first tried to buy DuPont in 2006 but failed. In 2015, when DuPont named Edward Breen chief executive, Mr. Liveris struck quickly -- Mr. Breen later joked he hadn't had time to find a bathroom at his new office before he got the call from Mr. Liveris.
Mr. Liveris has said the resulting Dow will be a more-focused company, allowing it to concentrate on innovation and be less susceptible to commodity swings.
The new Dow would have annual sales of $37 billion, about half of which would come from packaging and specialty plastics. A key cog is the Saudi Arabia complex, a joint venture with oil colossus Aramco that opened last year and is expected to produce more than three million tons of plastics and other chemical products each year.
Dow has also made a huge bet on the U.S. in recent years, investing more than $8 billion in new and expanded petrochemical facilities, mostly along the Gulf of Mexico. It is predicated on cheap supplies of raw materials unleashed by fracking and horizontal drilling, as well as continued global growth.
Mr. Liveris hasn't yet determined his next steps, though promised to remain a global player, adding "yours truly doesn't do idle or neutral."
--Jacob Bunge and Christopher M. Matthews contributed to this article.
Write to David Benoit at david.benoit@wsj.com