Dow Battles For Gains; U.S. Stocks Under Pressure As Apple Slumps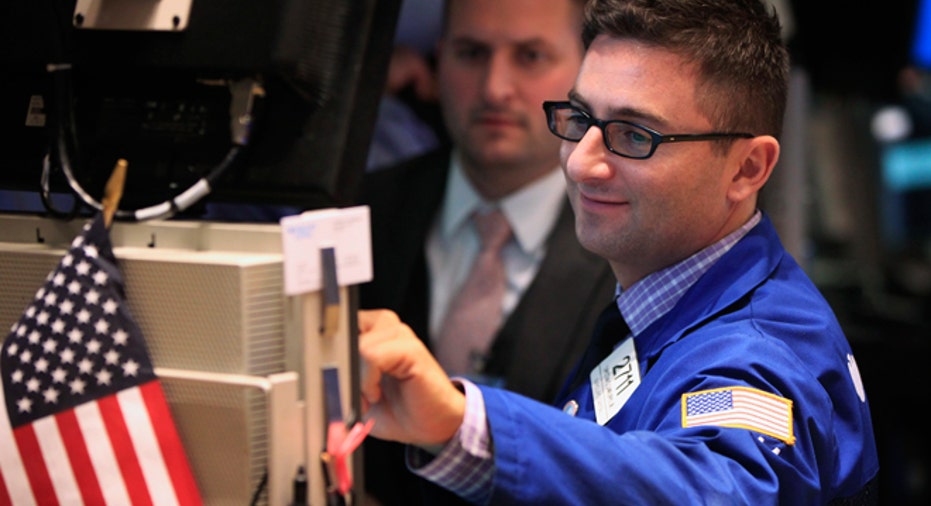 U.S. stocks edged lower Wednesday as shares of Apple Inc. sold off after the world's largest company by market value delivered quarterly results that disappointed investors.
Investors remained cautious, however, ahead of the Federal Reserve policy statement due at 2 p.m. Eastern Time.
The S&P 500 was off by 2 points, or 0.1%, at 2,089, with the technology sector, down 1.2%, leading the losses (http://www.marketwatch.com/story/apple-and-twitter-lead-tech-sector-bloodbath-2016-04-27). Investors continued to buy defensive plays, such as utilities and telecoms, both up about 1%. Energy shares benefited from higher oil prices.
The Dow Jones Industrial Average pared losses and edged higher, up less than 0.1% to 18,002. The Nasdaq Composite underperformed other indexes, slumping 40 points, or 0.8%, to 4,848.
Apple(AAPL) late Tuesday said profit fell to $1.90 a share in its fiscal second quarter, missing Wall Street's forecasts for $2 a share (http://www.marketwatch.com/story/apple-posts-first-quarterly-sales-drop-since-2003-2016-04-26-164855737). The company's quarterly revenue declined for the first time in 13 years, dropping 13% to $50.55 billion. Analysts polled by Thomson Reuters had expected revenue of $51.97 billion. Shares slumped 5.8%.
CEO Tim Cook described the three-month period as "a challenging quarter," representing a "pause in our growth (http://blogs.marketwatch.com/thetell/2016/04/26/apple-earnings-expected-to-show-first-iphone-sales-decline-live-blog/)."
Read more:Apple hints at big acquisition to cure growth ills (http://www.marketwatch.com/story/apple-hints-at-big-acquisition-to-cure-growth-ills-2016-04-26)
And see:What Apple's awful quarter means in the long term (http://www.marketwatch.com/story/analysts-arent-shaken-by-apples-big-miss-instead-play-up-its-long-term-potential-2016-04-27)
Economic news: The Fed's policy committee is slated to release a statement at 2 p.m. Eastern Time. The central bank is expected to leave open the possibility of a rate increase (http://www.marketwatch.com/story/what-to-expect-in-the-feds-statement-2016-04-25) at its next meeting in June, but will likely attempt to do so in a way that doesn't upset financial markets.
"The Fed will not have another meeting until June and we expect them to leave themselves plenty of room to do what they need to do after reviewing data," Tom Siomades, head of Hartford Funds Investment Consulting Group.
"The Fed will be in a sniper mode, if they have a good shot they will get it, the way they raised last December," Siomades said, adding that the central bank has to grapple with external issues such as the June 23 U.K. referendum on whether to remain in the European Union.
"Right now the market is not expecting in a rate hike in June, judging by the Fed-funds rate pricing in a 21% probability. The Fed is likely to be very dovish in the statement. But if they say give any hints that the economy is improving fast enough for a June rate hike, that could send the market spiraling down," said Joe Saluzzi, partner, co-head of Equity Trading at Themis Trading.
Before the Fed release, an early reading on the U.S. trade deficit (http://www.marketwatch.com/story/us-trade-deficit-to-show-big-drop-in-march-advanced-report-indicates-2016-04-27)showed that its trade gap in goods fell to 9.5% to $56.9 billion in March.
A smaller deficit in March could give first-quarter gross domestic product a nudge upward, though the number is still expected to be weak. A smaller deficit adds to GDP.
Separately, a gauge of pending home sales rose 1.4% in March, its second monthly increase, and a sign of momentum for the spring buying season.
Individual movers:H&R Block Inc. (HRB) shares slumped 15% after the company said it would lay off 250 workers as tax return volumes declined.
Apple was among the biggest losers on the S&P 500, falling 6.2%. Chipotle Mexican Grill Inc.(CMG) stock fell sharply after the burrito chain late Tuesday posted a smaller-than-expected quarterly loss, but revenue missed forecasts (http://www.marketwatch.com/story/chipotle-mexican-grill-posts-first-quarterly-loss-2016-04-26)
Mondelez International Inc.(MDLZ) shared rose after the snack maker's earnings rose 71%, as cost cuts helped offset a decline in revenue.
Shares in Twitter Inc.(TWTR) fell 16% after the social media company late Tuesday reported disappointing quarterly revenue and a downbeat forecast (http://www.marketwatch.com/story/twitter-posts-disappointing-revenue-and-forecast-2016-04-26).
Comcast Corp.(CMCSA) rose 2.7% after the cable giant's quarterly profit and revenue beat forecasts. (http://www.marketwatch.com/story/comcast-beats-profit-and-sales-expectations-2016-04-27)Boeing Co.(BA) shares rose 1% even as it adjusted earnings missed expectations.
Baker Hughes Inc.(BHI) shares rose 2.3% despite first-quarter losses coming in worse than anticipated.
Other markets: Oil futures gained Wednesday (http://www.marketwatch.com/story/oil-prices-add-to-rally-on-signs-that-glut-is-dwindling-2016-04-27), and European stocks traded higher, as early losses faded. But Asian markets closed lower (http://www.marketwatch.com/story/japan-shares-fall-on-earnings-asia-cautious-ahead-of-central-banks-2016-04-27), with analysts blaming caution ahead of Wednesday's Fed announcement and a Bank of Japan decision due Thursday. Gold futures rose, as a key dollar index pulled back (http://www.marketwatch.com/story/dollar-slips-against-yen-ahead-of-central-banks-aussie-dollar-falls-2016-04-27).
By Anora Mahmudova and Victor Reklaitis, MarketWatch