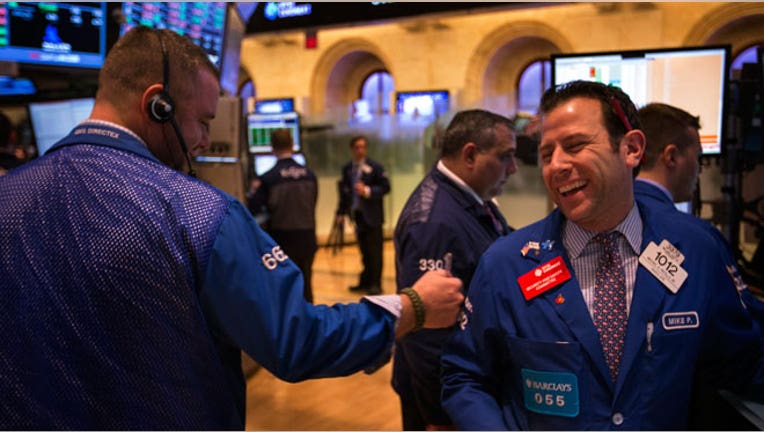 FOX Business: Capitalism Lives Here
The Dow closed at a record high for the fifth day in a row Wednesday as traders digested mixed economic data and Hewlett-Packard shares spiked.
Today's Markets
The Dow Jones Industrial Average rose 24.5 points, or 0.15%, to 16097, the S&P 500 climbed 4.5 points, or 0.25%, to 1807 and the Nasdaq Composite advanced 27 points, or 0.67%, to 4045.
It's raining on the Street. And the economic floodgates are open as well, with several key reports out.
The Commerce Department said orders for long-lasting goods fell 2% in October, slightly more than the 1.9% drop economists expected. Excluding the transportation segment, orders fell 0.1%, versus a 0.5% gain Wall Street expected. The gauge frequently figures into investment banks' estimates for fourth-quarter GDP.
The Labor Department said the number of Americans filing for first-time unemployment benefits fell last week to 316,000 from an upwardly revised 326,000 the week prior. Economists expected the number of claims to rise to 330,000 from an initially reported 323,000.
A gauge of consumer sentiment from the University of Michigan and Thomson Reuters shows confidence rose to 75.1 in late November from 72 earlier in the month. Economists expected the measure to tick up to 73.5.
A separate report Tuesday from the Conference Board showed an unexpected slump in consumer confidence this month -- just as the key holiday shopping season kicks off.
The Institute for Supply Management-Chicago said the pace of manufacturing activity in the Midwest slowed in November to 63, from 65.9 the month prior. Economists expected growth to slow further to 60. Readings above 50 point to expansion while those below indicate contraction.
In commodities, U.S. crude oil futures sold off by $1.38, or 1.5%, to $92.30 a barrel. Wholesale New York Harbor gasoline rose 0.42% to $2.698 a gallon. Gold fell $3.60, or 0.29%, to $1,238 a troy ounce.
On the corporate front, Hewlett-Packard (NYSE:HPQ) posted quarterly results that widely beat analysts' expectations, sending shares of the blue-chip PC-maker surging. A bankruptcy judge approved a settlement that will enable AMR and US Airways to merge in a move that will create the biggest U.S. airline.