Dorman Products Keeps Delivering the Goods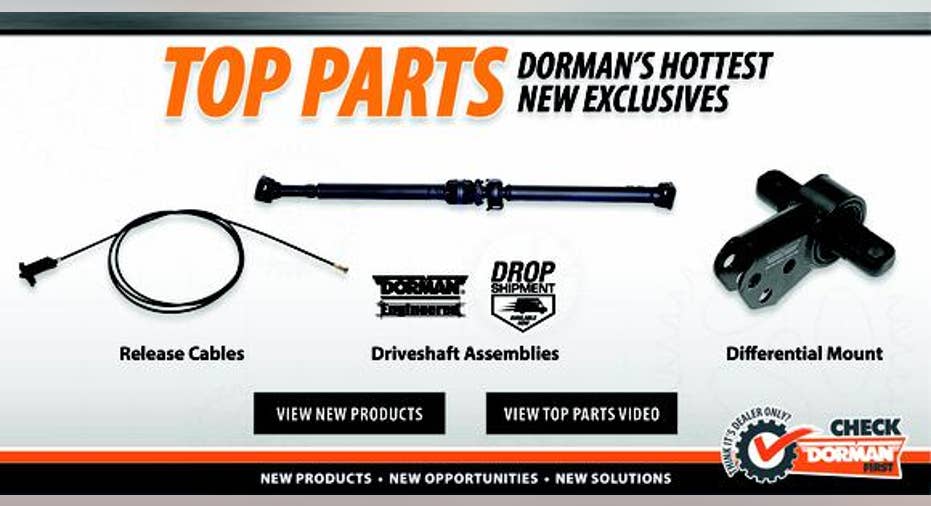 Image source: Dorman.
Cars and trucks need parts to keep running, and Dorman Products is one of the many companies that supply them. Dorman's business model aims at providing proprietary high-end parts that mimic those that dealers stock, and coming into its first-quarter financial report, Dorman investors were hoping that the auto-parts maker would continue to see its sales and earnings rise at a healthy rate. On that score, Dorman exceeded expectations, producing more rapid growth and taking full advantage of favorable conditions in the industry. Let's look more closely to see how Dorman Products did so well and whether the good times will last down the road.
Dorman heads out on the highwayDorman Products' first-quarter results continued to demonstrate the effectiveness with which the company has boosted its growth pace. Revenue climbed 10% to $208.1 million, which was about $7 million higher than the consensus forecast among those following the stock. Dorman's bottom line performance was also solid, with net income of $24.7 million rising almost 16% from year-ago levels and producing earnings of $0.71 per share. That figure was $0.04 more than most investors had expected.
Yet Dorman actually warned investors not to read too much into the growth that the company produced during the quarter. The company cited inventory expansion decisions from one major customer that were greater than Dorman had thought, although strong levels of purchasing and sell-through rates across its customer network supported the strong results as well.
In terms of efficiency, Dorman kept its gross profit margins stable, keeping growth in cost of goods sold in line with revenue increases. A 6% rise in overhead expenses came from higher variable expenses to support sales efforts as well as labor cost increases. Yet the fact that Dorman was able to keep those increases at a rate below the growth in revenue helped enhance profit margins.
Most of Dorman's efforts during the quarter went toward its ongoing initiatives to flesh out its line of aftermarket products. The company added new products during the quarter to take Dorman's total number of unique SKUs above the 1,100 mark. In order to build awareness of those products, Dorman distributed more than 1 million copies of its 2016 Service Dealer Guide in April to distribution partners, stores, and automotive technicians. By doing so, the company hopes to offer end users an alternative to dealer-only parts that often come with high markups.
CEO Matt Barton was happy with Dorman's performance. "We are pleased with our first-quarter sales growth," Barton said, and "we are working hard on all fronts to continue to grow the aftermarket one innovation at a time." The CEO pointed to its operating-expense control efforts in playing a vital role to boost earnings growth.
Can Dorman keep driving higher?Looking forward, Dorman has high expectations for its future. As Barton put it, "We remain optimistic about the long-term outlook for the business as we continue to invest in our new product capabilities in the markets we serve."
Part of that growth will come from the company's Dorman HD Solutions program, which Dorman says is gaining traction in the aftermarket for heavy-duty vehicles. The company cited new products including exhaust-gas recirculation components, fluid reservoirs, and lighting in contributing to a 60% growth rate for the segment during the first quarter. Core customers have increasingly embraced the heavy-duty oriented market, and Dorman thinks the positive trends will continue into the future.
In addition, Dorman has invested in complex electronics in order to capitalize on the increased use of technology throughout newer vehicles. The company said that sales rose 58% compared to the year-ago quarter, validating its strategic decision to pursue those opportunities.
Dorman Products shareholders seemed to like the news, sending the stock up 1.5% in trading after the announcement. With so much success already, Dorman's efforts to grow its business even more could take the stock to new heights.
The article Dorman Products Keeps Delivering the Goods originally appeared on Fool.com.
Dan Caplinger has no position in any stocks mentioned. The Motley Fool recommends Dorman Products. Try any of our Foolish newsletter services free for 30 days. We Fools may not all hold the same opinions, but we all believe that considering a diverse range of insights makes us better investors. The Motley Fool has a disclosure policy.
Copyright 1995 - 2016 The Motley Fool, LLC. All rights reserved. The Motley Fool has a disclosure policy.