Don't Overlook These 6 Incredible Amazon.com Numbers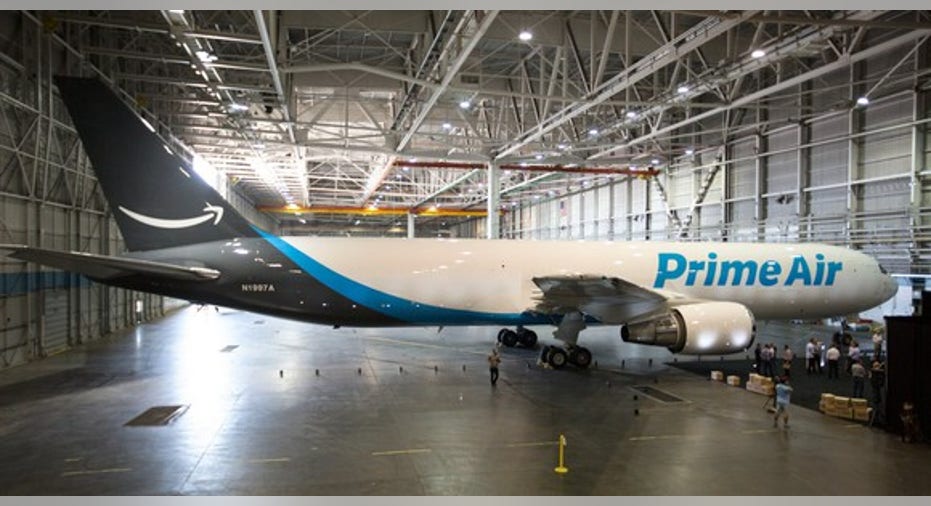 Shares of Amazon.com (NASDAQ: AMZN) fell more than 3% on Feb. 3 after the tech giant posted mixed fourth quarter earnings andsoft guidance for the first quarter. Revenue rose 22% annually to $43.7 billion, but thatmissed expectations by $980 million. The company was hit hard by currency headwinds, which reduced its top line by about $558 million. Amazon's closely watched AWS (Amazon Web Services) revenue rose 47% annually to $3.54 billion, but that also missed expectations of $3.6 billion and represented a slowdown from 55% growth in the third quarter.
For the first quarter, Amazon expects 14.1% to 22.7% year-over-year sales growth, which missed analyst forecasts for 23.4% growth. But on a currency neutral basis, which excludes an expected currency impact of $730 million, Amazon expects its revenue to rise 17% to 25%.
Image source: Amazon.
Some negative reports about Amazon focused on those headline numbers, but they glossed over many of the positive growth figures. Let's take a look at six incredible numbers from that report that investors shouldn't overlook.
1. $749 million in net income
During the fourth quarter, Amazon's net income rose 55% annually to $749 million, or $1.54 per share -- which beat expectations by $0.19. For the full year, its net income surged over 300% to $2.4 billion.
That incredible growth was mostly attributed to the rapid growth of AWS' high-margin business, which gives Amazon much more freedom to expand its e-commerce ecosystem with low-margin hardware like its Echo speakers, loss-leading services like Amazon Video and Prime Now, and logistics solutions like new fulfillment centers and drones.
2. AWS' operating margin of 26%
AWS finished last quarter with an operating margin of 26%, compared to 24% in the year-ago quarter. That margin expansion indicates that AWS' massive scale is offsetting tough price competition across the cloud platform market, which caused Amazon and its rivals to reduce their prices throughout the year.
3. AWS' annual run rate of $14 billion
Amazon announced that AWS had achieved an annual run rate of $14 billion, indicating that it maintains a commanding lead over Microsoft's (NASDAQ: MSFT) Azure in the cloud platform race.
Microsoft claimed that its "commercial cloud" had achieved an annual run rate of over $14 billion last quarter, but most of that total came from SaaS platforms like Office 365 and Dynamics CRM. Azure -- which competes directly against AWS in the IaaS/PaaS "cloud platform" markets -- accounts for a much smaller percentage.
Microsoft doesn't disclose how much revenue Azure generates, butcombining earlier industry estimates and its reported growth rateover the past few quarters indicates that its annual run rate could be around $3 billion.
4. Over 1,000 new AWS features
Amazon already serves massive customers like NASA, the CDC, and Netflix (NASDAQ: NFLX) with AWS, but it's continuously widening the platform's competitive moat against rival platforms like Azure with new features. Amazon added over1,000 new features and services to AWS in fiscal 2016, compared to about 700 in 2015.
It also opened eleven new AWS Availability Zones across five geographic regions in 2016, bringing AWS' total coverage to 42 Availability Zones across 16 regions globally. That massive data center expansion will help AWS reach more companies and developers, all while supporting the expansion of its e-commerce and digital ecosystem into new markets.
5. Prime Video in over 200 countries
A big part of that digital ecosystem expansion is Prime Video, the company's streaming answer to Netflix. Amazon has made the platform a "free" perk for Prime subscribers and a stand-alone subscription service that costs slightly less than Netflix.
Like Netflix, Amazon is investing heavily in original content, and popular shows like Transparent and Man in the High Castle helped it become the third largest video streaming platform in the U.S. after YouTube andNetflix last year, according to research firm Sandvine. Amazon is also following Netflix's lead and investing heavily in localized original content in key markets like Japan and India, which could helpexpand its Prime user base worldwide.
6. 4,000 new skills for Alexa
Amazon also taught its voice recognition platform Alexa 4,000 new skills since last October. It noted that "tens of thousands of developers" are building new skills for the platform -- which powers the Echo, Kindle, and Fire TV devices -- and that it was working with "a lot of major companies" to integrate their products with that ecosystem.
The expansion of the Alexa ecosystem is important, because it can give Amazon control of users' connected homes via Dash buttons, DRS-enabled appliances, and other connected devices. In addition to boosting its e-commerce revenue with "frictionless" orders, that platform can process data through AWS andwiden its moat in the smart home race against Alphabet'sGoogle, which is trying to establish its own home-based ecosystem around its Home smart speaker.
The key takeaway
Amazon's fourth quarter report was lumpy, but investors shouldn't overlook these positive numbers. Analysts still expect Amazon's revenue andearnings to respectively rise 22% and 53% next year -- so its overall growth won't peak anytime soon. Therefore, I believe that investors should take advantage of Amazon's temporary swoon and pick up a few more shares for the long term.
10 stocks we like better than Microsoft When investing geniuses David and Tom Gardner have a stock tip, it can pay to listen. After all, the newsletter they have run for over a decade, Motley Fool Stock Advisor, has tripled the market.*
David and Tom just revealed what they believe are the 10 best stocks for investors to buy right now... and Microsoft wasn't one of them! That's right -- they think these 10 stocks are even better buys.
Click here to learn about these picks!
*Stock Advisor returns as of January 4, 2017
Suzanne Frey, an executive at Alphabet, is a member of The Motley Fool's board of directors. Teresa Kersten is an employee of LinkedIn and is a member of The Motley Fool's Board of Directors. LinkedIn is owned by Microsoft. Leo Sun owns shares of Amazon. The Motley Fool owns shares of and recommends Alphabet (A shares), Alphabet (C shares), Amazon, and Netflix. The Motley Fool has a disclosure policy.