Don't Give Up On the Bull Market in Equities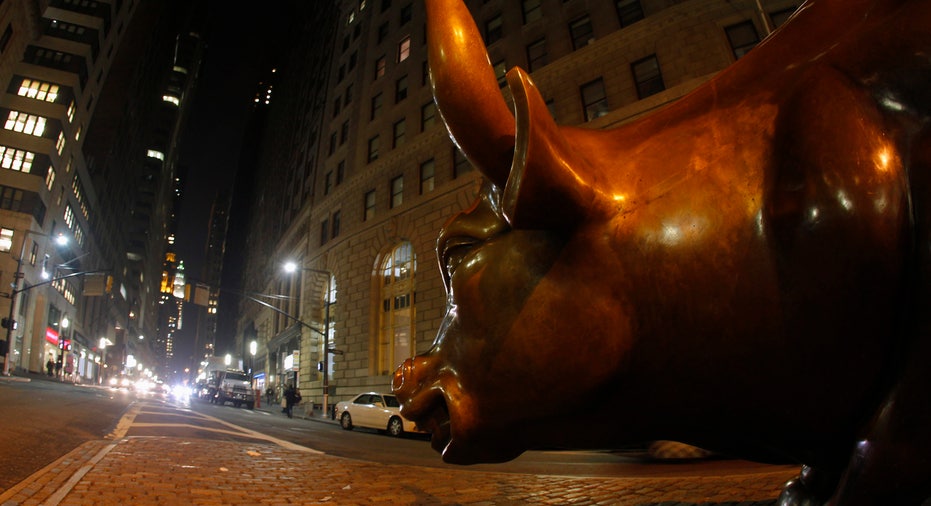 Investors fretting about the possibility of a big reversal in global stock markets may just want to borrow a slogan from the British - and just keep calm and carry on.
It won't be easy given the background noise. Fears of a Russian invasion of Ukraine on top of deepening chaos in the Middle East, and the bailout of a Portuguese bank, are all fueling the pessimism. Add in expectations the U.S. Federal Reserve will raise interest rates next year for the first time since 2006, and concerns that the U.S. stock market has gone too long without a correction, and it isn't surprising to see the glass half-empty crowd emerging from a long hibernation.
But some top investors and strategists in the U.S. and Europe say that there is little reason for alarm given the U.S. economy is picking up steam, rates are widely seen staying at low levels for several more years, and second-quarter earnings growth in both the U.S. and Europe is looking healthy.
Traditional measures that signal worry - such as the slope of the U.S. yield curve - are still supportive for markets. And U.S. equity funds have seen outflows in eight of the last 10 weeks when exchange traded funds are excluded, supporting the notion that investors remain fearful, and not displaying the kind of euphoria that acts as a precursor to big pullbacks.
"I don't think that the fundamental underpinnings to this bull market have been derailed or dented in any significant way," said Steven Einhorn, vice chairman of $10.5 billion hedge fund Omega Advisors Inc.
In recent weeks, markets have been far from panic stricken despite all the talk of a correction.
While there have been pockets of weakness, particularly in Europe, one key gauge of global stock averages has dipped just 3.6 percent from its recent high a month ago.
Another big reason for optimism is that there are very few alternatives to equities if investors want to chase anything like a decent return on their capital.
OPPORTUNITY KNOCKS FOR SOME
Excluding a one-time charge from Citigroup Inc, the S&P 500 looks set for its first quarter of double-digit earnings growth in nearly three years.
It looks good when compared to the U.S. 10-year Treasury yield, which is back below 2.5 percent, barely above the S&P's dividend yield of about 2.35 percent.
And while U.S. junk bond yields have risen by around 0.50 percentage point in the last month, at around 6.2 percent they remain more than a full standard deviation below their long-time average of around 9.45 percent, according to Bank of America/Merrill Lynch Fixed Income Index data.
"Any correction is going to be met as a buying opportunity," said John Briggs, head of cross-asset strategy at RBS Americas in Stamford, Connecticut. "We might be seeing some retail outflows, but the overall global pool of money looking for returns is too much."
The United States is frequently cited as a place where a correction remains long overdue. It's been three years since the benchmark S&P 500 fell by at least 10 percent, though it has navigated a handful of "mini-corrections," when stocks fall by 3 to 6 percent before buyers rush in.
The current decline has the hallmarks of a similar outcome.
Even the surprise decision by Twenty-First Century Fox to abandon its bid to acquire Time Warner Inc, coupled with Sprint Corp's decision to back away from a proposed purchase of T-Mobile US Inc, both announced on Tuesday, didn't hurt the broader U.S. market as some had expected. Stocks edged up on Wednesday.
The worry was that such corporate moves would prove a precursor to slower deal making, which could dampen market sentiment. Overall U.S. mergers and acquisitions value totaled $997 billion through July 28, according to Thomson Reuters data, 86 percent ahead of last year's pace.
The other big fuel for stocks has been share repurchases, which are down 30 percent in the second quarter from the first quarter, according to S&P Dow Jones Indices data, though the first quarter was the second highest on record.
More importantly, the 21 percent of S&P components to release full information on second-quarter repurchases shows a 4 percent reduction in overall share counts. That does lend some credence to concerns that companies are getting increased earnings per share through financial engineering rather than by growing their sales and profit margins.
RUSSIAN THREAT
Perhaps the biggest threat to market stability would occur if Moscow sent troops across the border into Ukraine to defend areas controlled by pro-Russian rebels. That would increase the chances of a much bigger conflict and almost certainly lead to further tit-for-tat sanctions on trade and other economic dealings between Moscow and the West.
On Wednesday, NATO said Russia has amassed around 20,000 combat-ready troops on Ukraine's eastern border. RBS' Briggs said if that conflict turned into an all-out war, he could see a "knee jerk" correction of about 10 percent in the United States, and an even harsher reaction out of Europe given worries about commodity supplies and proximity to key economies there.
While the pullback has been mild on Wall Street so far, stocks in more vulnerable Southern European markets have been sliding for more than a month. Portugal's PSI 20 index already is in bear market territory, down 25 percent since mid-June, and Italy's FTSE MIB and Spain's IBEX are down 13 percent and 9 percent, respectively, over the same period. Some of the losses were triggered by the troubles of Portugal's Banco Espirito Santo, which was rescued through a $6.6 billion Portuguese government bailout last weekend.
Even Germany's DAX index - a safe-haven for investors during the euro zone's sovereign debt crisis - has been hard hit in the past weeks, sinking 9 percent since late June, hurt by fears the Ukrainian crisis and sanctions against Russia could derail Germany's economy.
Europe's stocks suffered investment outflows of $1.3 billion last week, their fourth straight week of net outflows, according to Bank of America-Merrill Lynch, citing data from EPFR Global.
"The Ukrainian crisis still poses a serious risk to Europe, and I don't think it's priced in already, especially by retail investors," said Riccardo Designori, market analyst at Brown Editore in Milan. "Countries like Germany and Italy depend on Russia for oil and gas. The crisis can seriously escalate when the winter kicks in."
Any such crisis would hit markets that are by most historical measurements at relatively high valuations.
Forward price-to-earnings ratios still show the S&P 500 as somewhat richly valued, though the recent meandering in stocks, combined with rising earnings, has lowered the overall U.S. forward P/E ratio to 15.1 from 15.5 at the end of July, according to Thomson Reuters data. That P/E is higher than the broader long-term average of 14.8.
GOING SHORT
"The market is significantly overvalued and I am net short," said Doug Kass, founder of Seabreeze Partners Management in Palm Beach, Florida, noting that "12 percent of the world is at war," with more on the verge of conflict.
In Asia, such views have yet to get a grip.
While Asian stock indices have pulled back slightly this week, succumbing to the weakness globally, they have been outperforming all other regions, supported by earnings that have surpassed consensus expectations. Long term bond yields in most of Asia remain close to their 2014 lows, even if foreign investor inflows have slowed.
Institutional investors have rushed into India after elections there. But it is the cheapness of Chinese stocks, particularly the state sector, and the attractiveness of an economy that seems to have hit a bottom at a time when the government is taking structural reform measures that has drawn most investors. Chinese shares listed in Hong Kong have risen 13 percent in the past three months, while the onshore China A-shares are up nearly 10 percent in the same period and still trading at a price-to-earnings ratio of just above 13.
In Europe, the picture is much more mixed. Corporate profits are finally rebounding after years of stagnation, but revenues are stalling.
Halfway into Europe's earnings season, profits from European companies listed on the STOXX Europe 600 are up 12 percent for the second quarter, according to Thomson Reuters Datastream. That's the strongest pace since 2010. Still, the rise in earnings stems largely from cost-cutting and restructuring. Revenues are down 1.5 percent.
The lack of top-line growth and the fact that analysts are still cutting profit forecasts is raising concerns. European stocks are at P/E levels not seen since 2005, with Europe's broad STOXX Europe 600 trading at about 14 times expected profits in the next year.
But as in the United States, some fund managers in Europe remain optimistic.
"Am I concerned? Yes, when the market gets shaky you do want to pay attention," said Beltran Lastra, fund manager at JPMorgan Asset Management in London. "But is the European recovery starting to derail? My answer is, clearly not."
(Reporting by David Gaffen in New York and Blaise Robinson in Paris; Additional reporting by Vidya Ranganathan in Singapore, Lionel Laurent in London, and Akane Otani and Jennifer Ablan in New York; Editing by Martin Howell)