Don't Get Too Excited About Alphabets Rumored Smartphone Plans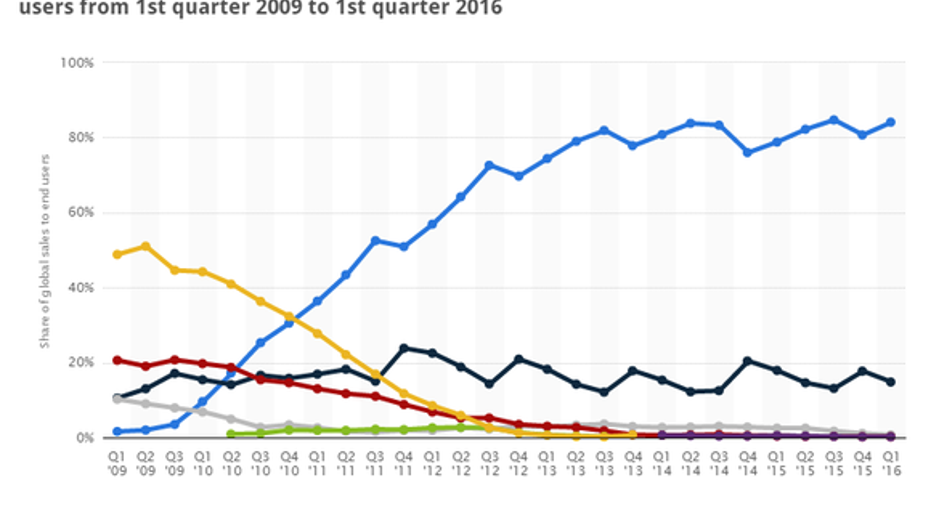 Alphabet's new smartphone plans seem like a logical, incremental step rather than the market "shake-up" many are billing it to be. Source: Alphabet
In smartphones, it's hard to successfully integrate hardware, software, and operating system. Aside from Apple, there's no other company to do so. But it's not for lack of trying: Both Alphabet and Microsoft have tried to build a comprehensive smartphone solution, both to varying levels of success.
For Microsoft, it's hard to classify their smartphone efforts as a success on any level. After paying nearly $8 billion for Nokia's phone business in 2014 to bolster its Microsoft Windows Phone operating system, the company has continued to watch its smartphone OS market share erode.
Find more statistics at Statista.
As the preceding chart shows, Gartnerreported Microsoft's market share at 0.7% in the first quarter, down from its 10.2% share in the first quarter of 2009. New CEO Satya Nadella has taken a number of steps to limit the damage from Nokia's handset business by writing off the transaction, selling the feature-phone business, and firing the vast majority of the remainder of its Nokia division employees.
Alphabet hasn't totally succeeded, either
Alphabet has been wildly successful at growing operating-system market share. The handset/hardware side of the business has been decidedly less successful. In 2012, Alphabet (nee Google) purchased Motorola Mobility for $12.5 billion in an attempt to expand into hardware before selling it, ex-patents, to Lenovo for $2.91 billion two years later. Since then, it's relied on third-party manufacturers like Samsung, LG, and HTC continuing to make devices sporting its Android OS.
The company has continued its device presence with its Nexus line of phones, but even this device is manufactured by third-party suppliers. The larger Nexus 6P is produced by China's Huawei Technologies, and the midrange Nexus 5X is manufactured by LG. According to a report from The Telegraph, it seems Alphabet wants to get even more involved with the device-manufacturing process and plans to bring a new smartphone to market by the end of this year.
The Telegraph's report may be much ado about nothing
On the surface, this is an odd timing for Alphabet, considering the direction of the greater smartphone industry. After years of above-average, double-digit growth, the smartphone market is decidedly cooling. Research firm IDC expects 5.7% worldwide shipments growth in 2016, down from the 10.4% growth the industry produced last year. IDC expects much of this growth to be from developing countries, which points to trouble for the high-end market, which presumably is the market Alphabet wants to enter.
Even the one company that's succeeded in combining both hardware, software, and ecosystem, Apple, is looking at emphasizing its non-device revenue to investors. In Apple's first quarter, CEO Tim Cook even went as far as including a supplemental disclosure detailing Apple's installed base-related revenue to highlight post-device-sale revenue. Alphabet may be missing out on the high-margin device sales Apple is taking in, but it does directly benefit from installed base related purchases on Alphabet. Additionally, Alphabet benefits from mobile search revenue.
The Telegraph's report appears intentionally vague when it comes to Alphabet's actual plans, only writing that the company will "take more control over design, manufacturing, and software." My assumption is the company will continue to work with third-party manufacturers to produce Google-branded devices as a proverbial North Star for its third-party manufacturers, much as it does now, albeit to a lesser degree, with its Nexus line of devices.
However, I doubt Alphabet will return to full-scale manufacturing or even assume a controlling stake in the process. In the end, it's unlikely for the company to take the risk devices currently entail when other companies are willing to do so and concede the operating-system revenue to Alphabet. The end result may be an amazing smartphone, but essentially it's an extension of Alphabet's current strategy.
The article Don't Get Too Excited About Alphabets Rumored Smartphone Plans originally appeared on Fool.com.
Suzanne Frey, an executive at Alphabet, is a member of The Motley Fool's board of directors. Jamal Carnette owns shares of Apple and Alphabet (C shares). The Motley Fool owns shares of and recommends Alphabet (A shares), Alphabet (C shares), Apple, and Gartner. The Motley Fool owns shares of Microsoft and has the following options: long January 2018 $90 calls on Apple and short January 2018 $95 calls on Apple. Try any of our Foolish newsletter services free for 30 days. We Fools may not all hold the same opinions, but we all believe that considering a diverse range of insights makes us better investors. The Motley Fool has a disclosure policy.
Copyright 1995 - 2016 The Motley Fool, LLC. All rights reserved. The Motley Fool has a disclosure policy.