Don't Be Ridiculous: Intel Corp.'s Internet of Things Strategy Is Working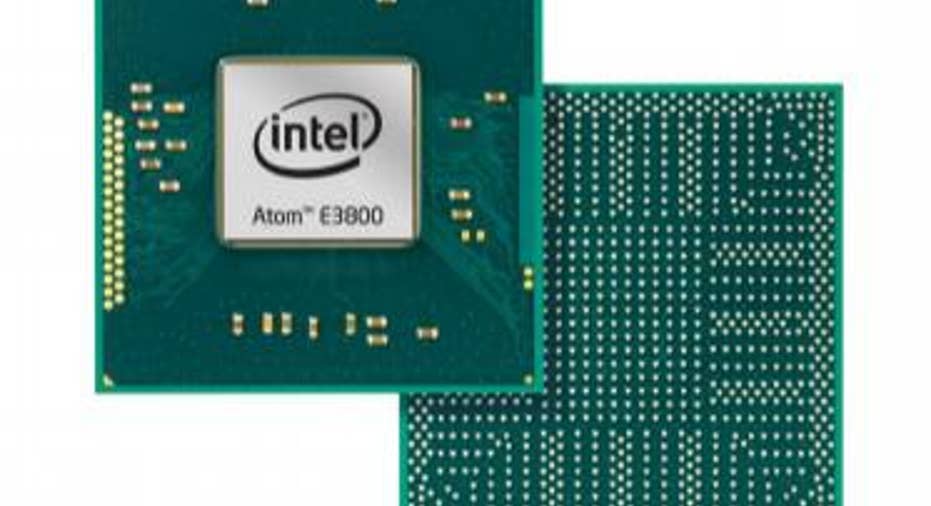 Intel's Bay Trail-I aimed at the IoT. Image credit: Intel.
Apparent Intel bear, an individual who writes under the handle "Anchorite" for Seeking Alpha, recently penned a column arguing that the chip-maker's strategy to provide chips for the Internet of Things (a fancy, buzz-word-y name for the company's embedded platform business) "has not worked."
The author cites relatively slow sales growth as well as a recent decline in the profitability of the group as "evidence" that the strategy isn't working. And, for good measure, the author points out that Intel's revenues and profits from the Internet of Things is minuscule compared to the massive reams of cash that the chipmaker pulls in from its PC and Data Center businesses.
Consider the following column a piece-by-piece refutation of Anchorite's piece.
The revenue growth questionThe first point that Anchorite makes is that the revenue growth that Intel has experienced in this segment has been "mediocre at best" citing revenue growth of just 7% last year. This, the author argues, compares to an Internet of Things market that is expected to grow at a 43% compounded annual growth rate by 2019.
Unfortunately, this argument doesn't really hold up.
The growth figure in the market research report cited by Anchorite refers to the growth in the number of devices that become "smart." Think, for example, regular household appliances that instantly become categorized as "Internet of Things" devices by virtue of the fact that they eventually become imbued with some level of computing power.
Secondly, Intel's Internet of Things strategy is a focused one. Intel has been quite clear that it's not out to sell mass quantities of $0.05 chips, but rather that it's interested in providing hardware/software solutions into "Internet of Things" devices that require serious computing power.
Back in 2014, Intel pegged its total addressable market for 2015 at somewhere in the range of $11 billion and $13 billion. In 2015, Intel's Internet of Things segment did $2.3 billion in sales -- working out to anywhere from 17.6% to just over 20% in market share (depending on how the ultimate size of Intel's served addressable market turned out to be).
Intel claims that in 2014 it captured roughly 18% share of its served addressable market, so Intel is essentially growing with the market -- hardly the market under-performance that Anchorite implies.
The profitability questionAnchorite also goes on to criticize Intel's Internet of Things efforts based on the fact that the chip-maker saw operating profits drop 12% even as revenue grew in 2015. This profit drop isn't likely attributable to gross profit margin erosion but rather due to Intel's increased investments in order to build more competitive products for the market.
For the most part, Intel's Internet of Things Group has recycled chip designs originally intended for other market segments (server, PC). This has allowed a very high operating margin (as R&D spending could be kept fairly minimal). In order to capture a bigger piece of its served addressable market (and, frankly, to expand that served addressable market), Intel has needed to ramp up its investments here.
If Intel has made its bets wisely, they should pay off in the form of significant revenue and, over the long-term, profit growth.
The significance questionAnother point that Anchorite makes is that the Internet of Things business is just a small portion of the chip giant's overall business and that it won't offset potential PC/server weakness (though, it should be noted that Intel's server chip business continues to grow nicely and isn't showing signs of slowing).
This might be true, but the point that Anchorite misses is that the Internet of Things Group is just one of a number of relatively small growth businesses that Intel is building up. Individually no single one can move the needle, but in aggregate a lot of ~$2B+ businesses growing at a healthy clip can make a difference, as Intel CFO Stacy Smith pointed out at the company's most recent analyst day.
The article Don't Be Ridiculous: Intel Corp.'s Internet of Things Strategy Is Working originally appeared on Fool.com.
Ashraf Eassa owns shares of Intel. The Motley Fool recommends Intel. Try any of our Foolish newsletter services free for 30 days. We Fools may not all hold the same opinions, but we all believe that considering a diverse range of insights makes us better investors. The Motley Fool has a disclosure policy.
Copyright 1995 - 2016 The Motley Fool, LLC. All rights reserved. The Motley Fool has a disclosure policy.