Don't Be Fooled by GoPro Inc's Waiting Game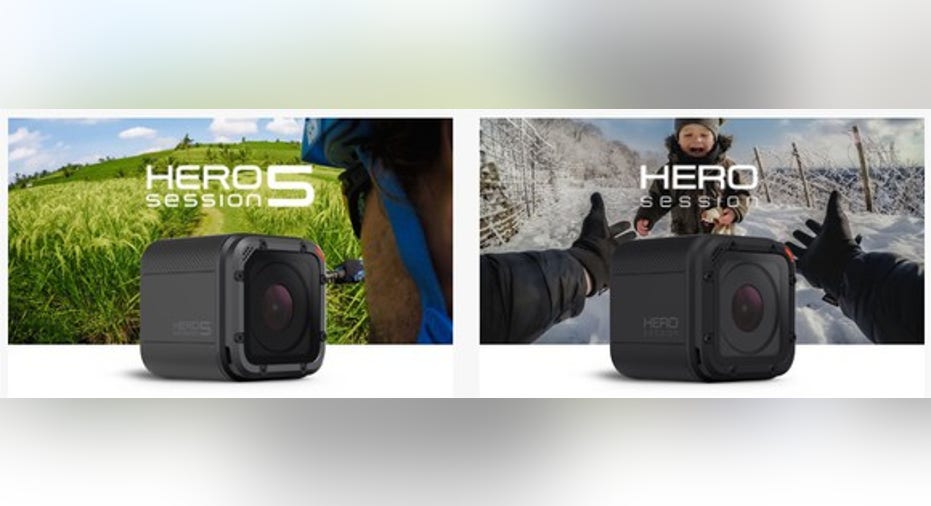 Shares of GoPro (NASDAQ: GPRO) plunged almost 13% on Feb. 3 after the action camera maker posteda big revenue miss in its fourth quarter and offered bleak guidance for its first quarter. GoPro's fourth quarter revenue rose 24% annually to $541 million, but that missed estimates by $34 million.
On the bright side, GoPro returned to profitability after four quarters of losses with earnings of $0.29 per share, beating expectations by $0.07. It also recently relaunched theKarma drone, which was recalled last year due to power failures, within the U.S. market.
GoPro's Karma drone. Image source: GoPro.
But despite the Karma's return, GoPro expects its first quarter revenue to grow just 9% annually to $200 million, which was well below the consensus estimate of $265 million. It also expects its non-GAAP gross margin to fall from 39.5% in the fourth quarter to the "low 30% range" as "fixed costs are absorbed over a smaller number of units."
GoPro also didn't provide any insight into its upcoming products for the year, indicating that investors will need to sit through several more quarters of decelerating growth. But with GoPro's stock sitting 60% below its IPO price, I believe that the window for a turnaround is closing, and that investors shouldn't wait around for GoPro's fabled recovery any longer.
What happened to GoPro?
GoPro's downward spiral was caused by a streak of bad business moves and broken promises. In 2015, GoPro tried to reach more mainstream consumers with low and mid-range Hero cameras, but those devices cannibalized sales of its higher-end ones. It then launched the ice-cube sized Hero 4 Session as a "premium" follow-up to the Hero 4 Black and Silver, but the device flopped due to its high price tag.
Meanwhile, the action camera market was flooded with similar action cameras that cost much less than GoPro's devices. Instead of responding quickly to these threats, GoPro discontinued its low and mid-range Heros and relied on waning sales of the Hero 4 Silver, Black, and Session throughout most of 2016.
One carrot it kept dangling in front of investors was the Karma drone -- which was originally scheduled to launch in the "first half" of 2016. It then abruptly pushed the launch backto the holiday season in May, but that apparently wasn't enough time to prevent the drones from falling out of the sky. The other carrot it kept dangling was the Hero 5, which investors hoped would be a major upgrade for its aging Hero 4 series. But that didn't happen either -- the Hero 5 merely packed the same image sensor and processor as the Hero 4 Black into a smaller case, while adding new voice control, GPS, and cloud features.
Image source: GoPro.
During those tumultuous two years, many of GoPro's top executives left. CFO Jack Lazar, President Tony Bates, and entertainment head Zander Lurie all resigned last year. GoPro alsoslashed 15% of its workforce and axed its media unit -- which the company had claimed, back inits IPO filing, would help "scale GoPro as a media entity and develop new revenue opportunities."
Why GoPro's future looks bleak
During GoPro's conference call, CEO Nick Woodman outlined five top priorities -- to drive profitability through cost cuts and better execution, to make smartphones a central hub for GoPro cameras, to expand its online community, to grow internationally, and to invest in adjacent markets like drones, VR, and stabilization devices. Woodman also declared that GoPro would release "new cameras" this year, but didn't provide any additional details.
However, cutting costs while facing intense competition will likely reduce GoPro's competitiveness. This will make it tough to counter heavyweight rivals like DJI Innovations, which successfully launched its foldable Mavic Pro drone last year. It will also make it hard to develop new cameras with new technologies -- like the stand-alone 360-degree cameras, which can capture 360-degree and VR videos.
Samsung (NASDAQOTH: SSNLF), for example, already startedselling a stand-alone 360-degree camera for just $350 last year. Since Samsung also sells the Gear VR headset, it already controls two pieces of a VR image and video capture ecosystem. GoPro users, by comparison, must use the massive Omni and Odyssey rigs -- which cost thousands of dollars -- to capture 360-degree videos.
It's also doubtful that GoPro's smartphone-centric strategy will ever convert mainstream consumers who don't want to carry separate cameras. Lastly, GoPro could struggle against new augmented reality glasses inspired by Snap's wildly successful Spectacles, which let users quickly capture and share content from their lenses.
Why investors should move on
Instead of countering real long-term threats like Samsung and Snap, I expect GoPro to spend most of 2017 trying to resurrect the Karma, sell accessories for its aging cameras, and tease its future growth potential in VR and other sexy markets.
But GoPro's fatal flaw is that it's still building its entire ecosystem (including the Karma) as "accessories" for its aging cameras -- which will doom the company once sales of those core devices dry up. Therefore, investors should simply stop waiting for GoPro to recover and move on to better turnaround plays.
10 stocks we like better than GoPro When investing geniuses David and Tom Gardner have a stock tip, it can pay to listen. After all, the newsletter they have run for over a decade, Motley Fool Stock Advisor, has tripled the market.*
David and Tom just revealed what they believe are the 10 best stocks for investors to buy right now... and GoPro wasn't one of them! That's right -- they think these 10 stocks are even better buys.
Click here to learn about these picks!
*Stock Advisor returns as of January 4, 2017
Leo Sun has no position in any stocks mentioned. The Motley Fool owns shares of and recommends GoPro. The Motley Fool has the following options: short January 2019 $12 calls on GoPro and long January 2019 $12 puts on GoPro. The Motley Fool has a disclosure policy.