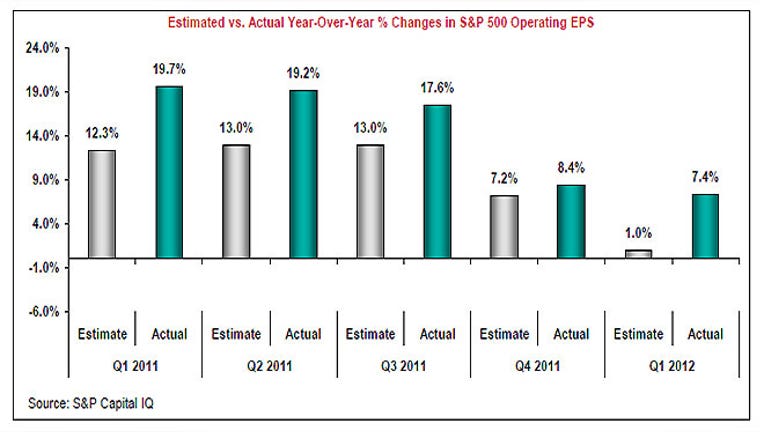 As Alcoa (NYSE:AA) leads off earnings season, Wall Street is bracing for the first year-over-year slippage in S&P 500 operating earnings since the third quarter of 2009.
This is unsettling for equity investors as the enormous rally since the end of the Great Recession has been built, in large part, on continued earnings expansion in the face of economic headwinds.
But before freaking out, investors should be mindful of savvy CEOs deftly managing expectations to unrealistically low levels.
While the eurozone troubles have surely impacted earnings, there has been a consistent gap between low consensus estimates from analysts and higher actual earnings.
According to S&P Capital IQ, over the past five quarters actual earnings growth has been 5.1 percentage points higher than consensus estimates. By that measure, S&P 500 operating earnings should increase roughly 4.1% in the second quarter, extending the growth streak to 11 quarters.
"We've had a trend. The last few years we've had disappointing expectations and then earnings have been better-than-expected. I don't expect that to change at all," Keith Spring, president of Springer Financial and author of Facing Goliath, told FOX Business.
Last earnings season investors were similarly downbeat about the prospects for profit growth, with analysts projecting operating earnings to be up a meager 0.5% at S&P 500 companies.
But reality was not nearly as dreary. Actual earnings ended up jumping by a healthy 7.5% in the first quarter, blowing away expectations.
Pointing to the intensifying eurozone mess and stronger U.S. dollar, some 63 companies have provided negative guidance leading up to this earnings season, including Procter & Gamble (NYSE:PG) and Texas Instruments (NYSE:TXN).
"On the surface, one could argue that this is just another example of a slowdown in global economic growth," Sam Stovall, chief equity strategist at S&P Capital IQ, wrote in a note. "On the other hand, one could say 'new quarter, old trick,' meaning that this is merely a continuation of management's efforts to guide EPS growth estimates to unrealistically low levels."
Guided lower by the economy and CEOs, analysts have been chopping away at their consensus EPS forecasts. A year ago Wall Street projected a 14% increase in second quarter 2012 earnings, but that number slid to just 4% by the start of 2012 and 2% in the beginning of the first quarter.
Now earnings are seen slipping 1% in the second quarter, led by a 12.1% dive in materials earnings and an 8.7% drop in energy profits, according to S&P. Just three of the 10 S&P 500 sectors are projected to report a rise in their bottom lines: consumer staples, industrials and information technology.
Despite the ramping down of earnings expectations and plethora of other headaches, the S&P 500 remains positive on the year, rising nearly 8% as of Friday's close.
In an interview, Stovall said he wouldn't be surprised if the trend of under promising and over delivering by big corporations continues this earnings season.
"We could still end up with another quarter's increase, but one thing we cannot deny is that the estimates continue to be lower quarter by quarter," he said.
Earnings jumped 19.7% in the first quarter of 2011, but slowed to 19.2% the following quarter, 17.6% in the third quarter of last year and then just 8.4% in the fourth quarter.
"In some ways you can say that's natural because we're now entering the fourth year of economic expansion," said Stovall. "Let's face it: things can't continue to grow at double-digit rates."
S&P also notes the gap between actual and projected earnings narrowed from 7.4 points in the first quarter to 1.2 points in the fourth quarter before opening back up again at the start of 2012 to about 7 points.
Still, if earnings manage to stay positive for this quarter, it may just be enough to keep stock prices afloat, Stovall said.
He pointed to the S&P 500's relatively inexpensive valuation: the index's price-to-earnings ratio of 13.5 is a 25% discount to its median PE of 17.9 since 1988.
"You could say that's pretty cheap," said Stovall.