Donald Trump Says Britons 'Took Back Control of Their Country'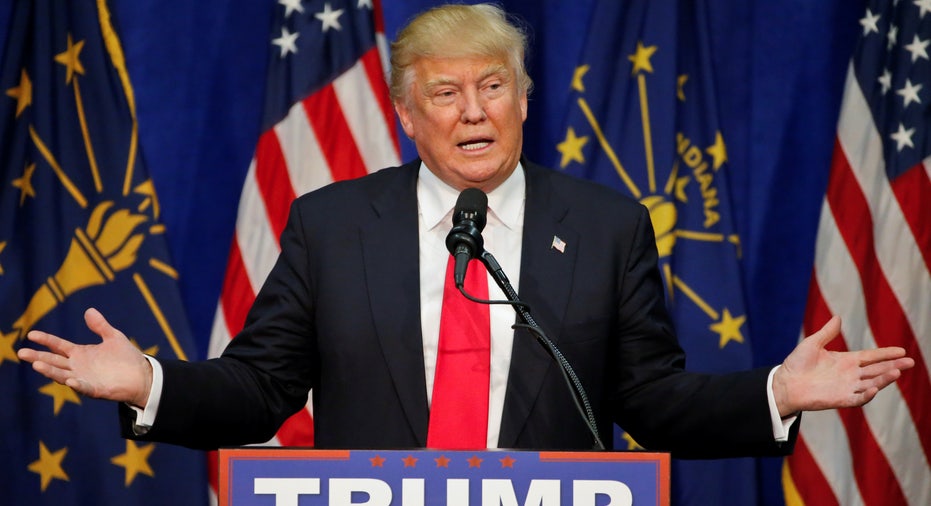 U.S. Republican presidential candidate Donald Trump thrust himself into the heart of Britain's internal struggle on Friday, saying Britons had retaken control of their country by voting to leave the European Union.
In Scotland to reopen a golf resort, the wealthy New York businessman stopped to take questions from reporters after arriving in his signature helicopter at Turnberry near his clubhouse resort, a Scottish flag blowing in the wind.
Asked about Thursday's down-to-the-wire British vote, Trump said: "They took back control of their country. It's a great thing."
"People are angry, all over the world, they're angry," said Trump, who turned 70 this month.
"They're angry over borders, they're angry over people coming into the country and taking over. Nobody even knows who they are. They're angry about many, many things."
Asked if he meant in the United States or the United Kingdom, Trump said: "There's plenty of other places. This will not be the last."
Weeks ago Trump, the presumptive Republican nominee for the Nov. 8 presidential election, said he would be inclined to leave the EU. On Friday he told reporters: "I said this was going to happen and I think that it's a great thing."
Wearing a white hat emblazoned with his "Make America Great Again" campaign slogan, Trump walked up the steps toward the clubhouse with daughter Ivanka and son Eric. Two bagpipers walked ahead of them.
AT ODDS WITH BRITONS
Trump was visiting the golf resort in his family's ancestral homeland to showcase his far-flung business empire. His mother was born on Scotland's Isle of Lewis. Trump scheduled a news conference on the 9th hole at noon (7 a.m. ET/1100 GMT).
His visit to Turnberry, to be followed by a stop at his resort in Aberdeen on Saturday, coincides with a British decision that exposes deep divisions and deals the biggest blow to the European project of greater unity since World War Two.
"Just arrived in Scotland," Trump posted on Twitter. "Place is going wild over the vote. They took their country back, just like we will take America back. No games!"
As it happened, Scotland voted by a margin of 62 percent to 38 percent to remain in the EU, a result that put it sharply at odds with Britain as a whole, which voted 52 percent to 48 percent to leave.
Republicans had cautioned that Trump, who has yet to hold public office and rates unfavorably with 70 percent of Americans in an opinion poll, risked making a foreign policy misstep at a time when Republican leaders are urging a more serious demeanor.
The last Republican presidential nominee, former Massachusetts Governor Mitt Romney, in 2012 made a gaffe-filled campaign trip to London, Jerusalem and Poland.
More than half a million Britons signed a petition earlier this year to bar Trump from entering Britain, where he has several business interests, in response to his call to temporarily ban Muslims from entering the United States. British lawmakers decided against a ban as a violation of free speech.
Trump had exchanged insults with British Prime Minister David Cameron, who supported staying in the EU and said on Friday, after the vote, he would resign by October. Cameron had called Trump's anti-immigrant policy ideas divisive and wrong.
REPUBLICAN LEADERS BAFFLED
Trump's trip has baffled Republican officials who say he should concentrate on strengthening his campaign and taking the fight to the presumptive Democratic nominee, former U.S. Secretary of State Hillary Clinton, who is 68.
"I don't think opening a golf resort gets you many foreign policy chops," Saul Anuzis, former chairman of the Michigan Republican Party said before Trump left for Scotland. "But since he's there right in the middle of the EU vote, it may end up being a PR bonanza for him."
Trump defeated a crowded field of opponents for the Republican nomination while weathering one controversy after another, the latest over his firing of his campaign manager this week, a month before the party convention.
Turnberry is a storied course where the Open Championship has been staged four times. Trump invested $290 million in renovating the resort and golf course on Scotland's West Coast 85 km (53 miles) southwest of Glasgow.
Trump has portrayed his determination to build up courses in Turnberry and Aberdeen and overcome local opposition as an example of the type of leadership skills that Americans would get if he wins the White House.
(Reporting by Steve Holland; Editing by Howard Goller)