Domino's Pizza Inc. Q1 Earnings Were Even Worse Than What You Thought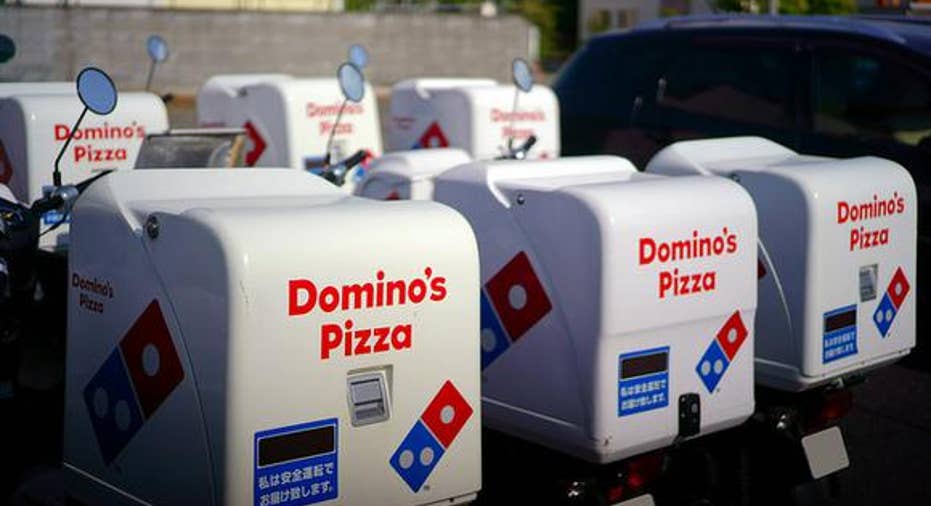 Domino's Pizza failed to deliver the kind of growth the markets were expecting, but the pizzeria was able to mask the severity of the decline with an accelerated share repurchase program. Image source: haru_q
There were a lot of reasons the market didn't like Domino's Pizza's earnings report last week, not least of which was the sales growth slowdown that seemingly came out of nowhere.
Although fast casual pizza chains like Blaze Pizza and Pie Five have tickled the fancy of analysts who thought they might do for the ultimate fast food business what they did for Mexican fare and other casual dining themes, Domino's has largely plugged away and ignored the hype, turning in quarter after quarter of strong growth.
Yet its first quarter earnings reportsaid revenue grew 7.4% on domestic comparable store sales that were up 6.4%. Though better than Wall Street forecasts, that was still narrower than the10.4% sales jump it enjoyed in the year-ago quarter when domestic comps surged 14.5%.That slowdown was a surprise to investors, which knocked Domino's stock back sharply on the news.
Don't discount the impact of hamburgersForget competing pizzerias as the source of the growth slowdown. As TheStreet.com analyst Brian Sozzi surmises, it was probably another notch on the belt of the bundled meal discounts thehamburger chains rolled out in earnest earlier this year.
Wendy'skickstarted the promotional environment in October with its 4 for $4 deal, and both McDonald'sand Burger King soon followed with their own versions. Quick-serve outlets like Bojangles, Dunkin Donuts, and Jack in the Boxall laid blame for their own shortfalls at the feet of the bundled meal deals. It's not unreasonable to think consumers who were buying pizza pies also switched to the value offerings at the burger joints.
Domino's said that its per share profits still rose 10% in the quarter to $0.89, but its net income fell almost 2%. It was able to make up the difference from its accelerated share repurchase program that took 450,000 shares off the market, and over the course of its life has reduced the number of outstanding shares by 10%. That's the only reason Domino's was able to record its profit increase and indicates the quarter was much worse than what the pizza shop headline numbers might suggest.
Operating margins at company-owned stores plunged almost 25% in the period, and Domino's pointed out higher labor costs as the source of the weakness, citing in particular New York's decision to raise pay rates. Domino's company-owned stores are located in urban areas to a greater degree than itsfranchised ones.
Hurry up and waitStill, the accelerated repurchase program served to soften the blow of the disappointing results, and it might not be a concept as well understood by investors as regular stock buybacks.
Under an accelerated repurchase program, a company immediately acquires its shares from an investment bank, which borrows the stock it sells to the company either from clients or on the open market. The bank then buys shares in the open market over time to close its borrowings. The company with the ASR is able to retire those shares immediately, reducing its share count at a faster rate than if employing a traditional repurchase program, which may, in fact, get cancelled if business conditions change for the worse.
Late last October, Domino's announced the completion of a recapitalization plan that saw it borrow $1.3 billion (along with a $125 million variable facility) and use the proceeds to retire $551 million worth of debt. It also authorized a new $800 million stock buyback program to replace an existing $200 million authorization already in effect. However, the company also entered into the ASR worth $600 million -- it almost immediately retired over 4.8 million shares.
Theaccelerated repurchase plan helped Domino's reduce its outstanding share count by a total of 5.3 million shares at an average price of $112.87 per share. While the company was able to purchase the shares at a bargain (its stock currently trades at around $120 per share, even after the post-earnings dip), it also means that if you compare Domino's earnings on an apples-to-apples basis using last year's share count, the pizzeria would have only generated about $0.80 per share in earnings, not the $0.89 it reported. That would have been down from the year-ago period when the company reported $0.81 per share.
While many companies enter into accelerated share programs, investors also need to look at how it affects the bottom line numbers. The market was not happy with the pizzeria's quarterly earnings report, and the headline numbers certainly didn't paint a complete picture of the results.
The article Domino's Pizza Inc. Q1 Earnings Were Even Worse Than What You Thought originally appeared on Fool.com.
Rich Duprey has no position in any stocks mentioned. The Motley Fool has no position in any of the stocks mentioned. Try any of our Foolish newsletter services free for 30 days. We Fools may not all hold the same opinions, but we all believe that considering a diverse range of insights makes us better investors. The Motley Fool has a disclosure policy.
Copyright 1995 - 2016 The Motley Fool, LLC. All rights reserved. The Motley Fool has a disclosure policy.