Dollar Stores Aren't Just For Low- and Middle-Income Shoppers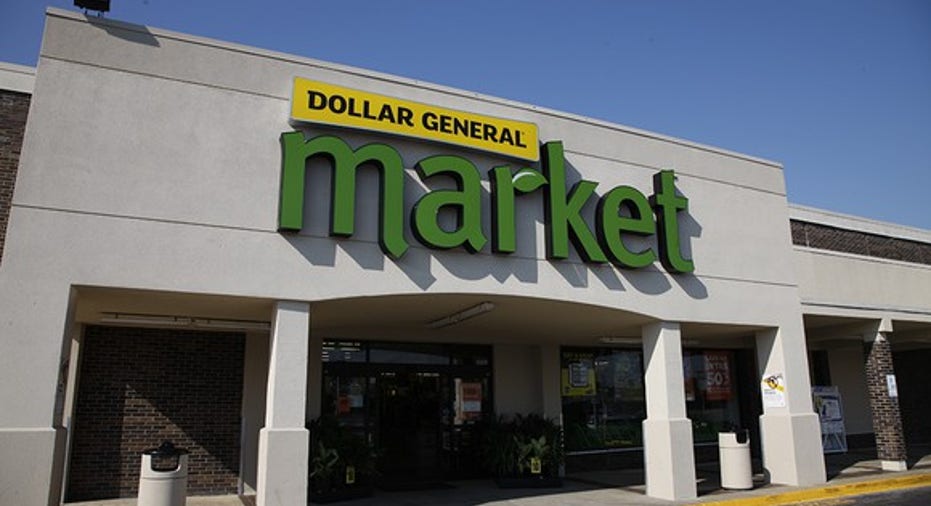 Dollar General is counting on attracting more millennial consumers to its discount stores to power the next leg of its growth journey. Image source: Dollar General.
Are things getting so bad that even the well-off have to shop at the local dollar store? Maybe, but not quite. While the recession and its after effects was the original impetus for millions of consumers to trade down to the deep discounters, it is more likely now that, just like the great unwashed masses, the wealthy find it hard to pass up a good deal.
A recent survey by the market analysts at NPD Group found that about 29% of the millennials who shopped at Dollar General , Dollar Tree , and Family Dollar earned over $100,000 a year. In fact, Dollar General CEO Todd Vasos credits that cohort with quickly becoming one of his chain's "core customer."
He noted that while female millennials only comprise 12% of its customer base, they account for nearly one-quarter of the discount chain's sales, meaning they're spending more than the average customer who shops its stores. He says they're also shopping his stores more often, or about three times per month.
Dollar General is hoping to attract more such consumers to its stores by launching new products that should resonate with them. For example, it just created a new private label brand called Heartland Harvest that expands its better-for-you selection of groceries and anticipates that by September there will be at least 15 different SKUs under that label. Its DG Market concept is expanding the amount of fresh produce it offers consumers.
By adding the Family Dollar chain with its higher price points, dollar store industry pure play Dollar Tree has more freedom to offer consumers a greater variety of goods at low prices.
It's likely Dollar Tree is seeing a similar uptake by this important demographic. Like Dollar General, it witnessed a 2.2% increase in comparable store sales while mass merchandisers such asWal-Mart and Target were thankful to see a 1% gain.Wal-Mart's efforts were about comparable with what it did last quarter and in the year ago period while Target's results were about half what it achieved last year and below the previous quarter's results. Comps are an important retail metric because they strip out the growth a retailer might enjoy simply from opening more stores, so it is seen as a more organic measure of a retailer's business.
And Dollar Tree was able to vastly increase its footprint with its acquisition of the Family Dollar chain, giving the deep discount a better ability to offer a wider selection of goods to consumers. Dollar Tree is the one dollar store pure play where everything for sale in its store is just $1, whereas Family Dollar has no such limitations, though most of its goods range between $1 and $10.
It may be that the struggles Wal-Mart and Target face are directly linked to the success and growth of the dollar stores.
While the average shopper of the deep discounters has an annual income of around $46,000, it's not so far removed from Wal-Mart, whose typical customer earns around $53,000 a year. But Target, whose typical customer is more affluent with income of $65,000 annually, may have the most to lose as Dollar General and Dollar Tree seek to attract more millennials to its stores.
There are likely a few reasons for the popularity of the dollar stores, in addition to the low prices they offer on not just consumables, but also clothes, housewares, etc.
Dollar stores tend to be located in more densely populated areas, which makes them a more convenient choice for consumers looking for fill-in shopping trips. Dollar Tree, for instance, targets suburban shoppers while Family Dollar is a more urban store. Dollar General is located across all regions, but always seeks out locations as close as possible to its customer since it tends to drive visit frequency and customer loyalty.
Both Wal-Mart and Target have attempted to address thisdeficiency byopening smaller format stores. While Target does continue to build out what it once called its CityTarget and TargetExpress stores (it's sincerebranded them under the Target name), there are only 10 stores that are smaller than 50,000 square feet. Dollar General stores average approximately 7,400 square feet (it's testing 6,000 sf stores now too) while Dollar Tree averages 8,100 sf. Its Family Dollar division is slightly smaller at 7,100 sf.Wal-Mart ultimately abandoned its pursuit of the small footprint format.
So it's clear that price, selection, location, and convenience are all conspiring to attract consumers to the dollar store chains regardless of their income at the expense of the mass merchandisers. As millennials maintain their trajectory of increasing importance to the future of retail, their decision to spend more at the deep discounters means Dollar General and Dollar Tree may begin to look to investors like money trees ripe for picking.
The article Dollar Stores Aren't Just For Low- and Middle-Income Shoppers originally appeared on Fool.com.
Rich Duprey has no position in any stocks mentioned. The Motley Fool has no position in any of the stocks mentioned. Try any of our Foolish newsletter services free for 30 days. We Fools may not all hold the same opinions, but we all believe that considering a diverse range of insights makes us better investors. The Motley Fool has a disclosure policy.
Copyright 1995 - 2016 The Motley Fool, LLC. All rights reserved. The Motley Fool has a disclosure policy.