Does VW's Potential Sale of Ducati Mean Anything for Harley-Davidson or Polaris?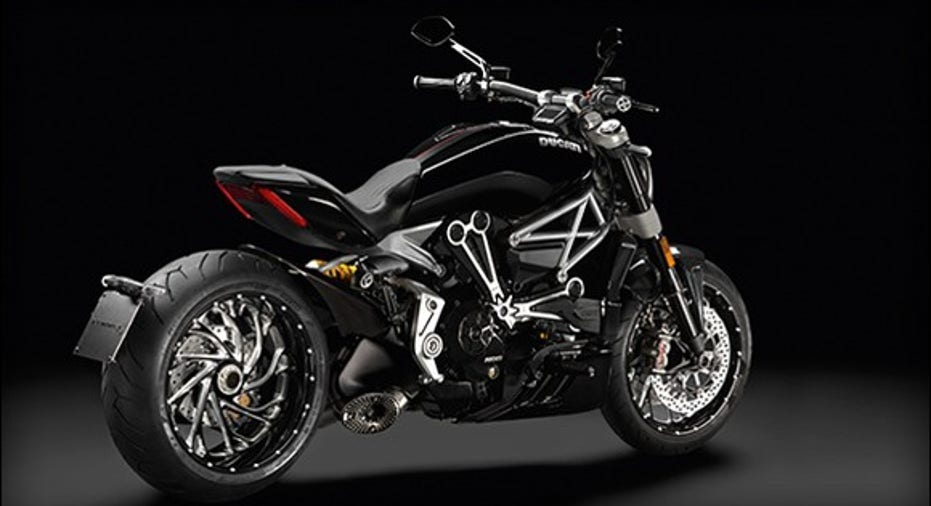 Volkswagen (NASDAQOTH: VLKAY) may be considering selling its prestige Ducati motorcycle business as it continues to come to grips with its role in the emissions cheating scandal, but don't expect U.S. bike makers Harley-Davidson (NYSE: HOG) or Polaris Industries (NYSE: PII) to step forward with an offer. Private equity or another foreign bike- or carmaker may be its best options.
Ducati was always an odd fit at Volkswagen, and shoehorning the racing bike into the portfolio alongside big-block cruisers from Harley and Polaris' Indian Motorcycle doesn't make much sense, either. They've got enough to deal with -- like a slowing U.S. motorcycle industry -- to worry about taking on someone else's vanity project.
Image source: Ducati.
Spinning its tires
Volkswagen is still dealing with the impact its involvement in the emissions scandal is having on its business, and the need to pay multibillion-dollar fines for its role in deceiving regulators. Although an executive at VW's Bentley and Bugatti divisions says their cars are not on the chopping block, it's likely everything not associated with its core business could be seen as expendable, and Ducati being the first to go simply makes the most sense.
Purchased back in 2012 for around $1 billion, Ducati had many people scratching their heads over why the carmaker bought the racing bike brand to begin with. It may be that VW had delusions of grandeur, as there was something about car companies owning racing bikes. BMW (NASDAQOTH: BAMXF), of course, produces a line of high-end motorcycles, and Mercedes-Benz bought a 25% stake in luxury racing bike maker MV Agusta in 2014.
Ducati was the pet project of former VW chairman Ferdinand Piech, who resigned from the carmaker's board in 2015 after a spat with itsthen-CEO. Yet because Piech was still a major shareholder in the company (until this March, when he agreed to sell his near-15% stake back to the controlling Porsche and Piech families), his influence was undoubtedly still widely felt. Now that he's exiting, dumping Ducati becomes an easier task.
And it's just as easy for both Harley-Davidson and Polaris Industries to say, "No, thanks!"
Image source: Ducati.
Speeding away from trouble
Harley-Davidson went down that path once before and quickly realized it was a mistake. In 2008, Harley-Davidson bought MV Agusta for $105 million, as a way to branch out into sports bikes, but the financial markets collapse hit Harley especially hard and it ditched the racing bike by essentially paying its former owner to take the brand off its hands. It wrote off all the goodwill associated with the purchase, took losses on fixed and intangible assets associated with MV Agusta, and charged its former president, Claudio Castiglioni, exactly one euro to take back the company. It then agreed to invest $26 million more in his company. Harley would be highly unlikely to getbored twice.
Polaris Industries announced earlier this year that it was winding down its Victory brand to focus its efforts on Indian Motorcycle, so it is similarly a highly unlikely buyer. When MV Agusta was said to be looking for a potential buyer last year, Polaris' name floated to the top, but nothing ever materialized, and with the winding down of Victory, it is clear that was a dubious rumor from the beginning.
Focusing on what's important
Both Harley and Polaris need to contend with falling demand in the U.S., with the former saying sales were down 5.7% in the first quarter and the latter reporting a 35% drop in segment sales, though the Indian nameplate itself recorded 20% growth in retail sales. Taking on a prestige name for the sake of having one doesn't make business sense for either at this point.
http://www.ducati.com/cms-web/fs//img/racing/2017/MotoGP/Races/04_Jerez/MGP17_R04_N99_01_Wide_960x420.jpg/MGP17_R04_N99_01_Wide_960x420_960x420.jpgImage source: Ducati.
Not that Ducati hasn't enjoyed some success in recent periods. While the brand has had a troubled history, especially before Volkswagen purchased it, Reuters notes that Ducati posted sales of 593 million euros last year, or about $643 million at current exchange rates. VW's Audi division, which makes motorcycles and includes Ducati, made adjusted earnings before interest and taxes of 51 million euros in 2016.
Still, with an estimated price tag of around $1.5 billion, it's a hefty tab to pick up simply to get into a relatively low-volume nameplate. Ducati sold 55,451 bikes last year, up 1.2% from the year before, but only 8,787 bikes were sold in the U.S., its biggest market.
Of course, Volkswagen may decide not to sell anything, but instead spin Ducati off on its own. Whichever way it goes, don't expect to see the U.S. bike makers putting in an offer.
10 stocks we like better than Harley-DavidsonWhen investing geniuses David and Tom Gardner have a stock tip, it can pay to listen. After all, the newsletter they have run for over a decade, Motley Fool Stock Advisor, has tripled the market.*
David and Tom just revealed what they believe are the 10 best stocks for investors to buy right now... and Harley-Davidson wasn't one of them! That's right -- they think these 10 stocks are even better buys.
Click here to learn about these picks!
*Stock Advisor returns as of May 1, 2017
Rich Duprey has no position in any stocks mentioned. The Motley Fool owns shares of and recommends Polaris Industries. The Motley Fool recommends BMW. The Motley Fool has a disclosure policy.