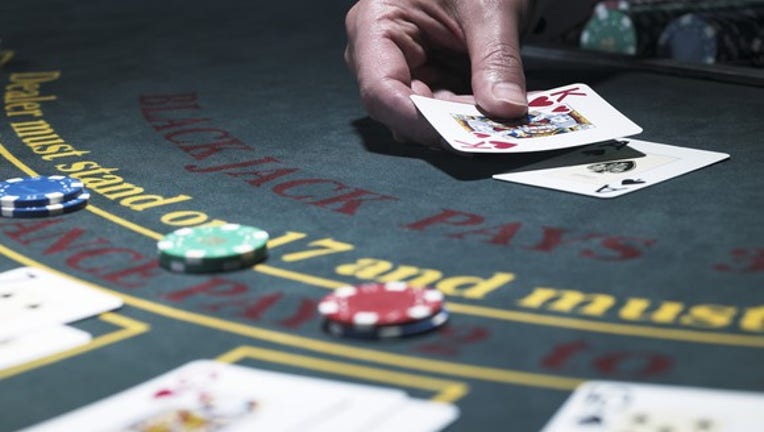 Don't bet on Las Vegas getting hit by the same sort of steep downturn that's occurring in Macau, but it still might see a losing streak. Image source: Getty Images
While the two year decline in gaming revenue for China's island oasis, Macau, has casino operators concerned, less attention is being paid to the slowdown underway on the Las Vegas Strip.
In the last 12 months, year-over-year gaming revenues for the North American gambling mecca have declined eight times. In fact, they've fallen for three straight months and are down four out of the last five. Can it be that Las Vegas has a Macau-style problem or -- since Macau has been trying to emulate Vegas' move to become a more family-friendly venue -- are the island's problems destined to get worse?
The answer to both questions is a definite maybe.
Macau's decline has its roots in the crackdown on corruption initiated by Beijing that ensnared a number of junket operators -- the middlemen who loan money to VIP gamblers. Vegas doesn't have that kind of a problem, because casino operators like Las Vegas Sands , MGM Resorts , and Wynn Resorts are required to "know their customer" and must know where a gambler's money comes from to help prevent money laundering by organized crime. There are no middlemen loaning money to VIPs on the Strip.
Macau's decline, however,has led casino operators there to turn their attention from the high rollers to more mass-market operations on the Cotai Strip. Galaxy Entertainment opened two touristy resorts last year, and Melco Crown Entertainment opened its Hollywood-themed Studio City last October, a venue that featured no VIP tables at all (though the extended downturn has the casino operator rethinking that decision). And coming soon to Cotai are the new Wynn Palace and the Sands' Parisian, both more heavily geared toward family entertainment.
Considering that Las Vegas derives almost two-thirds of its casino revenues from entertainment other than gambling, the weakness on the Strip where most of the tourists drop their coins may be something of aconcern for their Chinese counterparts.
Now, it's true May 2015 was a unique month for Las Vegas: It generated over $1 billion in gaming revenue for the month, with the Strip enjoying one of its best months, raking in over $601 million in revenue, a 15% year-over-year gain. It's understandable the 2015 comparisons might not be as strong, but when you look back further, it's clear there is still weakness.
Data source: Nevada Gaming Control Board. Chart by author
But that's not true everywhere in Las Vegas -- revenues from the downtown area, which is considered a proxy for where the locals play, are actually quite strong. Over that same 12-month period, there have only been three months that revenues have been down, and in five of the months where revenues rose year-over-year, they increased by double-digit percentages.
Yet that isn't the complete picture. Just as Macau is changing, so too have the dynamics of Las Vegas evolved over time as it transformed from a destination that was primarily about gambling to one that's focused on a variety of entertainment options.
A decade ago, for example, Wynn only operated one venue in Las Vegas, Wynn Resorts. Today, it also has the Encore, and the emphasis of the whole operation is decidedly on non-gambling revenues.
Data source: Wynn Resorts SEC filings
Looking only at the monthly gaming win ofVegas' casino operators means you're not getting as complete a picture as you might think. Gaming revenues may be declining, but it's also possible the casinos are making up the difference in food, entertainment, conventions, meetings, and retail.
For example, while Wynn's gaming revenues have grown at a compounded rate of 1.6% annually since 2006, its non-casino revenues have grown by almost 5% annually.
It's that type of result that Macau's operators are banking on as they transforms the island into a mass-market venue. In a sluggish, uneven economy like the U.S. is experiencing, it may be difficult to grow. Wynn's non-casino revenues were virtually unchanged in the first quarter while table game drop plunged 17%. Las Vegas Sands, which derives most of its income from Macau, saw a 7% drop in casino revenues at its Vegas properties, though it did enjoy a 13% increase in room revenues to $148 million.
It would be helpful if casinos reported non-gaming revenues monthly, as they do with their slot and table game drop, but until they start offering those numbers, investors will have to follow the money as best they can. That trail suggests that while the problems may not be as pervasive as they are in Macau, there could be further weakness in Sin City's future.
The article Does the Las Vegas Strip Have a Macau Problem? originally appeared on Fool.com.
Rich Duprey has no position in any stocks mentioned. The Motley Fool has no position in any of the stocks mentioned. Try any of our Foolish newsletter services free for 30 days. We Fools may not all hold the same opinions, but we all believe that considering a diverse range of insights makes us better investors. The Motley Fool has a disclosure policy.
Copyright 1995 - 2016 The Motley Fool, LLC. All rights reserved. The Motley Fool has a disclosure policy.