Does NVIDIA Corporation's Strong Quarter Make the Stock a Buy?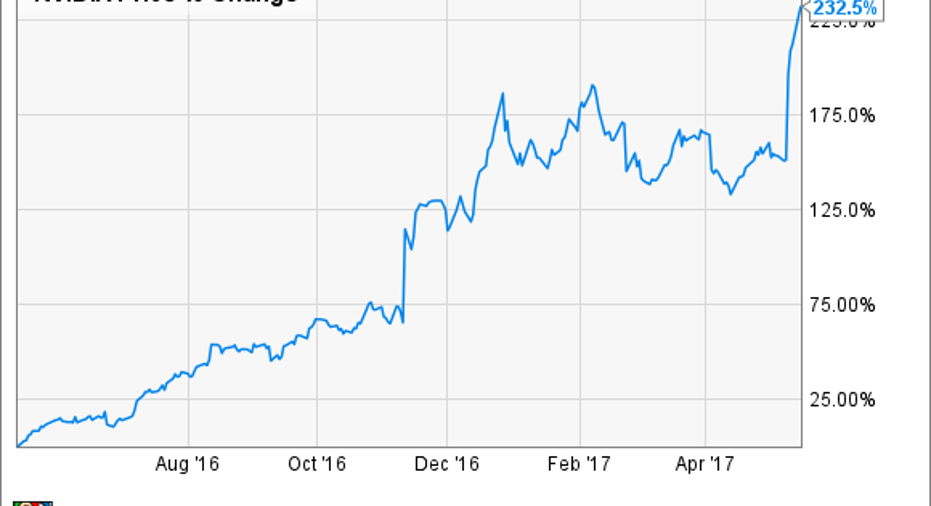 NVIDIA (NASDAQ: NVDA) has been somewhat of a celebrity stock in the tech sector of late. Its share price is up more than 230% over the past year, the company is quickly becoming a leader in new technologies like artificial intelligence and driverless cars, it dominates the graphics processor market, and it continues to report strong earnings each quarter.
The company's latest earnings report last week sent NVIDIA's share price surging once again, so let's take a look at what's going right for NVIDIA and whether investors can continue betting on this tech darling.
Image source: NVIDIA.
A stellar quarter
NVIDIA's revenue jumped 48% in the fiscal first quarter 2018, to $1.94 billion, and net income skyrocketed 144%, to $507 million. All of that helped push up diluted GAAP earnings per share 126% year over year, to $0.79.
That was enough to top Wall Street's estimates for NVIDIA for $0.66 EPS on $1.91 billion in revenue.
But that wasn't all of the good news. The graphics-processor maker proved once again that it can grow its other business as sales from its data-center segment nearly tripled and its automotive business increased 24% year over year.
NVDA chart by YCharts.
Why NVIDIA is a buy
Just because NVIDIA's share price is on fire right now it doesn't mean investors should jump right in. And it's worth pointing out that the company is currently trading at a premium of about 45 times its trailing-12-months earnings.
While a case could be made for both investing in NVIDIA or sitting this one out, NVIDIA continues to build strong foundations in artificial intelligence (AI) and its data-center business that I don't think can be overlooked.
The company's new Volta card is expressly designed for artificial intelligence, allowing companies to add deep-learning processing to their computing systems like never before. The card will likely add to NVIDIA's current GPU dominance and help open up NVIDIA to $10 billion total addressable market in AI.
Additionally, NVIDIA's ability to triple its sales in the data-center segment in the quarter shows how the company is already expanding the use of its GPUs far beyond the gaming market. Investors can expect NVIDIA to continue expanding further into data centers as companies look to graphics processors for their deep-learning needs.
NVIDIA CEO Jen-Hsun Huang said on the company's fiscal fourth-quarter 2017 earnings call a few months ago: "The next area of growth will occur as enterprise in such fields as healthcare, retail, transportation, and finance embrace deep learning on GPUs."
If all that weren't enough, consider that NVIDIA is still growing its core gaming business and far outpaces the competition. Sales in gaming rose 49% year over year in the second quarter and accounted for more than half of NVIDIA's total revenue.
Investors who are skittish about NVIDIA's valuation and who think that the company's stock price run is over should look to the company's strong gaming foundation and its growing potential in data-center and AI markets as a strong case for buying into this company's ongoing growth story.
Find out why Nvidia is one of the 10 best stocks to buy now
Motley Fool co-founders Tom and David Gardner have spent more than a decade beating the market. (In fact, the newsletter they run, Motley Fool Stock Advisor, has tripled the market!*)
Tom and David just revealed their ten top stock picks for investors to buy right now. Nvidia is on the list -- but there are nine others you may be overlooking.
Click here to get access to the full list!
*Stock Advisor returns as of May 1, 2017
Chris Neiger has no position in any stocks mentioned. The Motley Fool owns shares of and recommends Nvidia. The Motley Fool has a disclosure policy.