Does Netflix Finally Have the Right Formula to Tap This Big Opportunity?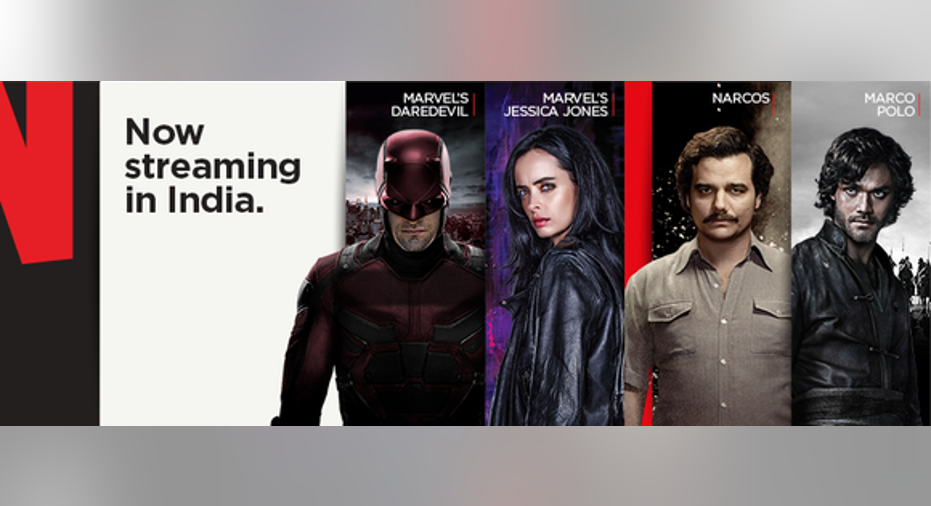 India was supposedto be a potentially fertile ground for Netflix (NASDAQ: NFLX) because of the fast-growing internet penetration and a growing video-on-demand economy, but this hasn't been the case so far. The streaming giant has only a handful of paying subscribers to show for in this market after a year, thanks to cheaper and better offerings from Amazon and Twenty-First Century Fox's Hotstar streaming app.
As it turns out, Netflix had priced out mass-market customers when it launched, ignoring the fact that data plans in India are expensive and speeds are slow compared to other markets. However, it seems to have realized its folly, and its latest moves in the country should help increase its subscriber count.
Image source: Netflix.
Netflix's strategic partnerships could power subscription growth
Netflix CEO Reed Hastings struck strategic partnerships with telecom carrier Airtel and direct-to-home (DTH) service provider Videocon while visiting India earlier in March. These deals are capable of taking the streaming service into millions of Indian homes as Airtel and Videocon are among the largest DTH players in this market.
More specifically, Videocon will have around 27.6 million DTH subscribers once it completes its merger with Dish TV later this year, while Airtel DTH had 12.4 million subscribers in September 2016. The deal enables Airtel and Videocon DTH customers to stream Netflix content as the companies will integrate the app right into their set-top boxes, eliminating the need for any mobile device or smart television.
Of course, the set-top box needs to be connected to the internet through a Wi-Fi or Ethernet network, and it needs a minimum speed of 2 Mbps, but this shouldn't be a problem for Netflix. India's average internet speed shot up to 5.6 Mbps in the fourth quarter of 2016, from just 3.5 Mbps toward the beginning of the year, thanks to the growing deployment of fiber networks and LTE.
Additionally, the broadband user count there is slated to hit 600 million in the next three years as compared to 100 million in 2015, driven by government initiatives to promote digitization. This is great news for Netflix since improving internet speeds and penetration will increase pay-TV adoption in this market.
According to the Asia Pacific Pay TV Forecasts, India will add 30 million pay-TV subscribers in the next five years. Netflix, therefore, has done the right thing by partnering with two of the largest DTH companies in the Indian market since it will now have ready access to a huge user base. There is no clarity on the pricing plans yet, but if Netflix can share the costs with its DTH partners or run ads, it might be able to offer lower, cheaper plans to drive subscriptions.
Digital payments could be another tailwind
Netflix has primarily accepted credit cards so far in India, and this has been detrimental to its growth since credit card penetration over there is abysmally low. Credit card circulation in the country stood at just 24 million in March last year as compared to over 660 million debit cards.
However, Netflix's potential move of allowing Indians to pay using the Paytm digital wallet could be a game-changer. Paytm recently integrated the recurring billing feature on its platform that allows service providers to charge their customers a fixed amount every month for a specified duration, paving the way for Netflix to include this payment option.
The Alibaba-backed Paytm has already hit 200 million users in India, receiving a massive boost after the government's demonetization drive late last year that created a cash crunch. Thanks to its massive popularity and the discounts (in the form of cash backs) it offers to users, it won't be surprising if the payments service actually helps drive Netflix adoption in the country.
The Foolish takeaway
Netflix is trying to cover all fronts in the Indian market to drive subscription growth. It has been partnering with local content creators and big movie production houses to shore up its library, while also bringing new technology that will allow users to stream hours of content while consumingless data.
All of these moves should work in tandem with Netflix's strategy of getting into more homes and expanding its reach by integrating a widely accepted payment platform.
10 stocks we like better than NetflixWhen investing geniuses David and Tom Gardner have a stock tip, it can pay to listen. After all, the newsletter they have run for over a decade, Motley Fool Stock Advisor, has tripled the market.*
David and Tom just revealed what they believe are the 10 best stocks for investors to buy right now...and Netflix wasn't one of them! That's right -- they think these 10 stocks are even better buys.
Click here to learn about these picks!
*Stock Advisor returns as of February 6, 2017.
Harsh Chauhan has no position in any stocks mentioned. The Motley Fool owns shares of and recommends Amazon and Netflix. The Motley Fool has a disclosure policy.