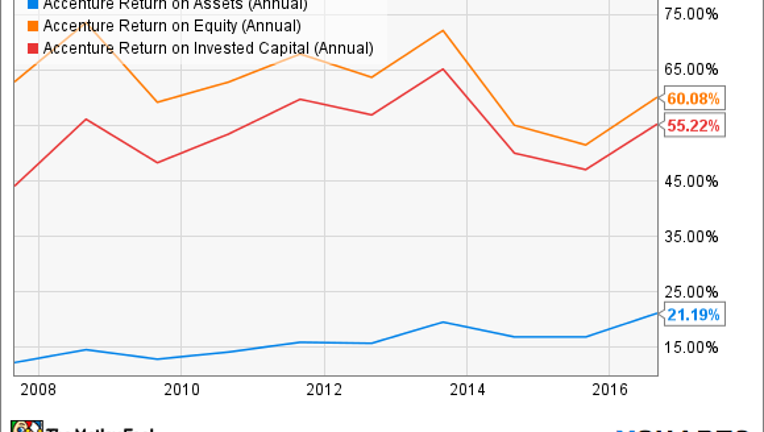 Image source: The Motley Fool.
At the recentBerkshire Hathawayannual meeting, an investor asked Warren Buffett about the company's shift from investing in high return, asset light businesses to capital intensive ones such as railroad operator Burlington Northern. Whether this shift is actually occurring or not is debatable, but Buffett agreed with the the idea of investing in companies that return gobs of capital with minimal investment:
This isn't the first time Buffett has expressed his fondness for these attributes, and his followers are likely clamoring to find the next company that checks all three boxes -- doesAccenture (NYSE: ACN)make the cut?
High returns on minimal capital
Accenture is in the IT Services business, providing consulting and professional services to a variety of companies. With over 400,000 employees, its greatest assets are its people, not equipment or software. As a result, Accenture has been able to generate gobs of cash and return it to investors rather than having to further invest it in the business.
Data source: Thomson Reuters. Chart by author. *Free cash flow calculated as cash from operations less capital expenditures.
As shown in the chart above, less than 10% of the cash generated from Accenture's operations has been spent on tangible capital, while 92% of free cash flow generated has been returned to shareholders via dividends or share repurchases. The strong return to shareholders isn't just a result of the improving economy over the past five years. According to Morningstar research, over 93% of free cash flow has been returned to shareholders since fiscal 2002.
As far as return on its capital, no matter what metric you look at, Accenture's business has been consistently strong.
Data by YCharts.
How about growth?
High returns on assets with low capital requirements is often a recipe for a solid investment. If you can combine those two traits with high growth, you may be looking at a great one.
Accenture has grown its revenue at just under 5% annually over the last five years. However, management has done a good job turning that revenue growth into profitability as earnings and cash flow have grown 13.7% and 13.5% over the same time, respectively. However, bottom line growth has slowed with earnings per share up just 4.4% in the trailing twelve months.
But Accenture is not resting on its laurels. The company spent over $900 million in acquisitions in 2016 and has spent $829 million in the past six months of its fiscal 2017. The company announced 11 deals in just the second quarter and expects to spend over $1.5 billion in acquisitions for the year. Its focus has been on the digital space, because in its most recently reported quarter, the digital, cloud, and security services business grew by double digits. That segment now represents 45% of total revenue.
Going forward, Accenture does expect top line growth to accelerate -- the company is guiding toward 6% to 8% in local currency. On the other hand, earnings growth will slow down as the mid-range of Wall Street estimates calls for $6.41 in earnings per share next year, only 9.4% increase from expected fiscal 2017 results.
The company appears to meet Buffett's criteria of achieving high returns with low capital requirements, while the growth behind the business is in question. A mid-single digit pace is nothing to sneeze at, but it is trending in the wrong direction. The company is also becoming more reliant on acquisitions to fuel its progress. Only successful integration of its purchases, accompanied by stronger earnings growth, will make Accenture a truly ideal Buffett business.
10 stocks we like better than AccentureWhen investing geniuses David and Tom Gardner have a stock tip, it can pay to listen. After all, the newsletter they have run for over a decade, Motley Fool Stock Advisor, has tripled the market.*
David and Tom just revealed what they believe are the 10 best stocks for investors to buy right now... and Accenture wasn't one of them! That's right -- they think these 10 stocks are even better buys.
Click here to learn about these picks!
*Stock Advisor returns as of May 1, 2017
Palbir Nijjar owns shares of Berkshire Hathaway (B shares). The Motley Fool owns shares of and recommends Berkshire Hathaway (B shares). The Motley Fool recommends Accenture. The Motley Fool has a disclosure policy.