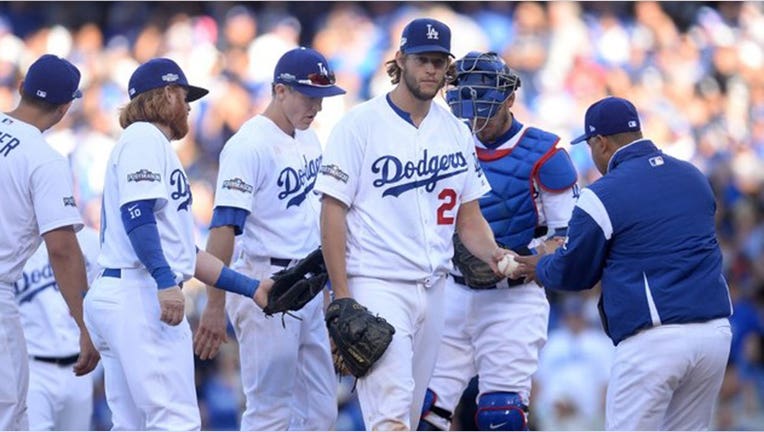 For all of his awards and regular season brilliance, Dodgers ace Clayton Kershaw lacked a signature playoff performance, but that changed on Thursday when he guided Los Angeles to the National League Championship Series in unlikely fashion.
Just two nights after logging 110 pitches in Game Four, Kershaw made a surprise appearance as a closer in the ninth inning, getting the final two outs in a tight situation to seal a 4-3 series finale victory over the Washington Nationals.
It was a major breakthrough for Los Angeles and their standout pitcher after the team suffered heartbreaking NL Division Series defeats in the last two years.
"It's a little bit of an adrenaline rush," Kershaw told reporters after he got red-hot Nationals hitter Daniel Murphy to pop out before striking out Wilmer Difo to set off celebrations in the middle of the diamond. "We're all exhausted after every game. They're such grinds. And it's such a relieving feeling when they're over and you win."
For Kershaw, this season has truly been a grind after the three-times Cy Young Award winner and 2014 NL MVP missed more than two months of the campaign due to a back ailment.
The 28-year-old arrived at these playoffs with a career post-season mark of 2-6 and an ERA of a little less than five, well below his exceptional standards.
Kershaw was far from perfect in his two starts against the Nationals, surrendering three runs in five innings to win the series opener last week, then striking out 11 while allowing five runs in a 6 2/3 innings no decision on Tuesday.
But the Dodgers won all three of his series appearances and when he relieved closer Kenley Jensen in the Game Five finale, he put his ultimate stamp on the divisional round.
"When they told me he was going to go (tonight), I knew he was going to have my back," Jensen said.
Kershaw has carried the Dodgers on countless occasions but never as significantly as he did Thursday.
"When we saw him walking out of the gate, we had a great feeling," Dodgers infielder Justin Turner said. "He's the guy we want out there. For him to get that final out was just awesome."
(Writing by Jahmal Corner in Los Angeles; Editing by John O'Brien)