Dodgers beat Cubs in Game Five to reach World Series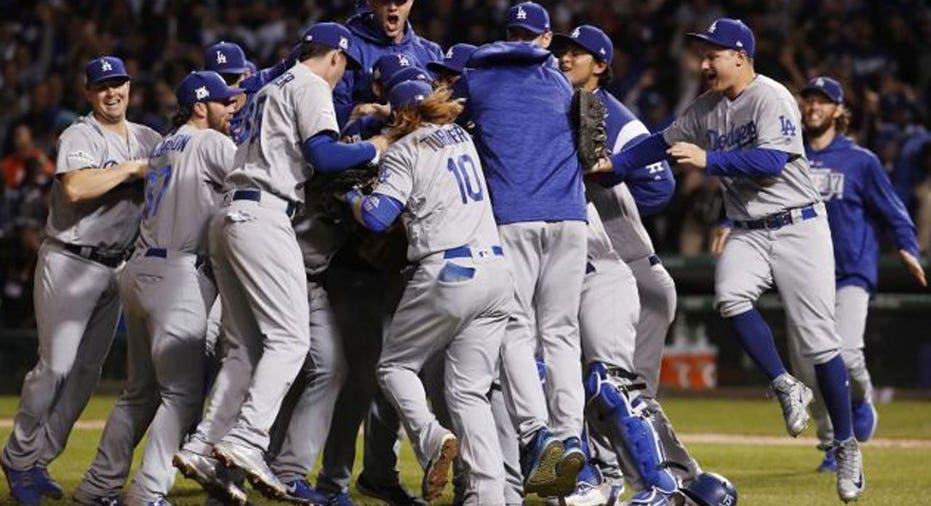 The Los Angeles Dodgers advanced to Major League Baseball's World Series for the first time since 1988 after beating the Chicago Cubs 11-1 on Thursday to clinch the National League Championship Series 4-1.
  Los Angeles outfielder Enrique Hernandez struck three home runs, including a grand slam in the third inning at Wrigley Field in Chicago.
  Los Angeles will meet either the New York Yankees or Houston Astros in the World Series, which starts on Tuesday.
  The Dodgers have won the World Series five times since moving from Brooklyn to Los Angeles in 1958, most recently in 1988.
  ``Feels good to hear (the words) 'World Series,''' Los Angeles ace starting pitcher Clayton Kershaw said.
  ``It's been a long time coming for this team. I never thought in a million years I'd get to play a World Series.
  ''I don't know how to compare it to years past but everybody has a role and everybody executes. It just seems like there's a different superstar every night.``
  While the Dodgers celebrated, the Cubs' season concluded with barely a whimper, 12 months after they ended a century-long drought by beating the Cleveland Indians in the seventh game of the World Series.
  The Cubs were never in it on Thursday, as the Dodgers batters jumped all over Chicago starter Jose Quintana.
  The Colombian left-hander barely made it out of the second inning, replaced by Hector Rondon with nobody out and the bases loaded in the third.
  Rondon quickly struck out Logan Forsythe before Hernandez sent the first pitch he faced over the ivy wall to make the score 7-0, effectively ending the contest.
  Hernandez ended with seven RBIs, while Kershaw got the win after giving up three hits and one run over six innings.
  (Reporting by Andrew Both in Cary, North Carolina; Editing by Peter Rutherford)