Do Juno's Struggles Make Kite Pharma a Buy?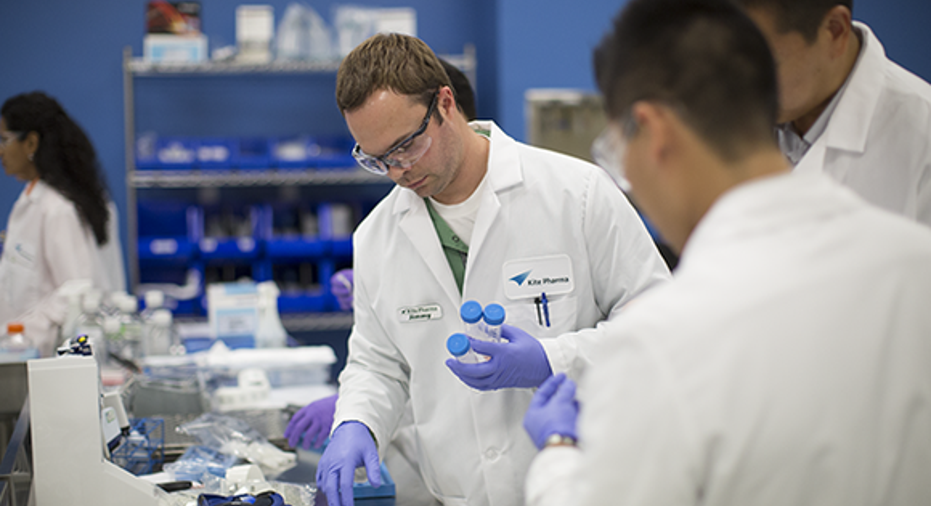 Image source: Kite Pharma, Inc.
Following Juno Therapeutics' (NASDAQ: JUNO) disclosure that it's halted a trial of JCAR015 for a second time this year, all eyes shift toKite Pharma, Inc. (NASDAQ: KITE), another promising drug developer that's working on a cancer therapy that works similarly to JCAR015. Does JCAR015's failure make Kite Pharma shares worth buying? Let's take a closer look.
Building a lead
Juno Therapeutics and Kite Pharma entered this year in a dead heat in the race to deliver a new cancer-fighting approach that supercharges the immune system to find and destroy cancer cells.That approach is chimeric antigen receptor T-cell therapy (CAR-T) therapy, and following promising early-stage trial results, industry watchers have pinned high hopes on both Juno Therapeutics and Kite Pharma's most advanced drug candidates.
In CAR-T, T-cells are removed from a patient and re-engineered so that they can bind to receptors commonly found on the surface of B-cell cancers, such as non-Hodgkin lymphoma (NHL) and acute lymphoblastic leukemia (ALL). Once these T-cells bind to cancer cells, a payload can be delivered that destroys them.
So far, the overall response rates to both Juno Therapeutics' and Kite Pharma's therapies has been impressive, especially when we consider that trials have enrolled patients whose disease has progressed despite prior treatment.
In terms of safety, however,a widening gap has developed between the two drugs.
In July, a mid-stage study of JCAR015 in ALL patients was halted after two patients died because of cerebral edema, or brain swelling. Juno's management felt strongly at the time that the deaths were due to the addition of fludarabine to its pre-conditioning regimen. Management submitted a proposal to the FDA to remove fludarabine from the preconditioning protocol, and the FDA signed off on it.
Now, that decision appears to have been a mistake. According to Juno Therapeutics, two more patients have died because of cerebral edema. The deaths have forced Juno to voluntarily halt JCAR015's ALL trial again, and it brings the total number of patients who have passed away in JCAR015's studies from brain swelling to six.
Juno's first trial halt derailed its plans to launch JCAR015 in 2017, and this second trial halt could mean Juno Therapeutics won't be able to deliver on its latest target for a 2018 filing, either. In discussing its latest trial halt with investors, Juno's management left the door open for abandoning JCAR015's use in ALL altogether.
Making headway
Kite Pharma's news this year has been much better. Instead of focusing on ALL patients first, Kite Pharma's lead study of KTE-C19 is in diffuse large B-cell lymphoma (DLBCL) patients. DLBCL is the most common form of NHL, and historically, neurotoxicity is less common in NHL patients than it is in ALL patients.
In September, Kite Pharma reported interim data from its ZUMA-1 trial, including a 33% complete response rate at the three-month mark in 51 patients with DLBCL. KTE-C19 also appears effectivein less common forms of NHL, delivering a 64% complete response rate in 11 patients diagnosed with transformed follicular lymphoma (TFL) and primary mediastinal B-cell lymphoma (PMBCL).
Importantly, KTE-C19's safety appears to be more in keeping with what participants have expected. CAR-T's have long been associated with cytokine response syndrome, and this syndrome has been mostly manageable in KTE-C19's trials.
Since patients participating in KTE-C19 trials have limited treatment options, KTE-C19 is delivering solid response rates, and there have been few safety surprises, there's little reason (yet) to think that Kite's management won't be able to execute on plans to get KTE-C19 in front of regulators for approval early next year.
Uncertainty remains
So far, KTE-C19's safety in NHL suggests it has a very good shot at becoming the first commercially approved CAR-T therapy on the market. However, there's no guarantee.More than 90% of cancer drugs fail to win FDA approval, and KTE-C19 relies on a preconditioning that includes the same cancer chemotherapies that Juno Therapeutics used in its JCAR015 ALL study. However,KTE-C19 administers those chemotherapies at lower doses than Juno, so it's possible that KTE-C19 regiment exposes patients to less risk of neurotoxicity than JCAR015.
Assuming that no safety hurdles pop up, Kite's management targets a filing for FDA approval of KTE-C19 early next year. The FDA has up to 60 days to accept that application, and once it has accepted it, regulators could make their decision on KTE-C19 within six months. Based on that timeline, Kite Pharma could begin marketing KTE-C19 late in 2017.
Initially, Kite Pharma has built out enough capacity to produce 4,000 doses of KTE-C19 per year. Roughly 30% of NHL cases are DLBCL, and that suggests that demand could end up outstripping that supply, if all goes well for Kite. Given KTE-C19 is likely to command a six-figure price tag, this drug could be a big seller, and that makes this company's stock intriguing, albeit still risky.
10 stocks we like better than Kite Pharma When investing geniuses David and Tom Gardner have a stock tip, it can pay to listen. After all, the newsletter they have run for over a decade, Motley Fool Stock Advisor, has tripled the market.*
David and Tom just revealed what they believe are the 10 best stocks for investors to buy right now and Kite Pharma wasn't one of them! That's right -- they think these 10 stocks are even better buys.
Click here to learn about these picks!
*Stock Advisor returns as of November 7, 2016
Todd Campbell has no position in any stocks mentioned.Todd owns E.B. Capital Markets, LLC. E.B. Capital's clients may have positions in the companies mentioned.Like this article? Follow him onTwitter, where he goes by the handle@ebcapital, to see more articles like this.
The Motley Fool recommends Juno Therapeutics. Try any of our Foolish newsletter services free for 30 days. We Fools may not all hold the same opinions, but we all believe that considering a diverse range of insights makes us better investors. The Motley Fool has a disclosure policy.