Do Investors Need to Worry About H&R Block's Q3 Earnings Whiff?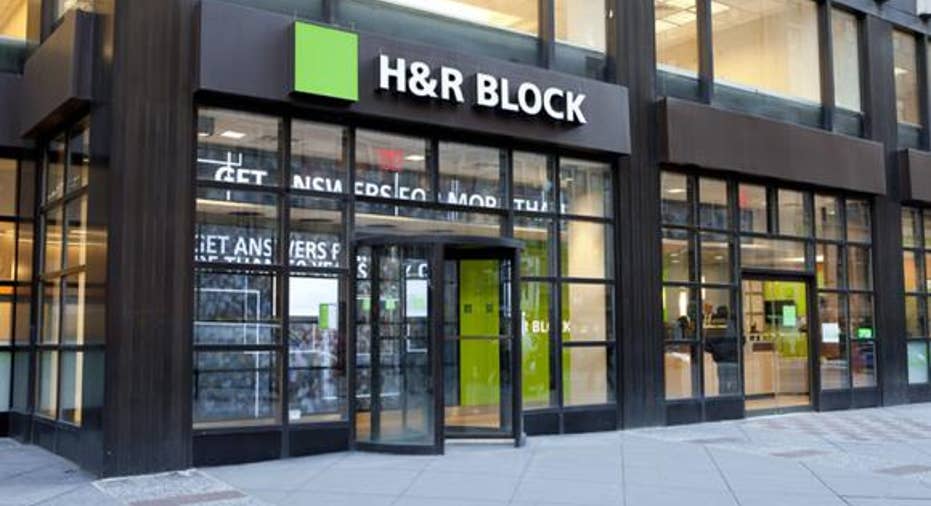 In its latest set of quarterly earnings, H&R Block imitated a desperate spring training batter by whiffing mightily. The tax specialist's net loss was much deeper than analysts expected, while the top line also fell short. Not surprisingly, the stock price took a hit on the news.
It was a fairly unpleasant period for the company; let's see if we can expect similar swings and misses going forward.
Image source: H&R Block.
Out of seasonH&R Block's fiscal Q3 2016 saw the company post $475 million in revenue, which was 7% below the same period the previous year. Adjusted net loss, however, was more than twice as deep, cratering to $79 million ($0.34 per share) from Q3 2015's $37 million.
The company wasn't anywhere near the ball as far as market expectations were concerned. On average, analysts were looking for only a $0.24 per share deficit, on $502 million in revenue.
Nobody should have been shocked that H&R Block booked a loss. After all, the company typically lands in the red in the three quarters of the year that don't include the IRS's April 15 filing deadline. As we're all aware, most filers tend to procrastinate when it comes to paying the tax man.
As such, the current Q4 is the company's money quarter. Not only is H&R Block usually profitable during this time, it also books most of its annual revenue then.
We can see the same dynamic at work with rival Intuit, which is also still heavily dependent on the tax cycle despite being more diversified with its products and services. In Intuit's fiscal year 2015, for example, only Q3 (the tax quarter) was profitable -- its top line ballooned to nearly $2.2 billion from Q2's $808 million.
Taxing developmentsRegardless, the doubling, and then some, of H&R Block's net loss -- and to a level far worse than expected -- is cause for concern. The company says the key reasons for this were a general decline in the volume of tax returns, and the impact of its sale of H&R Block Bank to BofI Holding, the company that controls online lender Bank of Internet.
However, a different line item has started contributing intensely to the red ink. Last fall, H&R Block issued $1 billion in debt to help fund an ambitious $3.5 billion share repurchase program that stretches out into June 2019; the company's interest expense in Q3 jumped to $23 million and change, from $9 million in Q3 2015.
Companies launching stock buyback schemes are hopeful that the added demand for shares will drive up the price. It's understandable that H&R Block would want some zip in its stock, since before the results were announced, its price was basically at the same level as it had been a year or so previously.
Still, it seems investors are clearly more concerned with bottom line; after the Q3 figures came down the pipe, the stock shed several dollars and now floats below $28 per share.
Sharing the burdenIn the proximate future, we can imagine the delays of last quarter will become the filed returns of the current one.
That should boost the results of H&R Block's prized fourth quarter. For that period, analysts are collectively estimating a per-share profit of $3.30. This is well above the $2.69 of last Q4, although we have to keep in mind that there will be fewer shares outstanding because of the buyback initiative.
Further out, those prognosticators are expecting EPS of $1.77 for the entirety of fiscal 2016, just a touch above the $1.75 the company posted for 2015. That's not much of an improvement, particularly considering the aforementioned decline in share count.
So, although H&R Block isn't an enterprise in crisis -- America won't stop filing its taxes, after all -- it doesn't exactly operate a dynamic business on a sharp rise. Investors don't necessarily need to worry that it'll whiff as heavily as it did this past quarter, but they shouldn't consider it a company loaded with potential for the future.
The article Do Investors Need to Worry About H&R Block's Q3 Earnings Whiff? originally appeared on Fool.com.
Eric Volkman has no position in any stocks mentioned. The Motley Fool owns shares of and recommends BofI Holding and Intuit. Try any of our Foolish newsletter services free for 30 days. We Fools may not all hold the same opinions, but we all believe that considering a diverse range of insights makes us better investors. The Motley Fool has a disclosure policy.
Copyright 1995 - 2016 The Motley Fool, LLC. All rights reserved. The Motley Fool has a disclosure policy.