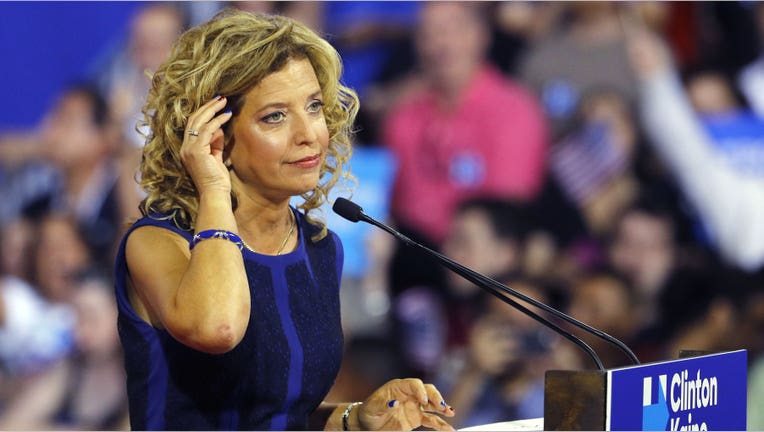 The chairwoman of the Democratic National Committee resigned Sunday after a trove of emails were disclosed showing DNC officials had worked to undermine the underdog presidential campaign of Vermont Sen. Bernie Sanders.
Debbie Wasserman Schultz, a Florida congresswoman, said in a statement that she would leave her post at the DNC at the end of this week's convention. She said she would still open and close the gathering and would address the delegates.
"My first priority has always been serving the people of the 23rd district of Florida and I look forward to continuing to do that as their member of Congress for years to come," she said in a statement. But she said the "best way" to fulfill her goals was to step down.
Given antipathy to her from hundreds of Sanders delegates who will be in the hall, it is likely that she will be booed each time she takes the stage.
Mr. Sanders has long accused Ms. Wasserman Schultz of favoring presumptive Democratic presidential nominee Hillary Clinton and had wanted her fired. But the Clinton campaign stuck by her and it was thought that she would survive until her term expires after the November election.
Then Friday, the WikiLeaks website released a database of more than 19,000 emails allegedly sent from DNC officials between early 2015 and mid-2016. Some of the emails show DNC staffers discussing ways to weaken Mr. Sanders's campaign.
In one email to colleagues, a top DNC official suggested ways to undermine an unnamed person who appears to be Mr. Sanders: "Does he believe in a God. He had skated on saying he has a Jewish heritage. I think I read he is an atheist. This could make several points difference with my peeps."
On Sunday, Mr. Sanders told CNN that he found that "outrageous, but not a great shock to me."
"Many, many months ago I made it clear that Debbie Wasserman Schultz should resign, should step down, not only because of the prejudice they showed during the campaign, but also because we need a new leadership of the Democratic Party," Mr. Sanders said.
All day Sunday, pressure was growing for her ouster, and Clinton campaign officials were in talks with her, negotiating an exit.
For Mr. Sanders and his supporters, the private emails were only the latest offense. They accused Ms. Wasserman Schultz of creating a limited primary debate scheduled aimed at protecting Mrs. Clinton, and blamed her for inappropriately cutting off his campaign's access to voter files after Sanders workers wrongly accessed proprietary Clinton files. Ms. Wasserman Schultz harshly criticized Mr. Sanders after the Nevada state Democratic convention erupted in bitter Sanders-Clinton disputes -- prompting Mr. Sanders to accuse her of taking sides.
After the Nevada spat, Senate Minority Leader Harry Reid urged President Barack Obama and Mrs. Clinton to replace Ms. Wasserman Schultz as DNC chairman, said a Democratic aide with direct knowledge of the conversations. He believed the protests of the Sanders delegates in Nevada laid bare a depth of mistrust and grievance that wouldn't be repaired so long as she was party chair.
On Sunday, former Pennsylvania Gov. Ed Rendell, a former DNC chairman, said it was time for her to go. "I love Debbie, and I think she's done a good job. But I think this was unconscionable and somebody has to be held accountable for it," he said.
Ms. Wasserman Schultz, often a combative figure, needled her Republican counterpart last week when the GOP convention got off to a rocky start. Last Monday she said on Twitter, "I'm in Cleveland if you need another chair to help keep your convention in order."
Last month, the DNC said its computer systems had been compromised by hackers linked to the Russian government twice over the past year. Russian officials denied involvement.
Carol E. Lee and Janet Hook contributed to this article.
Write to Laura Meckler at laura.meckler@wsj.com