Dividend Concerns Sink Costamare Incs Stock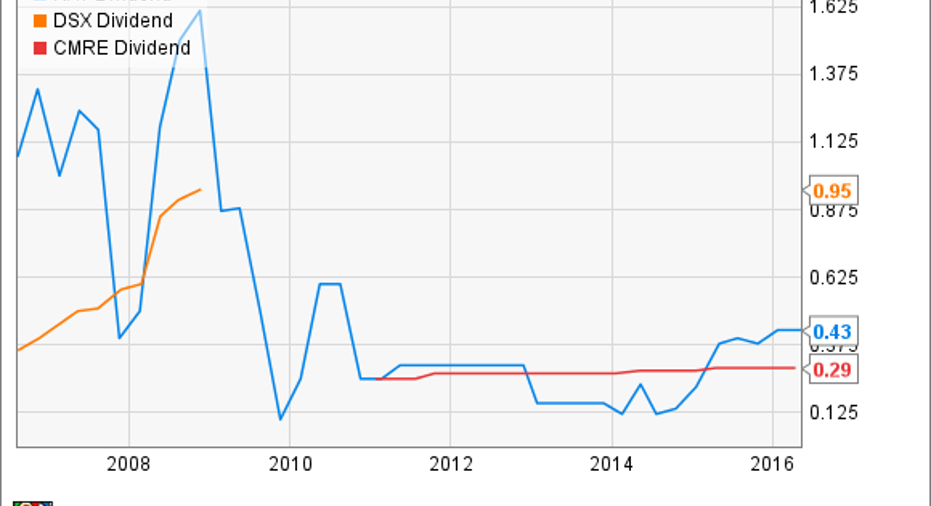 PROMO: Image source: Getty Images.
What: Shares of containership leasing company Costamare sank deeply on Thursday, down 17% at 3:00 p.m. EDT.
So what: Fueling Costamare's sell-off was a downgrade by Morgan Stanley . Not only did it cut Costamare's rating from overweight to equal weight, but slashed its price target from $12 to $7.50 per share. Driving the decision to downgrade is the uncertainty and weakness in the container shipping industry. This malaisecould begin to weigh on the company's earnings, which might require a meaningful dividend reduction.
The shipping industry is known to be turbulentfor dividend investors. After growing its payout for years, Diana Shipping suspended it during the financial crisis and has not reinstated it yet. Meanwhile,Nordic American Tanker's payout ebbs and flows with its cash flow:
NAT Dividend data by YCharts
So far Costamare has been able to avoid this fate because it signs the bulk of its vesselsto long-term charters instead of exposing them to spot rates like Nordic American Tankers or shorter term charters like Diana Shipping. That said, the company has had to sign several short-term contracts recently due to the weak containership market, and it has several unchartered newbuilds scheduled for delivery. These issues have the potential to put downward pressure on earnings if long-term charter rates do not rise. That could put it in the same boat as Diana Shipping and Nordic American Tanker, necessitating that it lower its payout as its earnings sink.
Now what: With charter rates in the tank, Costamare's dividend could be on the chopping block. That is par for the course in the shipping sector, which is known for its deep cyclicality and fluctuating dividend payouts.
The article Dividend Concerns Sink Costamare Incs Stock originally appeared on Fool.com.
Matt DiLallo has no position in any stocks mentioned. The Motley Fool has no position in any of the stocks mentioned. Try any of our Foolish newsletter services free for 30 days. We Fools may not all hold the same opinions, but we all believe that considering a diverse range of insights makes us better investors. The Motley Fool has a disclosure policy.
Copyright 1995 - 2016 The Motley Fool, LLC. All rights reserved. The Motley Fool has a disclosure policy.