Dispelling 3 Ford Motor Company Shareholder Concerns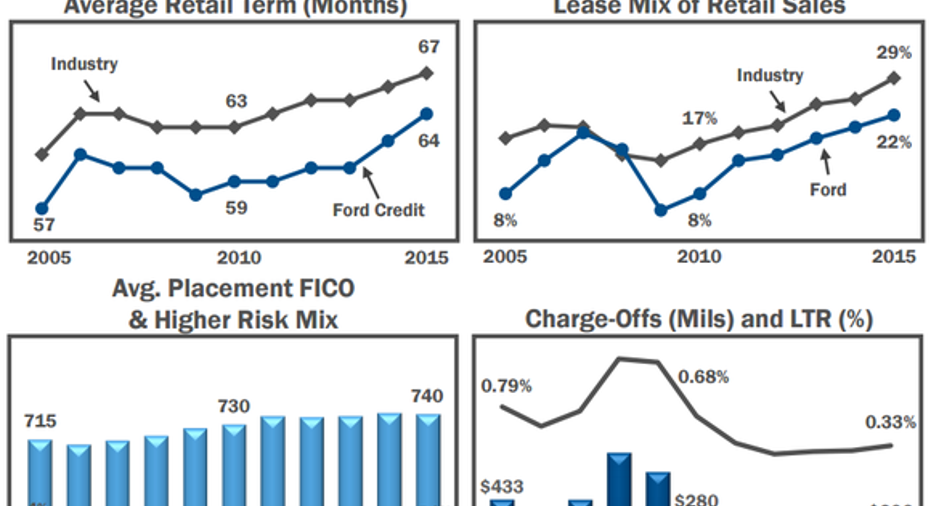 Ford headquarters in Dearborn, Michigan. Image source: Ford Motor Company.
There's certainly some anxiety within the automotive investing community, with automotive sales likely peaking in the profit-engine U.S. market. That makes for perfect timing for Ford Motor Company's "Let's Chat" presentation with CFO Bob Shanks, who for an hour addressed the most pressing concerns for investors, how Ford views those issues, and what it's doing about them. Here are three of the major takeaways.
Excess inventory?Many have pointed out that Ford's inventory levels are higher than historic norms, and over the past few months, that's certainly true. At the end of January, Ford had 104 gross days of supply, which is higher than its January average of 91 from between 2011-2015. For context, the industry norm is roughly 60 days' supply. While it seems Ford has a lot of excess inventory, there are multiple factors to consider here.
Shanks noted that 71% of Ford's U.S. plants are operating with 3-crews. Essentially, that means if there were to be a spike in demand throughout the spring or summer selling season, Ford wouldn't be able to hire much more overtime with the majority of plants already running three crews. For that reason, Ford's building up its inventory ahead of the stronger spring selling period and the days supply will continue to decline during the second quarter, narrowing the gap to its historical levels. We're already seeing signs of this with Ford's days of supply moving from 104 at the end of January to 87 at the end of February to 80 at the end of last month.
Furthermore, investors also have to consider that Ford's Super Duty inventory is higher than usual ahead of its upcoming launch. Ultimately, its excess inventory isn't an issue and the company has previously noted that it didn't have enough inventory last year and believes that cost it some share in the U.S. market but it won't happen again.
Subprime problem? There have been increasing concerns about consumer auto loan terms lengthening, as well as automakers increasingly going after subprime consumers to fuel their business. While these might sound concerning, when you drill into Ford Credit's information it's easy to see that Ford isn't focusing on subprime consumers and has many trends that are better than the industry norm.
Image source: Ford's "Let's Chat"presentation.
Ford Credit's average loan length isn't as long as the industry average, and Shanks noted that there is no indication that these longer loan lengths are causing the consumer to delay their next vehicle purchase -- which is the main concern of longer loan lengths, in my opinion. Ford's lease mix of retail sales is also lower than the industry norm, but that speaks more to the fact that fewer trucks are leased and Ford sells a ton of trucks.
Arguably the brightest spot of those four graphs was that Ford's average placement FICO score continues to rise, nearing 740 which is a very high mark; and better yet, its percentage of higher risk loans only account for about 5% to 6% of the total. There is no subprime loan crisis to see here, not even close.
Understanding the dividend Recently, when Ford announced it would be paying out its quarterly dividend at the same rate, and that it would also pay out a supplemental dividend -- while crosstown rival General Motors opted to increase its quarterly dividend -- some investors weren't sure what to think about the move.
Basically, Ford will continue to pay its regular dividend, and then depending on multiple factors, it will dish out a supplemental dividend to get total distributions to reach between 40% and 50% of the prior year's net income. The exact amount of the supplemental dividend will be based on several factors: cash and liquidity balances, view of future investment requirements, view of global conditions, and, of course, the prior year's net income.
The main thing for investors to realize is that Ford's unwillingness to commit to a dividend increase doesn't reflect its view of the near-term future. Ford believes things are going well and will continue to do so, in terms of the global auto industry. However, this move gives it more flexibility to budget for other business investments while still paying out a strong amount to shareholders.
All in all, if you're an investor of Ford or other major automakers, the company's "Let's Chat" presentation was insightful when looking at some of the pressing automotive industry concerns, it's worth a listen.
The article Dispelling 3 Ford Motor Company Shareholder Concerns originally appeared on Fool.com.
Daniel Miller owns shares of Ford and General Motors. The Motley Fool owns shares of and recommends Ford. The Motley Fool recommends General Motors. Try any of our Foolish newsletter services free for 30 days. We Fools may not all hold the same opinions, but we all believe that considering a diverse range of insights makes us better investors. The Motley Fool has a disclosure policy.
Copyright 1995 - 2016 The Motley Fool, LLC. All rights reserved. The Motley Fool has a disclosure policy.