Disney's Shift From the Little Screen to the Big Screen Is Apparent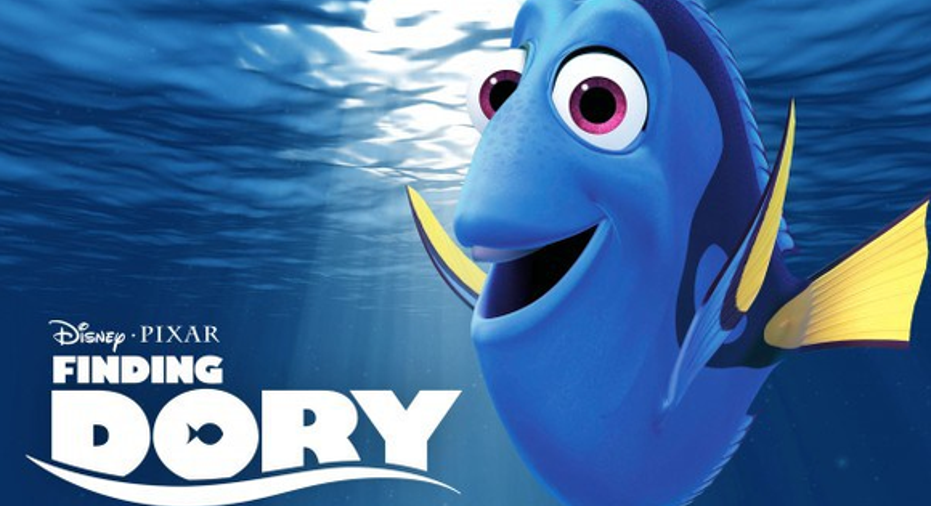 Pixar's Finding Dory is another success for The Walt Disney Company's filmed entertainment division. Image source: The Walt Disney Company.
Right now, The Walt Disney Company is a tale of two screens. Over the past year, the company has produced a string of movies: Star Wars: The Force Awakens, The Jungle Book, Finding Dory, and Zootopia, which have all proved to be box-office successes. When it comes to success on the big screen, Disney is firing on all cylinders: Five of the top 10 Disney movies by domestic box office ticket sales have occurred in 2015 or 2016.
It's been a different story on the small screen. For perhaps the biggest example of Disney's shifting investment focus, look no further than its most lucrative cable channel, ESPN. Over the span of a little more than a year, the company has parted ways with a host of on-air talent, with Curt Shilling, Colin Cowherd, Skip Bayless, Keith Olbermann, Jason Whitlock, and Bill Simmons leaving the network.
While it's true a few of these departures can be blamed on derogatory public remarks toward others (Shilling, Cowherd) or at ESPN itself (Simmons), the company received the added benefit of saving on salaries. The New York Times reported that Simmons made more than $5 million annually. The Big Lead reported that Disney demanded the network cut $100 million -- or the equivalent of 20 times Simmons' salary -- from its production budget this year and $250 million from 2017's budget. All told, ESPN let go of approximately 300 people.
Big screen, smaller revenue
Don't let the screen size fool you, however: When it comes to Disney as an investment, smaller is better. Over the past eight quarters, the plurality of Disney's revenue and operating income derives from its media networks division, which consists of advertising revenue and cable/retransmission fees for The Disney Channel, ABC, and oddly enough, a 50% stake in the History Channel. Here's a visual representation of this division compared with the rest of Disney:
Source: Disney's 10Q/K. Revenue figures in U.S. millions.
Disney doesn't specify what percentage of revenue from this division is due to ESPN alone, but it should be noted that it's by far the most expensive cable channel. Earlier this year, media analysis firm MoffettNathanson estimated that the channel alone costs $6.10 per month per subscriber, more than four times its second-highest listed channel, Time Warner's TNT, which MoffettNathanson estimates to cost $1.50 per month per subscriber.
Unfortunately for ESPN, the only thing increasing at a faster clip than cable costs are broadcasting rights for sporting leagues. ESPN and Time Warner's Turner network agreed to a nine-year, $24 billion contract with the NBA starting in 2017 -- the $2.67 billion-per-year average is nearly 200% more than the expiring annual cost of $930 million.
In the first quarter of 2016, Disney surprised investors when the company reported a year-on-year operating income drop in its important media networks division, a result of cost growth that exceeded revenue growth:
Source: Disney's 10Q and 10K. Revenue figures in U.S. millions.
By parting ways with its top-notch talent, though, ESPN has potentially opened itself up to a new risk: competition. Time Warner and Twenty-First Century Fox's Fox Sports 1 quickly snapped up ESPN's discarded on-air talent in hopes of stealing sports-related market share.
Big-screen investment has been accelerating It doesn't show up fully on the income statement, but Disney's been spending on movies (that is, studio entertainment) in a big way. And that's because Disney is buying movie studios. After paying a mind-boggling $7.4 billion to buy Pixar in 2006, Disney followed that up by paying $4 billion apiece for Marvel in 2009 and Lucasfilm in 2012. Of the earlier mentioned top-10 Disney films by domestic box-office gross, seven come as a result of making these three purchases.
However, this foresight didn't extend to sports teams. Disney did own both the Anaheim Angels and Anaheim Ducks but sold both in the mid-2000s and shuttered its Anaheim Sports Incorporated subsidiary. Disney never owned a professional football team, but it does pay a significant amount of the estimated $7.1 billion in revenue the NFL grossed last year.
What you're likely to see is Disney continuing to invest in its movie studio while cutting investment in its media networks. Disney is already previewing trailers for Steven Spielberg's BFG, Doctor Strange, and another storyline from Lucasfilm's Star Wars' franchise, Star Wars: Rogue Onefor 2016 releases. Filmed entertainment isn't a large part of Disney's top line as of this point, but it's likely to increase in both size and importance going forward while media networks enters a slower growth phase.
The article Disney's Shift From the Little Screen to the Big Screen Is Apparent originally appeared on Fool.com.
Jamal Carnette has no position in any stocks mentioned. The Motley Fool owns shares of and recommends Time Warner and Walt Disney. Try any of our Foolish newsletter services free for 30 days. We Fools may not all hold the same opinions, but we all believe that considering a diverse range of insights makes us better investors. The Motley Fool has a disclosure policy.
Copyright 1995 - 2016 The Motley Fool, LLC. All rights reserved. The Motley Fool has a disclosure policy.