Disney's Latest Dividend Boost Makes It a Yield Play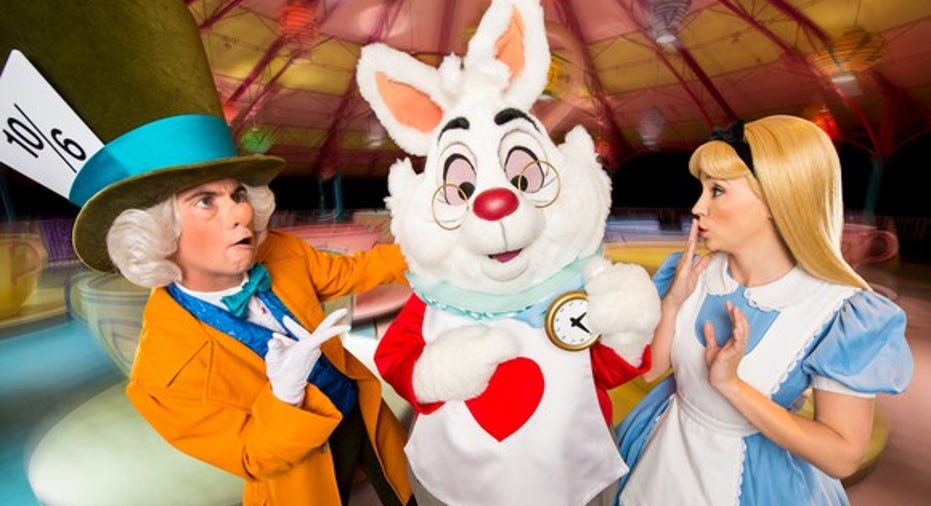 Image source: Disney.
Never underestimate the potent combination of a rising dividend rate and declining stock price to jack up a yield. Disney(NYSE: DIS)increased its payout after yesterday's market close. The media giant's semi-annual dividend is climbing from $0.71 to $0.78 a share. The move pushes the yield on Disney stock up to 1.57% as of last night's close.
The new yield may not seem to be much of a magnet for income investors, but it's a juicy rate by Disney's historical standards. The stock has taken a 12.6% hit over the past year. Given the lower dividend that it was paying out a year ago, Disney's yield has gone from 1.25% to 1.57% over the past year.
Disney has been aggressive with its disbursements, and they have historically moved higher than its share price. Disney's stock has nearly doubled over the past four years, but the dividend has now more than doubled. Disney shares have nearly tripled over the past six years, but the distributions have nearly quadrupled. In short, Disney's yield is at the high end of its range in recent years.
It's not such a small yield after all
Disney stock has stalled as analysts fret about ESPN subscribers peaking and theme park attendance running cold. Those fears are overblown.
It's certainly true that cord cutters have been eating into the subscription tallies at ESPN, Disney Channel, and the media giant's other cable properties. However, Disney keeps finding a way to hold its own when it comes to its largest segment's business. Revenue managed to climb 2% at Disney's media networks division for its recently concluded 2016 fiscal year on flat segment operating earnings growth.
Disney's theme parks division is holding up even better. Despite posting declines at Disney World and Disneyland in two of the past three quarters, the segment's revenue and operating profit rose 5% and 8%, respectively, for all of fiscal 2016.
Disney's third largest business -- its film studio -- is naturally doing even better. It's coming off of a fiscal year that began with Star Wars: The Force Awakens, only to go on to crank out some of calendar 2016's biggest box office winners. Revenue soared 28% with the segment's operating earnings rising a hearty 37%. Fiscal 2017 will be a hard act to follow on that front, but the rest of Disney's businesses should continue to post modest gains.
Opportunistic investors should be applauding the situation. The stock has declined over the past year, but Disney's adjusted earnings per share rose 11% in fiscal 2016. The boost in per-share profits is giving Disney the flexibility to execute the 10% increase in its dividend rate. The hikes should continue. Disney has increased its rate every year since 2004, and there's plenty of wiggle room to keep going even if growth stalls in the near term. Disney with a nearly 1.6% yield may not seem very exciting, but it's important in many other ways.
Find out why Walt Disney is one of the 10 best stocks to buy now
Motley Fool co-founders Tom and David Gardner have spent more than a decade beating the market. (In fact, the newsletter they run, Motley Fool Stock Advisor, has tripled the market!*)
Tom and David just revealed their ten top stock picks for investors to buy right now. Walt Disney is on the list -- but there are nine others you may be overlooking.
Click here to get access to the full list!
*Stock Advisor returns as of November 7, 2016
Rick Munarriz owns shares of Walt Disney. The Motley Fool owns shares of and recommends Walt Disney. Try any of our Foolish newsletter services free for 30 days. We Fools may not all hold the same opinions, but we all believe that considering a diverse range of insights makes us better investors. The Motley Fool has a disclosure policy.