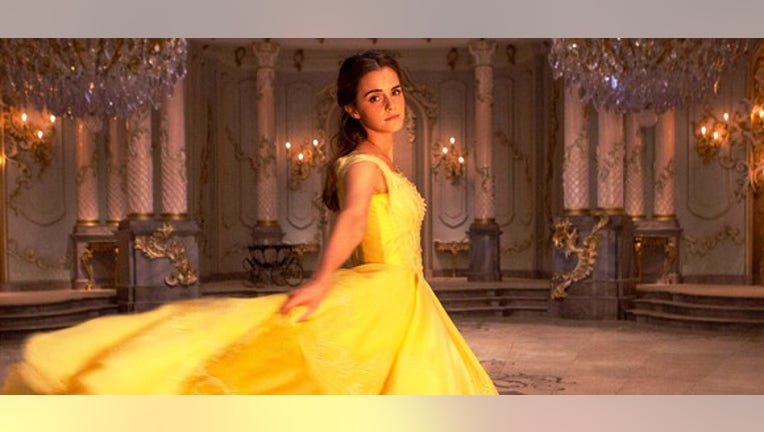 Moviegoers are going wild for Disney's (NYSE: DIS)Beauty and the Beast. The company's live-action reimagining of its 1991 animated classicscored up $170 million in its domestic opening weekend, setting a new record for a PG-rated film and March opener and putting the film on track for a massive performance.
The picture nabbed an additional $182 million in international sales over its first weekend -- putting the film's global debut at an impressive $352 million. As of March 22, the film had taken in nearly $480 million across the globe. With such a strong opening, Disney's latest release looks destined to join the illustrious billion-dollar film club -- and the powerful performance is likely to create benefits that extend beyond the company's film segment.
Image source: Disney.
Beauty's path to $1 billion
Beauty and the Beasttopped the domestic performance of former March-opening record-holderBatman v Superman, which grossed $166 million in its first American weekend and $420 million internationally. Time Warner's March 2016 release posted a better global debut and wound up with an $873 million gross, but poor word of mouth for the superhero picture means that it's probably not the best model for predicting Beauty's lifetime ticket sales.
Disney's new take onBeauty and the Beast has been well-received, with 70% of critics on RottenTomatoes.com giving the picture a favorable score and 88% of the opening weekend audience giving the film a positive rating, according to ComScore. That kind of reception points to the picture having strong legs.
Disney's 2016 filmThe Jungle Book, also a well-reviewed remake of one of the company's classic animated films, opened to $103 million domestically -- and ultimately went on to gross more than $960 million in global ticket sales.IfBeauty and the Beast canmanage similar staying power, and early indications suggest that it will, it should become the highest-grossing of Disney's live-action remakes -- and could post ticket sales in the $1.2 billion range.
What does the big hit mean for Disney's film wing?
With a blockbuster opening and favorable reviews, Disney's latest live-action remake is set to be a boon to the company's fiscal performance and one of 2017's biggest movie hits.Beauty and the Beast adds to the company's recent string of box office successes and illustrates the potency of its franchises and consistent quality of output.
Last year saw the company achieve record-setting performance at the box office, and, with new installments in thePirates of the Caribbean, Cars, andStar Warsseries set to debut, 2017 looks to deliver another strong showing for its movie wing. Disney is set to release six fewer films this year than last, so topping 2016's performance is unlikely, but the company's franchise film production model is showing serious strength, and it's got a wealth of big properties in the pipeline.
Disney is bringing many of its most-beloved franchises back to the big screen, and a fantastic reception forBeauty and the Beastportends well for other upcoming projects. Following recent successes including Cinderella, The Jungle Book, andMaleficent, there's clearly demand for new takes on the company's catalog, and, with updated versions ofThe Lion King,The Little Mermaid,Aladdin, and other classicson the way, Disney has a huge array of likely hits on its hands.
There are also rumblings that The House of Mouse is developing aBeauty and the Beastsequel for a 2019 or 2020 release. The company hasn't given any official indication that it will pursue another installment in the series, but it did deliver a sequel to its 2010 reimagining ofAlice in Wonderlandandhas announced sequels forThe Jungle BookandMaleficent, so a new tale featuring Belle and the Beast seems to be a realistic possibility.
Successful films benefit other segments
One of the beauties of Disney's business model is the high degree of synergy that exists between its segments. The company's film division accounted for just 17% of sales in the last fiscal year, but hit movies help to drive consumer products sales, parks-and-resorts traffic, and even wind up as assets for its media networks.
Now that the picture has landed as a massive success, theBeauty and the Beastremake can be counted on to have positive effects outside of the company's film segment. The Disney Princess brand generates billions of dollars in annual retail sales, and the reintroduction of Belle to the big screen will almost certainly spur the sale of toys, clothing, and other products related to the character.Merchandise sales will likely be the most visible in the short term, but there are also long-term effects to consider.
Disney's business revolves around the appeal of its characters and stories, and the reintroduction ofBeauty and the Beasthas the potential to bring the property to new audiences and parts of the world. Young generations growing up with the film might be more inclined to make trips to the company's parks and have greater overall affinity for the Disney brand, and that could, in turn, be passed on to subsequent generations.
So, while the Beauty and the Beastremake tracking for more than $1 billion in ticket sales is big news, the franchise will be an asset long after the picture leaves theaters -- and that type of dynamic is part of what makes Disney's business so special.
10 stocks we like better than Walt DisneyWhen investing geniuses David and Tom Gardner have a stock tip, it can pay to listen. After all, the newsletter they have run for over a decade, Motley Fool Stock Advisor, has tripled the market.*
David and Tom just revealed what they believe are the 10 best stocks for investors to buy right now... and Walt Disney wasn't one of them! That's right -- they think these 10 stocks are even better buys.
Click here to learn about these picks!
*Stock Advisor returns as of February 6, 2017
Keith Noonan has no position in any stocks mentioned. The Motley Fool owns shares of and recommends Walt Disney. The Motley Fool recommends Time Warner. The Motley Fool has a disclosure policy.