Disney World's Top Rival Taps Nintendo to Keep Winning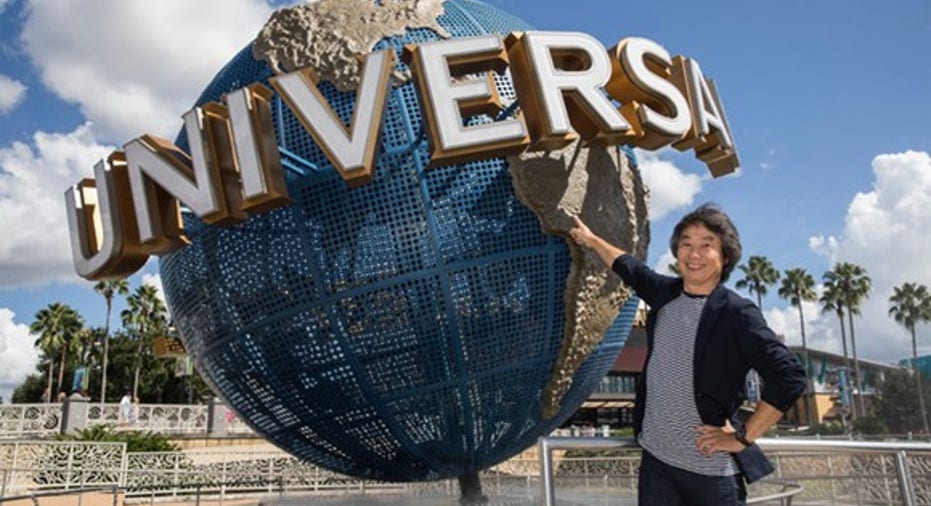 Image source: Universal.
When it comes to building out theme parks in Central Florida, no one seems to be playing the game better than Universal Orlando parent Comcast (NASDAQ: CMCSA). It keeps tapping the "Continue?" option as if it's running out of style, and soon it will be teaming up with Nintendo (NASDAQOTH: NTDOY) to add a new layer of playfulness to its gated attractions.
Comcast announced on Tuesday that it will be rolling out Nintendo-themed areas at Universal Orlando, Universal Studios Japan, and Universal Studios Hollywood. There is no firm opening date for the themed lands across Comcast's three parks, beyond the morsel that the parks will open the areas separately in the next "several" years.There is also no mention of actual attractions that guests will experience or the Nintendo franchises that will be tapped, though Super Mario was mentioned prominently in the announcement, as well as the promotional video starring Nintendo legend Shigeru Miyamoto and Universal Creative chief Mark Woodbury.
The partnership itself isn't news. Comcast and Nintendo revealed in May 2015 that they would be working together. The original announcement promised "immersive experiences" featuring Nintendo's most famous characters and games, but last week's update emphasizes that the themed areas will be coming to all three of the Comcast-owned parks.
Moving Mickey Mouse's cheese
If Disney (NYSE: DIS) wasn't nervous about its fiercest rival before, it may now start gnawing on its fingernails. Comcast's Universal Orlando has been on an expansion binge since the 2010 opening of The Wizarding World of Harry Potter, taking the J.K. Rowling-licensed experience to Japan in 2014 and California earlier this year.
Attendance at its Florida resort has been on a tear since the Potter-inspired update, outpacing the slower growth at Disney's four Florida parks.
| Feature | 2009 Attendance | 2015 Attendance | Change |
| --- | --- | --- | --- |
| Magic Kingdom | 17,233,000 | 20,492,000 | 18.9% |
| Epcot | 10,990,000 | 11,798,000 | 7.4% |
| Animal Kingdom | 9,590,000 | 10,922,000 | 13.9% |
| Hollywood Studios | 9,700,000 | 10,822,000 | 11.6% |
| Universal Studios Florida | 5,530,000 | 9,585,000 | 73.3% |
| Islands of Adventure | 4,627,000 | 8,792,000 | 90% |
Data source: Themed Entertainment Association.
Universal Orlando has been busy building out new hotels on its property to meet consumer demand. It's also not just resting on its laurels. Comcast has been feverishly reshaping the guest experience. It expanded The Wizarding World of Harry Potter into a themed land spanning both of its Universal Orlando experience, with the brilliant call of adding a Hogwarts Express train experience to transport guests from one park's realm to the other's in a move that forces guests to buy pricier multi-park tickets.
Comcast opened a King Kong-themed ride at Universal Orlando's Islands of Adventure this summer. It now turns its attention to Universal Studios Florida, where it will open a Jimmy Fallon-inspired flight simulator next summer, followed by a Fast & the Furious auto-racing ride in 2018. It will open its first on-site water park, Volcano Bay, in six months.
Comcast may be running out of land to build out at the original Universal Orlando site, but it didshell out $130 million for a 475-acre chunk of land less than two miles away that it will probably develop in the future. This has to be giving Disney fits. Disney has invested in crowd management technology as it introduces hard-ticket events and festivals, but it's been delinquent in adding e-ticket attractions. The attendance numbers over the past few years prove that Comcast has taken the superior path.
Disney's strategy will change. An Avatar-themed land opens at Disney's Animal Kingdom next summer, and in a couple of years we will see Toy Story Land and the much-hyped Star Wars Land open at Disney's Hollywood Studios. Disney doesn't have a choice. Its biggest rival is getting bigger in its rearview mirror, and Disney has to do something to wrestle the game controller out of its hands.
Find out why Walt Disney is one of the 10 best stocks to buy now
Motley Fool co-founders Tom and David Gardner have spent more than a decade beating the market. (In fact, the newsletter they run, Motley Fool Stock Advisor, has tripled the market!*)
Tom and David just revealed their ten top stock picks for investors to buy right now. Walt Disney is on the list -- but there are nine others you may be overlooking.
Click here to get access to the full list!
*Stock Advisor returns as of November 7, 2016
Rick Munarriz owns shares of Walt Disney. The Motley Fool owns shares of and recommends Walt Disney. Try any of our Foolish newsletter services free for 30 days. We Fools may not all hold the same opinions, but we all believe that considering a diverse range of insights makes us better investors. The Motley Fool has a disclosure policy.