Disney World's Top Rival Eyes More Hotel Rooms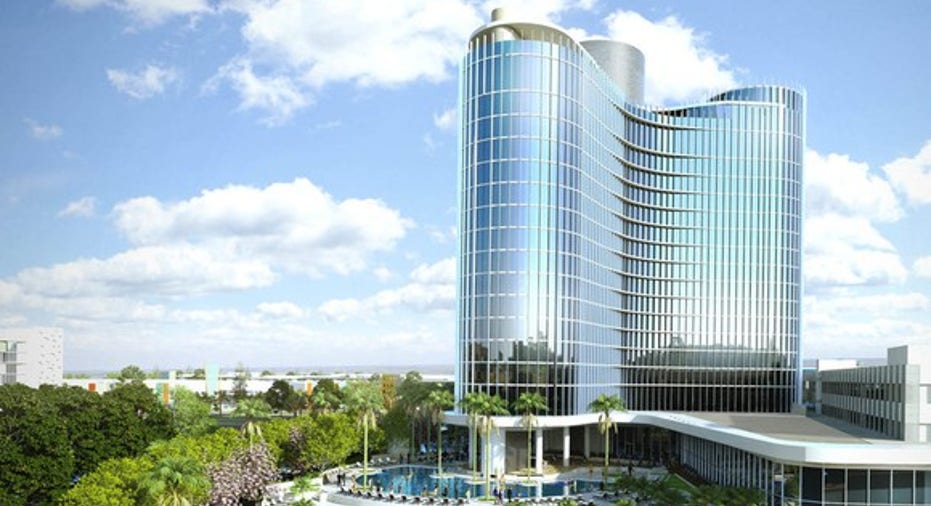 Comcast(NASDAQ: CMCSA)is hoping to give Conrad Hilton a run for his money. The media giant keeps ramping up the number of hotel rooms it's building at its Universal Orlando resort. Earlier this week, it filed plans for the redevelopment of the land that until three months ago housed its Wet 'n Wild water park just outside Universal Orlando.
The company hopes to turn the 64 acres that were once home to the water park and its parking lot across the street into a massive hotel and three parking garages. If approved, Universal Orlando would be adding 4,000 hotel rooms to its arsenal. How big is 4,000 hotel rooms? Well, the first three hotels it opened on its property -- between 1999 and 2001 -- had just 2,400 rooms combined.
Comcast has been going through a hotel-building revival since 2014. It's in the process of adding another three hotels -- two of which are already open -- that will expand Universal Orlando's overall capacity to 6,200 rooms. The proposed hotel would increase the resort's room count by 65%, pushing its capacity into five figures.
Universal Orlando's sixth hotel, Aventura, opens next year. Image source: Universal Orlando.
Closing in on the mouse
Disney (NYSE: DIS) knows how important hotels are in creating a captive audience. It has more than 30,000 hotel rooms across more than two dozen themed resorts at Disney World. However, even Disney has never eyed a hotel as big as what its rival is hoping to build a few I-4 exits away.Pop Century, Disney World's largest property, has 2,880 rooms.
Comcast will probably aim for lower price points with the proposed hotel. It will be just outside the Universal Orlando resort, so guests will have to be shuttled in and out. It will also be neighboring the tourist corridor where cheap motels and hotels are a short walk away.
Universal Orlando will have only a third of the occupancy Disney World has if it's able to build build this 4,000-room hotel, but it should help Comcast close the attendance gap with Disney World. It may not be as lucrative as Universal's existing on-site resorts on a per-room basis, though. Comcast will have to charge less, and it will be a lot easier to stray to nearby restaurants and attractions. However, adding thousands of rooms and extending its reach to provide overnight accommodations at value-minded prices should help increase turnstile clicks.
The theme-park wars will heat up in two months, with Disney World and Universal Orlando both opening major expansions. However, the real game will play out over the next few years -- and keeping guests overnight is the first step in winning the war.
10 stocks we like better than ComcastWhen investing geniuses David and Tom Gardner have a stock tip, it can pay to listen. After all, the newsletter they have run for over a decade, Motley Fool Stock Advisor, has tripled the market.*
David and Tom just revealed what they believe are the 10 best stocks for investors to buy right now... and Comcast wasn't one of them! That's right -- they think these 10 stocks are even better buys.
Click here to learn about these picks!
*Stock Advisor returns as of February 6, 2017
Rick Munarriz owns shares of Walt Disney. The Motley Fool owns shares of and recommends Walt Disney. The Motley Fool has a disclosure policy.