Disney World's Biggest Foe Wants a Sea Battle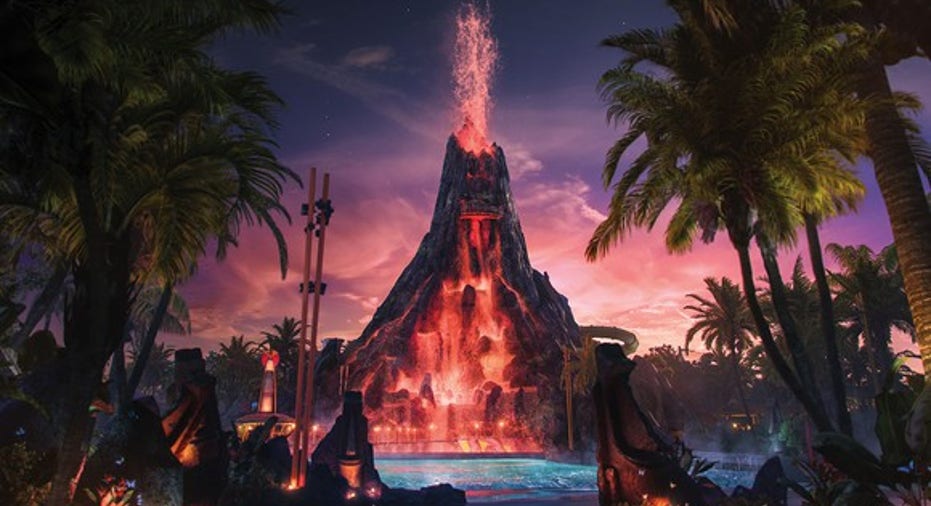 Image source: Universal Orlando.
Sometimes you need to take one step back to take two steps forward. Comcast's (NASDAQ: CMCSA) Universal Orlando is closing down its Wet 'n Wild water park today. It's a pretty big deal. Wet 'n Wild Orlando opened nearly 40 years ago, and it's often billed as the country's first major water park.
It's not closing under ideal weather conditions. The weather dipped to the low 40s just ahead of Saturday morning's final opening, and that's going to keep many outside of diehard nostalgics out of the chilly waters for the attraction's final sendoff. The park will retire a winner, though. It attracted more than 1.3 million guests in 2015, according to industry tracker Themed Entertainment Association, enough to make it the fourth most visited watery oasis in the country and the 10th most popular water park on the planet.
Comcast is shuttering the well-attended park located just outside its Universal Orlando resort because it's in the process of constructing a high-tech water park within its bustling resort. Volcano Bay is slated to open in June, and while rival Disney (NYSE: DIS) watches over a pair of water parks at its massive Disney World resort, Comcast wants to keep tourists at its resort hotel pools or the on-site Volcano Bay.
Keeping up with the House of Mouse
Volcano Bay will be smaller than either of Disney World's two existing water parks, but that doesn't mean Universal Orlando is merely phoning it in. Comcast recently teased the TapuTapu wearable tech that it will be rolling out at the Pacific-isle themed attraction in a few months. All guests will be outfitted with waterproof wristbands that they can use to reserve their place in virtual queues for Volcano Bay's flagship body slides and raft rides. The TapuTapu bracelets vibrate when it's time to enjoy the reserved attractions, and they will also trigger interactive park features including water cannons on the lazy river or illuminating projections within the signature volcano's cavern. These are two-way features that Disney's revolutionary MyMagic+ technology and MagicBand bracelets don't do -- yet.
Disney is treating Volcano Bay as an active, pardon the pun, threat. It's not building its own boutique water park. Disney isn't that nimble. However, it is adding a new family-style raft ride at Typhoon Lagoon in a few months. Disney rarely adds new attractions to its water parks, so it's safe to say this is a direct response to woo water-park patrons craving something new.
Wet 'n Wild's soon-to-be-razed site won't stay vacant for long. Comcast acquired the once leased land three years ago, and some reports suggest that it will be the site of yet another Universal Orlando resort hotel. It expects to open the resort's sixth on-site hotel in 2018, and at that point it's only natural for Comcast to turn to the Wet 'n Wild property or a roughly 475-acre parcel of land it secured earlier this year to keep its empire growing.
Comcast's theme-park attendance has been growing faster than Disney World's attractions, and a big reason for that is that Universal Orlando is expanding and updating its rides at a frenetic pace. Closing Wet 'n Wild may seem premature, especially if there are any delays to Volcano Bay's opening this summer. However, it's also the "burn the boats" mindset that will place the focus squarely on getting its new water park open on time.
Disney had better be ready. It can't bring a water gun to a naval fight.
10 stocks we like better than Comcast When investing geniuses David and Tom Gardner have a stock tip, it can pay to listen. After all, the newsletter they have run for over a decade, Motley Fool Stock Advisor, has tripled the market.*
David and Tom just revealed what they believe are the 10 best stocks for investors to buy right now... and Comcast wasn't one of them! That's right -- they think these 10 stocks are even better buys.
Click here to learn about these picks!
*Stock Advisor returns as of Nov. 7, 2016
Rick Munarriz owns shares of Walt Disney. The Motley Fool owns shares of and recommends Walt Disney. The Motley Fool has a disclosure policy.