Disney World -- Not ESPN -- Is the Real Problem at Disney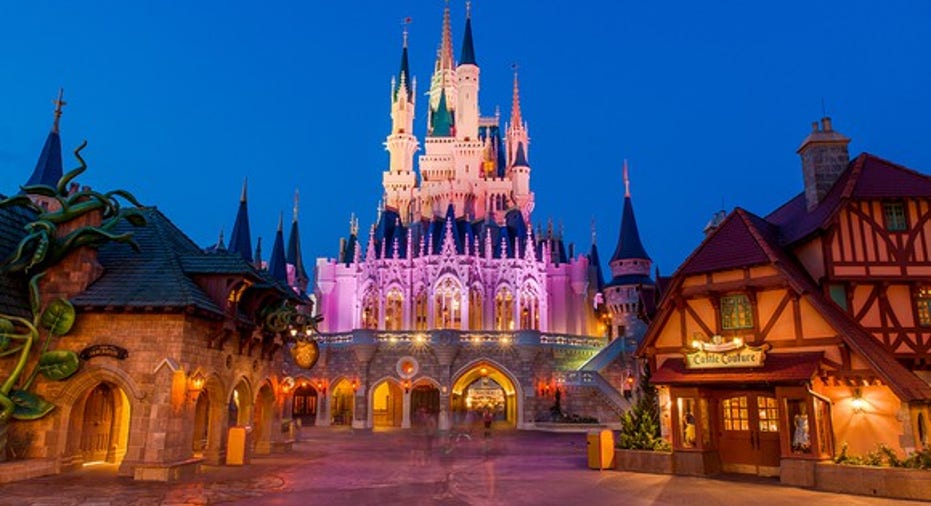 Image source. Disney.
It wasn't a surprise to seeWalt Disney shares open sharply lower Wednesday morning. The media giant posted a rare quarterly miss on both ends of the income statement.
There are plenty of pressure points. Disney's broadcasting division experienced a year-over-year decline in operating income. It will discontinue its Disney Infinity video gaming platform. There was also a dip in ad revenue at ESPN, the majority-owned sports programming juggernaut that's been weighing on Disney stock's prospects.
We can't ignore what's going on at ESPN, but that seems to be what all of the media outlets appear to be focusing on these days. Lost in the flurry of headlines picking apart Disney's disappointing financials is that attendance at Disney World declined for the quarter.
ESPN isn't fumbling the ball
The irony in all of the bellyaching over ESPN's slide in popularity is that this has been happening for six years already. Subscriptions peaked at 100 million U.S. homes in fiscal 2010. It meandered for a couple of years, but the trend has been clear in recent years.
ESPN's domestic subscriber count clocked in at 99 million in fiscal 2013, 95 million in fiscal 2014, and just 92 million last year. The problem is real.
Live sporting events are still draws, but ESPN's perpetual updates seem outdated in this age of mobile apps and social media. The New York Times reported earlier this week that SportsCenter -- ESPN's flagship sporting news show -- has seen average viewership across of its live editions plunge 25% over the past five years. The metric gets even worse when it comes to cord-cutting millennials, as viewership has plummeted 37% in that time among adults aged 18 to 34.
That's scary stuff, but ESPN is about so much more than SportsCenter these days. The rise of popular opinions-based shows and the nature of consuming live sporting events as they happen are driving forces in keeping the undisputed top dog in sports programming relevant. As bad as the current quarter was for Disney as a whole, affiliate revenue actually moved higher. That game is far from over, but turnstile clicks are going the other way at Disney World.
It's a small world, after all
Disneyland attendance moved higher during the quarter, but that was offset by a modest dip at Disney World. Disney isn't the only theme park operator experiencing an increase in California and a decrease in Florida. SeaWorld Entertainment (NYSE: SEAS) also saw an uptick in attendance in three of the four states where its theme parks reside. The lone holdout was Florida.
SeaWorld put most of the blame on the slump in Brazilian tourism as a result of that country's economic hiccups. SeaWorld Orlando generates nearly a third of its attendance from international guests, and Brazil is its biggest market. Brazil was mentioned 21 times during SeaWorld's call last week. It's important.
As anyone that has seen Brazilian student groups gallop through Disney's four Florida theme parks, it doesn't take much of a leap of faith to assume that the country is also a big source of Disney World's guest count. The parks are minutes apart. Brazil was never mentioned during Disney's earnings call on Tuesday afternoon, but 21 fewer mentions doesn't make it any less relevant.
However, this also happened to be the same quarter that Disney dramatically hiked single-day ticket prices by as much as 18% in Florida. The new prices went into effect in late February. That may not have been what kept guests away. We'll get a better test during the summer when peak prices come into play. However, the increases in ticket prices, food, and souvenirs resulted in an 8% year-over-year uptick in per-capita spending for Disney's domestic theme parks despite the flat overall attendance.
This finds Disney in a rough spot. One of its four Disney World parks is a shell of what it used to be as it builds out new attractions. Latin Americans appear to be staying closer to home. Many theme park buffs are detailing cost cuts and closures despite the higher cover charges to get into any of the gated attractions.
The article Disney World -- Not ESPN -- Is the Real Problem at Disney originally appeared on Fool.com.
Rick Munarriz owns shares of SeaWorld Entertainment and Walt Disney. The Motley Fool owns shares of and recommends Walt Disney. Try any of our Foolish newsletter services free for 30 days. We Fools may not all hold the same opinions, but we all believe that considering a diverse range of insights makes us better investors. The Motley Fool has a disclosure policy.
Copyright 1995 - 2016 The Motley Fool, LLC. All rights reserved. The Motley Fool has a disclosure policy.