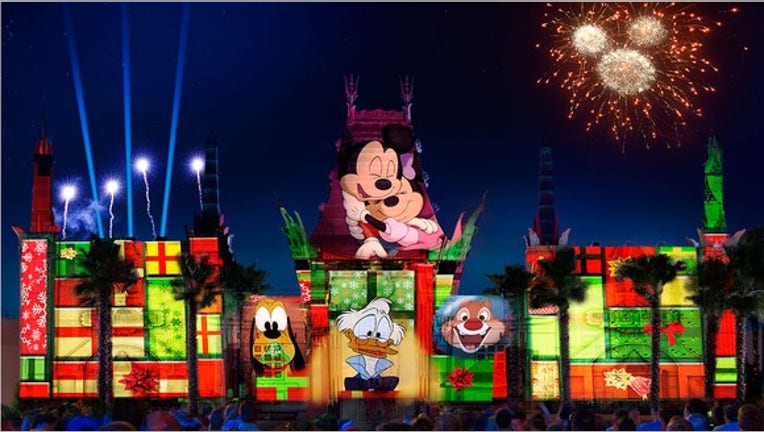 Image source: Disney.
The holiday season kicked off last week atDisney's(NYSE: DIS)Florida resort, but last night was the launch of one of its more important components. Monday night was the debut ofJingle Bell, Jingle BAM!, a nightly spectacle at Disney's Hollywood Studios.
The 14-minute show features lasers, a fake sudsy snowfall, and animated projections of Disney holiday classics against the park's replica ofGrauman's Chinese Theatre. A small burst of fireworks wraps up the festivities. It's just another reminder as to why the media giant removed the iconic sorcerer cap that used to block views of the theater that's now doing double duty as a projection screen.
Jingle Bell, Jingle BAM! doesn't necessarily raise the bar in terms of what Disney World can do when it comes to nighttime entertainment. The show temporarily replaces the very similar Star Wars: A Galactic Spectacular show that it introduced over the summer, only with a lot more of Santa Claus and Disney's Prep and Landing characters than battling Jedi warriors.
It won't make guests forgetThe Osborne Family Spectacle of Dancing Lights, a 20-year tradition at the park that was nixed at the end of last year's holiday season to pave the way for Star Wars Land in a few years. It's also logistically inferior. The Osborne Family Spectacle of Dancing Lights was unique in that it ran all night long. Folks could stroll in and out of the illuminated music-synchronized holiday displays as they please.
It's also logistically inferior. Everyone funnels out of the park at the same time now, and that creates a bottleneck of human and automotive traffic in the parking lot. Osborne's sneaky benefit was that it could be enjoyed by a lot more people throughout the evening, limiting the gridlock to the end of the park's Fantasmic waterfront performances.
Putting the dollar sign back on Christmas
Jingle Bell, Jingle BAM! isn't the only new holiday-themed treat at Disney World. Holidays at Disney Springs also kicked off a few days ago at the theme park giant's recently updated and expanded shopping and entertainment complex.
There are plenty of festive decorations and live musical acts, but the feature attraction will be a new drone-based holiday light show. Yes, drones. In a recent test, Disney had dozens of illuminated drones performing orchestrated moves above the lake at Disney Springs. Drawing crowds to the place where Disney has a growing number of stores, restaurants, and nighttime diversions sounds as good on paper as it will in reality.
Disney World attendance bounced back during the September quarter after posting back-to-back periods of year-over-year declines, but it can't take that momentum for granted. Disney's Hollywood Studios -- its least visited theme park in Florida -- will be making a go of it without an attraction that had become a family tradition over the past two decades. However, between Jingle Bell, Jingle Bam! and Holidays at Disney Springs -- as well as another season of Epcot's Candlelight Processional and the Magic Kingdom's hard ticket Mickey's Very Merry Christmas Party -- Disney isn't wasting any opportunity to cash in on the peak holiday travel season.
Forget the 2016 Election and find out why Walt Disney is one of the 10 best stocks to buy nowDonald Trump is the new president, and you're naturally wondering how best to protect your portfolio and profit in the process. Well, Motley Fool co-founders Tom and David Gardner have spent more than a decade beating the market. (In fact, the newsletter they run, Motley Fool Stock Advisor, has nearly tripled the market!*)
With their record of winning in up and down markets, David and Tom know how to invest profitably no matter who occupies the White House.
Tom and David just revealed their ten top stock picks for investors to buy right now. Walt Disney is on the list-but there are nine others you may be overlooking.
Click here to get access to the full list!
*Stock Advisor returns as of November 7, 2016
Rick Munarriz owns shares of Walt Disney. The Motley Fool owns shares of and recommends Walt Disney. Try any of our Foolish newsletter services free for 30 days. We Fools may not all hold the same opinions, but we all believe that considering a diverse range of insights makes us better investors. The Motley Fool has a disclosure policy.