Disney World Hops on Mobile Ordering Trend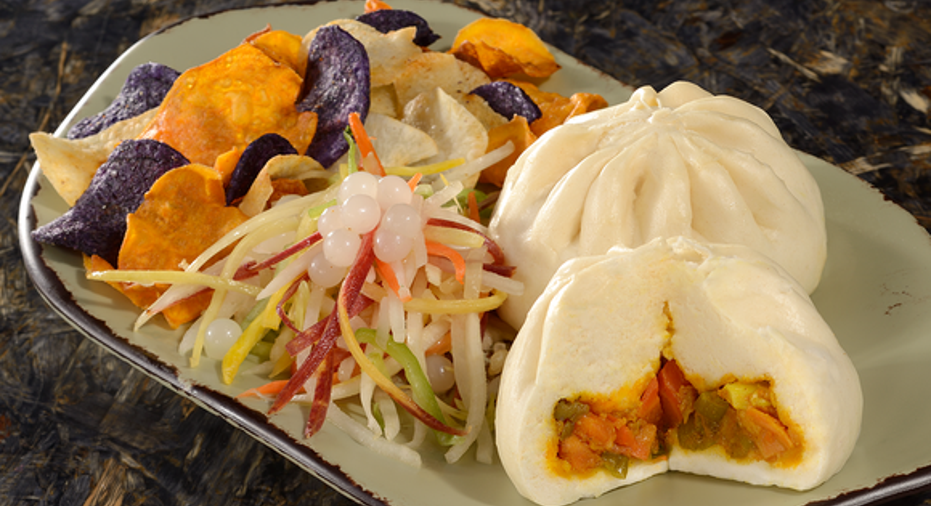 It's going to get a little easier for smartphone-toting theme park buffs to get their lunch on at Disney World this summer. Disney(NYSE: DIS)will be hopping on the mobile ordering trend when Pandora -- The World of Avatar opens at Disney's Animal Kingdom during Memorial Day weekend.
Folks will be able to fire up the official My Disney Experience app to order and pre-pay for food at Satu'li Canteen, the lush new area's Avatar-themed counter-service eatery. It's the first (and for now, only) restaurant at a Disney World theme park to offer mobile ordering, but if the option proves popular you know it's just a matter of time before it works its way through the rest of the massive resort's culinary offerings.
Steamed vegetable curry-filled bao buns at Satu'li Canteen. Image source: Disney World.
The future is in your hands
Smartphones have been enhancing Disney World's theme park experience for a couple of years now. The My Disney Experience app is at the heart of the $1 billion that the media giant reportedly invested in the MyMagic+ platform that fuels the resort's FastPass reservations system and on-ride digital photo album.
The app has become an indispensable tool for folks at Disney World, as it provides wait times and allows for the selection and management of FastPass windows and dining reservations. Why wouldn't mobile ordering be the next step? Disney's counter-service eateries can get pretty slammed during peak eating periods, and with single-day park admission tickets now well north of $100, shaving time waiting in line and for food to be ready is a no-brainer financial call.
Disney's food prep process also makes it a chore for anyone trying to customize a meal. If it's a cheeseburger on the menu and you want a hamburger you can expect to wait 5 to 10 minutes more than you normally would. It sounds incredible until you go to the park with a picky eater and see it firsthand.
Na'vi-gation vacation
Satu'li Canteen is also likely the kind of place that's going to have slow-moving registers. It's an unusual foodie-centric menu that's going to throw mainstream visitors off. The signature item is a bowl, but there are several eclectic choices to make at every turn. Do you go with the base ofquinoa and vegetable salad, red and sweet potato hash, mixed whole-grain and rice, or romaine and kale salad? Then it's a matter of picking which of the four proteins -- chicken, beef, fish, or chili-spiced fried tofu -- you want before topping it off with chimichurri, black bean vinaigrette, or creamy herb dressing. Whether the description leaves you culinarily intrigued or scratching your head, you can be sure that it will be one of the slowest-moving lines at the park.
I haven't even gotten to the restaurant's steamed bao buns stuffed with vegetable curry or cheeseburger -- and what this would mean if my son wants a hamburger instead. Oh, c'mon kid.
Mobile ordering is the future, and hopefully Disney is ready for the hiccups that have tripped up established chains going the smartphone route. Will it inconvenience those going the traditional register route by making their wait times longer? Will it be able to hold up on the tech end?
If this works, Disney shareholders should be the ones licking their lips. Some argue that folks on mobile apps tend to order more than walk-up orders, especially if Disney begins using past orders to nudge users to stuff they are likely to add to their bills. The real prize here is My Disney Experience app users storing credit card information to pre-pay for the meals, opening up the door for so many other commercial transactions in the future. It wouldn't be a surprise to see in-park spending climb as mobile ordering spreads through Disney World's four theme parks. It all starts with a bowl in two months, but it's ultimately all about the perfect game.
10 stocks we like better than Walt DisneyWhen investing geniuses David and Tom Gardner have a stock tip, it can pay to listen. After all, the newsletter they have run for over a decade, Motley Fool Stock Advisor, has tripled the market.*
David and Tom just revealed what they believe are the 10 best stocks for investors to buy right now... and Walt Disney wasn't one of them! That's right -- they think these 10 stocks are even better buys.
Click here to learn about these picks!
*Stock Advisor returns as of February 6, 2017
Rick Munarriz owns shares of Walt Disney. The Motley Fool owns shares of and recommends Walt Disney. The Motley Fool has a disclosure policy.