Disney World Has an Attendance Problem, but It Won't Last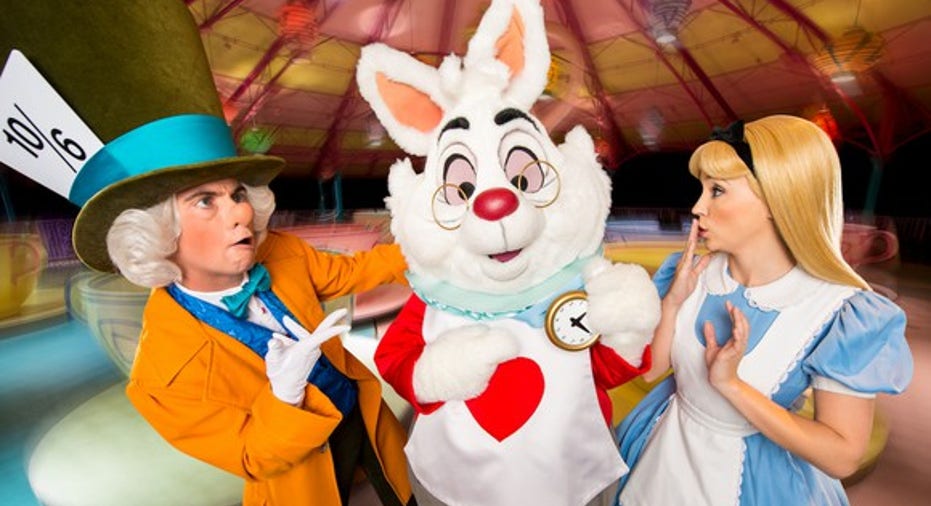 Folks aren't coming to Disney World and Disneyland the way they did in the past. The theme-park giant saw sluggish attendance trends through the 2016 calendar year, and yesterday afternoon's revelation by Disney (NYSE: DIS) of a 5% year-over-year decline in domestic guest counts is just more sour icing on a very stale cake.
Disney World has now seen its park attendance decline in three of the past four quarters. The good news -- for shareholders, but not so much for park guests -- is that Disney's theme-parks segment still made more money than it did a year earlier. Guests are paying more to get in and spending more on food and merchandise. On-site room bookings are down, but once again folks are paying more to stay at a Disney World hotel.
The 6% uptick in parks and resorts revenue and the 13% spike in the segment's operating income are impressive feats in a climate of cascading guest counts. The springtime opening of Shanghai Disney is obviously inflating results this time around, but it's still an applause-worthy achievement. Disney's parks and resorts division is the only one of its four business segments to post an increase in either revenue or operating profit.
Image source: Disney.
It's a small, small world
There is no shortage of scapegoats. Having Hurricane Matthew scrape along the Florida coast was enough to force Disney to close its parks for one day and close early for another in early October, something that rarely happens. The storm also knocked out a pair of Mickey's Not-So-Scary Halloween Party premium nighttime events.
However, even during the peak holiday season at the tail end of the quarter, it was easy to feel that something was amiss. The Magic Kingdom didn't hit capacity on Christmas Day, something that had happened in the past couple of years. Itclosed to capacity just once this season, on New Year's Eve. There were just a couple of days when the park had to turn away some guests during the past two years.
We can argue that Disney did this by design. It jacked up ticket and annual pass prices. It revamped its annual pass tiers, introducing more categories with restrictive blackout periods. Disney also failed to add any new marketable rides at all but one of its four Disney World theme parks. Disney got greedy and complacent at the same time, a fatal combination in any consumer-facing business.
Things won't always be this bad. We're now months away from an Avatar-themed expansion at Disney's Animal Kingdom that will be the resort's most ambitious expansion in nearly five years. And that's child's play compared with what Star Wars Land will be when it opens in a few years at Disney's Hollywood Studios.
Disney will also likely be less cocky. When it raises prices later this month -- and it will; it's a February rite -- it will be a move that's less aggressive than in recent years. Disney's ability to grow the segment's revenue and operating profit in a climate of shrinking guest counts is a testament to the brand's power and appeal. If its finances look this good when attendance is declining, one can only imagine what Disney's numbers will look like when traffic picks back up again.
10 stocks we like better than Walt DisneyWhen investing geniuses David and Tom Gardner have a stock tip, it can pay to listen. After all, the newsletter they have run for over a decade, Motley Fool Stock Advisor, has tripled the market.*
David and Tom just revealed what they believe are the 10 best stocks for investors to buy right now... and Walt Disney wasn't one of them! That's right -- they think these 10 stocks are even better buys.
Click here to learn about these picks!
*Stock Advisor returns as of February 6, 2017
Rick Munarriz owns shares of Walt Disney. The Motley Fool owns shares of and recommends Walt Disney. The Motley Fool has a disclosure policy.