Disney World and Universal Orlando Kick Off Theme-Park War With a Whimper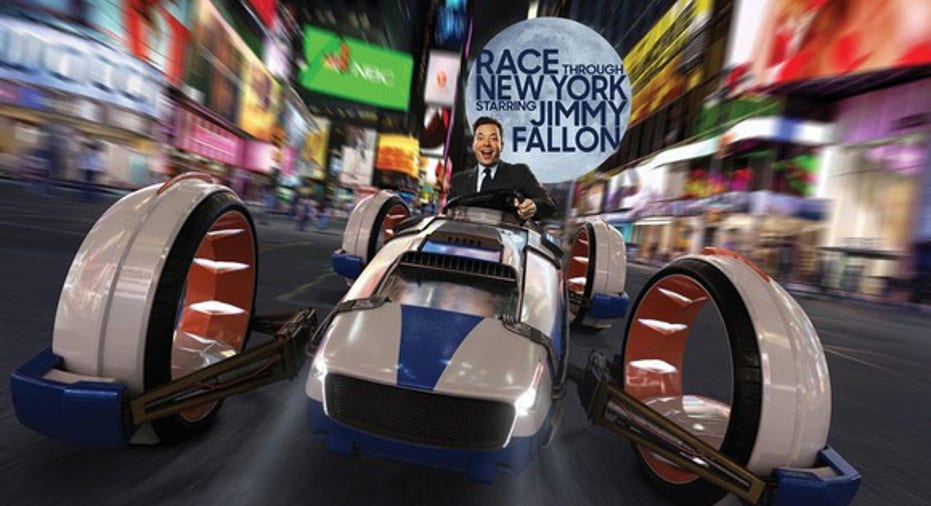 This is going to be a big year for new rollouts at Central Florida's theme-park hotbed. Disney (NYSE: DIS) is already actively promoting Pandora -- The World of Avatar, Disney World's most ambitious expansion project in nearly five years. Comcast's (NASDAQ: CMCSA) Universal Orlando will open the state-of-the-art Volcano Bay water park that it's billing as its third theme park.
Both of those new experiences will be available to guests in two months, but Disney World and Universal Orlando visitors have started to get a taste of two smaller rides that just opened at the the two resorts. Miss Adventure Falls is an inflatable-raft slide that opened at Disney's Typhoon Lagoon water park yesterday. Race Through New York Starring Jimmy Fallon is a big-screen simulator that won't officially open at Universal Studios Florida until April 6, but began letting guests check it out as a technical rehearsal earlier this month. Unfortunately for both theme-park giants, the reviews haven't been kind.
Image source: Universal Orlando.
A tale of two pities
The Tonight Show-themed attraction began opening intermittently for guests on March 2. The queue area -- a recreation of NBC's "30 Rock" building -- is generating rave reviews for its intricate detail, interactive features, and live entertainment. If Comcast ever wanted an ideal setup to promote its NBCUniversal properties, it has it in the dual-level waiting area. Unfortunately for Universal Orlando, the 3D screen-based ride itself is getting mixed to slightly unfavorable reviews:
The news isn't any better for Miss Adventure Falls, which was originally called Miss Fortune Falls. Misadventure? Misfortune? Both names would seem to make sense, going by the ho-hum reactions of the folks braving the elements to check out the ride at yesterday's Typhoon Lagoon debut:
Although it offers the convenience of boarding at ground level and a brief glimpse of an animatronic parrot on the way up, it's probably one of the slowest, tamest, and driest raft rides in the area. Typhoon Lagoon needed something special to combat both May's arrival of Volcano Bay at Universal Orlando and the recent closing of its own popular reef-snorkeling attraction. Miss Adventure Falls isn't the answer.
Race Through New York and Miss Adventure Falls are decent experiences, but not the kind of attractions that folks go out of their way to see on their next vacations. Volcano Bay and Pandora -- The World of Avatar should change that, but their spikes in traffic for Comcast and Disney won't come until Memorial Day weekend. The near-term impact of the initial mixed reviews for this month's two debutantes is that travelers considering hitting up Universal Orlando or Disney World in the coming weeks, during the seasonally potent Easter and spring-break seasons, may hold off until the summer when the more magnetic attractions are available. Investors of either stock won't have to worry about this over the long term, but near-term results could feel the pinch.
10 stocks we like better than Walt DisneyWhen investing geniuses David and Tom Gardner have a stock tip, it can pay to listen. After all, the newsletter they have run for over a decade, Motley Fool Stock Advisor, has tripled the market.*
David and Tom just revealed what they believe are the 10 best stocks for investors to buy right now... and Walt Disney wasn't one of them! That's right -- they think these 10 stocks are even better buys.
Click here to learn about these picks!
*Stock Advisor returns as of February 6, 2017
Rick Munarriz owns shares of Walt Disney. The Motley Fool owns shares of and recommends Walt Disney. The Motley Fool has a disclosure policy.