Disney: The Force Hibernates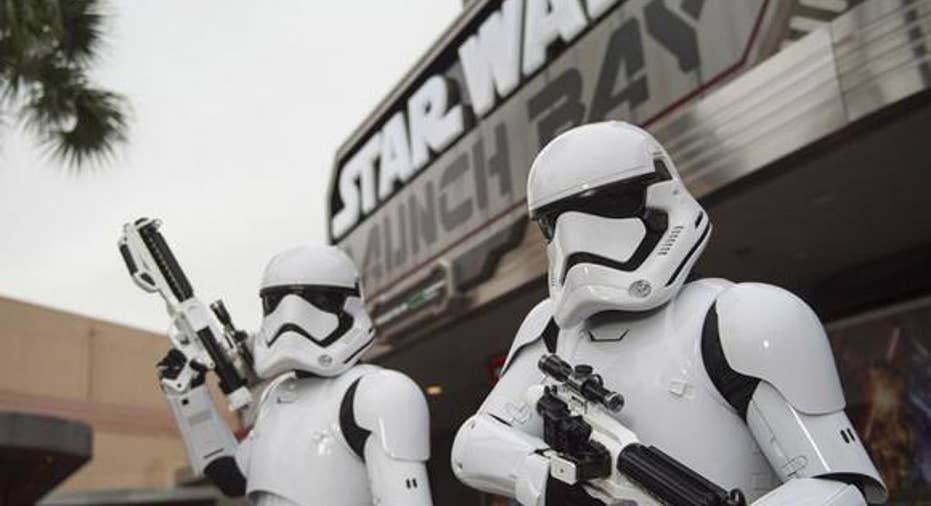 Image source: Disney.
There's a disturbance in the force. Shares of The Walt Disney Company have closed lower in each of the past six trading days, kicking off 2016 the same way that it closed out 2015.
The stock dipped into the double digits during intraday trading this week, and that's the first time we've seen that happen in more than three months. Perhaps more painfully, the shares have surrendered 12% of their value sinceStar Wars: The Force Awakensdebuted three weeks ago.
This would be easy to dismiss as a "sell on the news" event, but the new sci-fi blockbuster has shattered box office records. It's hard to imagine it performing any better than it did when it topped $1 billion in gross ticket receipts in less than two weeks.
It's also not as if the stock was hitting new highs in the days heading to the film's release. Disney stock peaked in August. It is now trading 18% lower.
Outside of the concern of ESPNshedding subscribers, it's not as if Disney's fundamentals have followed the shares lower. Star Wars: The Force Awakens is a box office smash and a critical success. Disneyland and Disney World's Magic Kingdom were filled to capacity over the holidays.
Things aren't perfect. Ratings are trending lower at ABC. ESPN is joined by Disney's other cable properties in servicing fewer accounts as more homes cut the cord. However, even that division managed to post reasonable growth on both ends of the income statement in fiscal 2015.
Wall Street's targets haven't changed during the correction. Analysts still see revenue growing at a 7% clip with earnings per share rising by 10% in fiscal 2016.
The prospects beyond this year couldn't be brighter. The financial and well-reviewed success of Star Wars: The Force Awakens makes the next two installments no-brainer slam dunks, and there are now three spinoffs in the works. After coasting through the past couple of years with more invested in in-park technology than new rides, we are heading into an era of heavy expansion of major attractions at its iconic theme parks.
The combination of Disney's shrinking stock price and its move late last year to once again boost its dividend results in a yield that tops 1.4%. That may not send income investors scrambling to snap up the House of Mouse, but it certainly makes it that much more attractive to folks seeking out cash distributions.
These may be globally dicey times in terms of both political and economic tension, but with Disney's theme parks seemingly posting record holiday attendance and Star Wars: The Force Awakens setting up the franchise for years of milking, it's hard to see the correction lasting too much longer. There's no point in dwelling on the dark side when the present and future are so much brighter.
The article Disney: The Force Hibernates originally appeared on Fool.com.
Rick Munarriz owns shares of Walt Disney. The Motley Fool owns shares of and recommends Walt Disney. Try any of our Foolish newsletter services free for 30 days. We Fools may not all hold the same opinions, but we all believe that considering a diverse range of insights makes us better investors. The Motley Fool has a disclosure policy.
Copyright 1995 - 2016 The Motley Fool, LLC. All rights reserved. The Motley Fool has a disclosure policy.