Disney Stock Turns to Beauty and the Cash Beast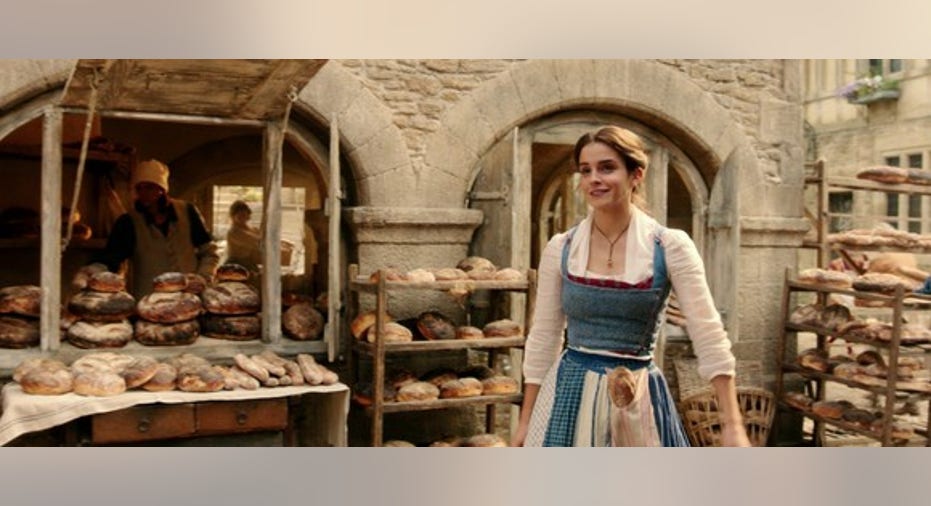 A tale as old as time is about to be retold. Disney (NYSE: DIS) will start screening its live-action reboot of Beauty and the Beast tonight, ahead of general availability over the weekend. The movie, starring Emma Watson as Belle, is drawing mixed initial reviews. Just 68% of the first wave of critics are recommending the film, according to reviews aggregator Rotten Tomatoes, not a bad grade but a far cry from the 93% the 1991 animated original scored.
Movie audiences will have the final say. Consider thatFifty Shades Darker is this young year's fifth highest grossing film, topping $113 million in domestic ticket sales despite the endorsement of just 9% of the critics.
Image source: Disney.
Be our guest
This isn't the first time Disney has tried to breathe new life into a beloved animated classic by recasting it with real actors. Alice in Wonderland, The Jungle Book, and Maleficent, the showcase forSleeping Beauty's apparently misunderstood villain,have all scored well for Disney by going this route in recent years at the local multiplex. The Jungle Book delivered $364 million in domestic ticket sales, a feat that if Beauty and the Beast matches would find it grossing twice as much as this year's top release --a reasonable goal, given the hype preceding this week's arrival.
And again, don't read too much into the ho-hum critic reviews.Maleficent, despite its 50% Rotten Tomatoes score, was a theatrical hit, with $241.4 million in domestic ticket sales.
There's a lot riding on Beauty and the Beast's success. It opens up merchandising opportunities for Disney's recently languishing consumer-products division, which has posted year-over-year declines in revenue and segment operating profit for four straight quarters. With Disney Store comps struggling given the general mall malaise and difficult comparables since the discontinuation of Disney Infinity, the segment is looking for a boost.
A hot showing can also trickle down to Disney World, where the franchise is well represented in a couple of its theme parks. The Be Our Guest Restaurant feeds patrons at the Magic Kingdom, and the Beauty and the Beast -- Live on Stage musical stage show entertains guests at Disney's Hollywood Studios. Even Disneyland, on the other coast, is getting in on the fun with a limited-time franchise-themed Fantasyland makeover.
Beauty and the Beast is generating plenty of hype. If it sells tickets now, that means selling more consumer products, inspiring theme-park visits, and giving Disney the optionality to turn this story into a multi-installment franchise later. This isn't just a movie: If it's a beauty, it will be a cash-generating beast for Disney.
10 stocks we like better than Walt DisneyWhen investing geniuses David and Tom Gardner have a stock tip, it can pay to listen. After all, the newsletter they have run for over a decade, Motley Fool Stock Advisor, has tripled the market.*
David and Tom just revealed what they believe are the 10 best stocks for investors to buy right now... and Walt Disney wasn't one of them! That's right -- they think these 10 stocks are even better buys.
Click here to learn about these picks!
*Stock Advisor returns as of February 6, 2017
Rick Munarriz owns shares of Walt Disney. The Motley Fool owns shares of and recommends Walt Disney. The Motley Fool has a disclosure policy.