Disney Stock: Next Stop, $128?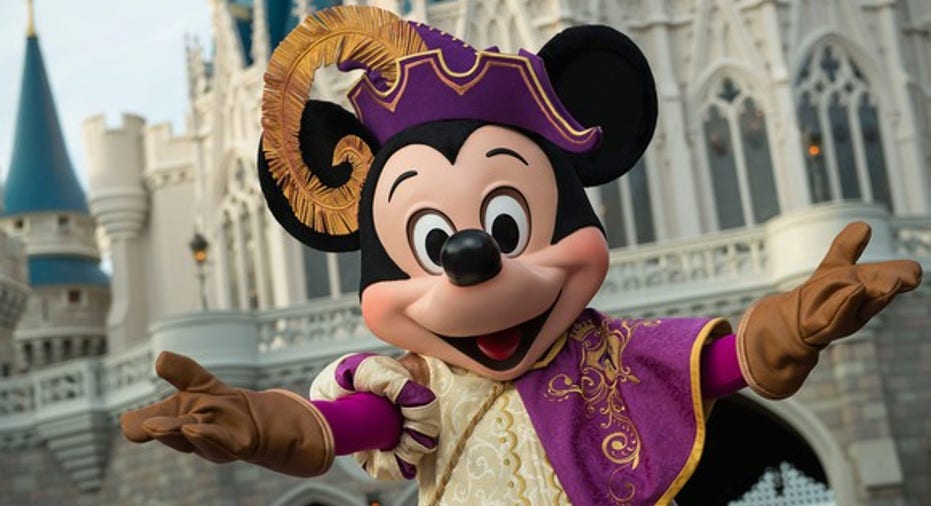 Shares ofDisney (NYSE: DIS)have been staging their own rendition of the "Mickey Mouse March" these days. The stock has marched 23% higher since bottoming out in October, moving higher despite travel ban concerns and weakening trends at its needle-moving cable properties. At least one Wall Street pro thinks that the stock will continue moving higher, and that bullish update lifted shares of the media giant to a fresh 52-week high on Tuesday morning.
Guggenheim analyst Michael Morris is upgrading Disney stock, taking his rating from neutral to buy. Morris feels that Disney's recent box office hits and the related consumer products surge, as well as a major theme park update that should breathe new life into Disney World and Disneyland finds the House of Mouse at the start of a new expansion cycle. He's naturally concerned about the state of the media networks industry and Disney's role within the sector, but that's not enough to offset his renewed enthusiasm for the rest of the entertainment behemoth's other businesses. Morris is boosting his price target on Disney stock from $118 to $128.
Image source: Disney.
Let's start with the bad news
Growth has historically been slow yet steady at Disney. Outside of the recession-marred fiscal 2009, you have to go all the way back to fiscal 2004 to find the last time that Disney didn't post annual revenue growth in the single digits. However, now that it has posted back-to-back quarters of year-over-year declines it's easy to point the finger at Disney's media networks division.
Media networks is a pretty big deal for Disney, accounting for 43% of the revenue and 49% of the segment operating income in fiscal 2016. Millennials kissing their cable bills goodbye have resulted in subscriber counts at ESPN, Disney Channel, and its other cable properties to bleed out slowly. There's also a fair amount of pessimism on the free broadcasting side, as Disney's ABC faces the onslaught of streaming services that have leveled the playing field with their own proprietary content. It's not a coincidence that the segment's revenue has declined in the past two quarters, in step with Disney's overall top-line slide.
It's not the only reason that Disney's performance has been sluggish. It's a hit factory at the multiplex, but recent comparisons can't stack up to the prior year's holiday release of Star Wars: The Force Awakens. Domestic theme park attendance has also declined in three of the past four quarters.
Whistle while you work
The good news in the eyes of Morris at Guggenheim is that the seeds are in place for growth to pick back up again. Disney World is getting the ballyhooed Avatar-themed expansion in two months, but the real prize is the 14-acre Star Wars Land that will open at both Disneyland and Disney's Hollywood Studios in 2019.
Things should also remain hearty at the box office. If the Rogue One spinoff didn't match the success of Star Wars: The Force Awakens it will make it that much easier when the eighth installment of the Star Wars franchise hits screens in December.
Disney may seem to be too big to grow in the double digits the way it last did 13 years ago, but between the theatrical boost in fiscal 2018 and the theme park spike in fiscal 2019, don't be surprised if Mickey Mouse shows why he's the leader of the band.
10 stocks we like better than Walt DisneyWhen investing geniuses David and Tom Gardner have a stock tip, it can pay to listen. After all, the newsletter they have run for over a decade, Motley Fool Stock Advisor, has tripled the market.*
David and Tom just revealed what they believe are the 10 best stocks for investors to buy right now... and Walt Disney wasn't one of them! That's right -- they think these 10 stocks are even better buys.
Click here to learn about these picks!
*Stock Advisor returns as of February 6, 2017
Rick Munarriz owns shares of Walt Disney. The Motley Fool owns shares of and recommends Walt Disney. The Motley Fool has a disclosure policy.