Disney Sets U.S. Box-Office Record; Could Take Global Title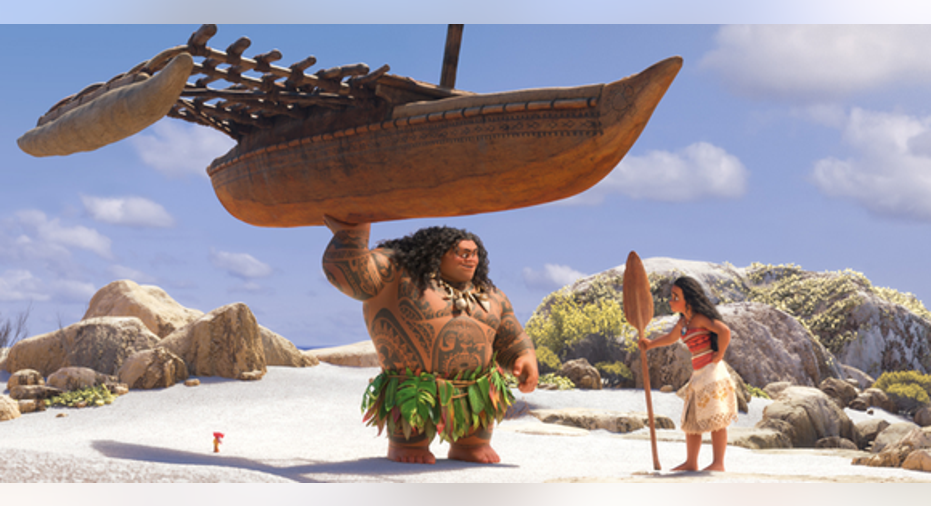 Walt Disney (NYSE: DIS) has purchased its way to box-office dominance. The company has built a hit factory that started when it spent $7.4 billion to buy Pixar in 2006, then continued with its purchase of Marvel for $4 billion in 2009, followed by it spending the same amount to pick up Lucasfilm in 2012. That combination has given Disney access to franchises that produce near-guaranteed hits.
It seems that every year the company can release a Pixar movie (or two), multiple Marvel films, a Star Wars movie, and an animated title under its own brand that will all deliver between $500 million and $1 billion at the box office. That gives Disney an edge over rivals like Comcast's(NASDAQ: CMCSA) Universal Pictures, last year's box-office champ, which has franchises of its own, but not nearly as many or as successful.
It's a winning formula that has led Disney to $2.49 billion in domestic box office in 2016, through Dec. 4, beating the record $2.45 billion Universal hauled in last year, Deadline.com reported. The Mouse House has also joined its rival in unprecedented territory internationally with Disney becoming only the second company to ever earn $4 billion in overseas box office with a chance at beating the $4.44 billion Universal took in last year, according to Deadline.com.
Disney's Moana is on its way to being a box-office hit. Image source: Disney.
What is Disney doing?
While franchises do not guarantee success and some eventually run out of steam, it's generally easier to have a hit with a familiar product -- a sequel or a film from a known universe or brand. In 2016, Disney has already released Finding Dory (Pixar, $1 billion globally), Captain America: Civil War (Marvel, $1.1 billion),The Jungle Book (Disney, $966 million), and Zootopia (Disney, $1 billion). It also has Dr. Strange (Marvel, $634 million), which is still in theaters,Moana (Pixar, $177 million), that has yet-to-be-released in much of the world, andStar Wars: Rogue One, a mid-December release expected to open to strong, perhaps record numbers. [Numbers from boxofficemojo.com.]
Nearly every film on the list above was either a sequel, a franchise extension, or an animated film. The only exception was Jungle Book, which was a live-action remake of a Disney classic.
The company did have a failure with a sequel this year. Alice: Through the Looking Glass made only $299 million, according to Box Office Mojo, but in a broad sense, the company's strategy has worked. People know the Pixar, Marvel, and Disney animation brands and films released under those banners seem to get the benefit of the doubt from the moviegoing public.The same will almost certainly prove to be true of Lucasfilm as Rogue One, the first stand-alone Star Wars film, looks, based on pre-release ticket sales, to be another big hit.
Why is Disney winning?
Universal had a record 2015 because it used the same formula. Its year was pushed to new heights by Jurassic World, Furious 7, the animated Minions,Pitch Perfect 2, and Fifty Shades of Grey. All of those are franchises (or potential franchises in the case ofGrey)but Universal simply does not have enough of them to compete with Disney on a year-to-year basis.
While most studios enter each year with a sure thing or two, Disney more or less knows it has five blockbusters at a minimum on its release slate. Universal can equal that some years, but does not have quite as many franchises and it lacks something like the Marvel universe, which offers near-endless expansion opportunities.
Disney has essentially taken much of the risk out of the movie business. While its rivals have to establish original properties along with their established ones, the vast majority of Disney's releases each year are highly anticipated movies. It's a formula that has already led to a U.S. record and will almost certainly send the company to a new global box-office high by the end of the year. It's an impressive feat, made all the more impressive by the fact that it could happen again in 2017 and for many years to come.
Find out why Walt Disney is one of the 10 best stocks to buy now
Motley Fool co-founders Tom and David Gardner have spent more than a decade beating the market. (In fact, the newsletter they run, Motley Fool Stock Advisor, has tripled the market!*)
Tom and David just revealed their ten top stock picks for investors to buy right now. Walt Disney is on the list -- but there are nine others you may be overlooking.
Click here to get access to the full list!
*Stock Advisor returns as of November 7, 2016
Daniel Kline has no position in any stocks mentioned. He can't stand Pixar movies, but already has Rogue One tickets. The Motley Fool owns shares of and recommends Walt Disney. Try any of our Foolish newsletter services free for 30 days. We Fools may not all hold the same opinions, but we all believe that considering a diverse range of insights makes us better investors. The Motley Fool has a disclosure policy.