Disney drops hints about upcoming films 'Finding Dory,' 'Toy Story 4' at fan convention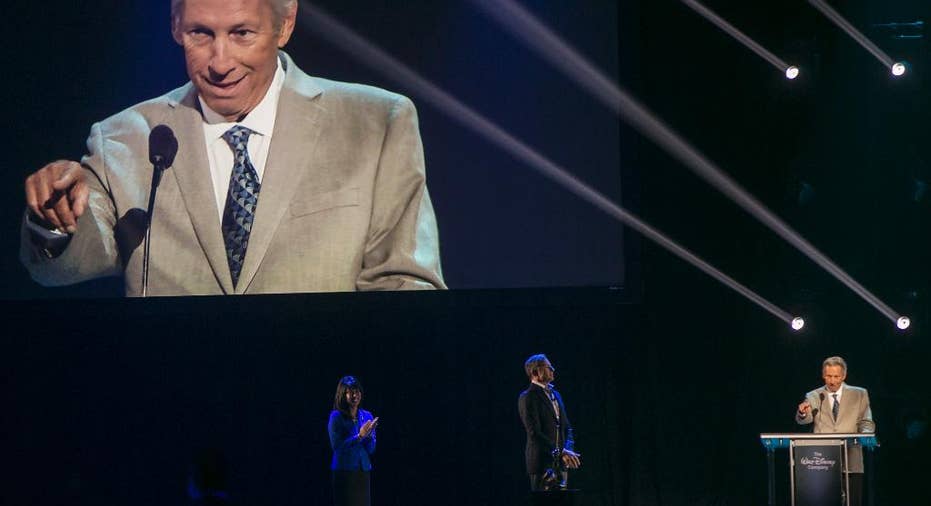 Animals will walk upright, oceans will part, a forgetful fish will remember her family and toys will fall in love in Disney and Pixar Animation's upcoming films.
The studio previewed its animation slate Friday at the fan convention D23 Expo, with special appearances from voice actors including Ellen DeGeneres and Dwayne Johnson.
John Lasseter, the chief creative officer of Pixar and Walt Disney Animation Studios, hosted the presentation, where he announced a Jack and the Beanstalk adaptation, "Gigantic," and the title of their Dia de los Muertos film, "Coco." It was also revealed that Shakira would be providing an original song and voicing a character in "Zootopia."
"Gigantic" director Nathan Greno said his film would be the definitive version of the fairy tale — with a few spins, including a 60-foot tall, 11-year-old girl who Jack meets when he climbs up the beanstalk. "Frozen" songwriters Robert Lopez and Kristen Anderson-Lopez, who penned the hit "Let It Go," will be writing the songs.
Dwayne "The Rock" Johnson was there to preview the South Pacific-set "Moana," out next year, which follows a high spirited, 16-year-old princess who 2,000 years ago sails to a fabled island with the tattooed demi-god Maui (Johnson).
Directors Ron Clements and John Musker and Johnson spoke about their extensive talks with anthropologists and archaeologists to ensure they accurately represented the area and how important the ocean is to local culture.
Opetaia Foa'i, Grammy-winner Mark Mancina, and Tony-winner Lin-Manuel Miranda will be handling "Moana's" music.
Johnson said it has been his dream to be in an animated Disney movie.
"It is my heritage, it is my culture. I am proudly half-Samoan and half-black," he said. "I'm so deeply connected to this movie."
"Coco," from director Lee Unkrich ("Toy Story 3"), will be about a 12-year-old boy living with his big family in Mexico who inadvertently sets off a life-altering chain of events.
Pixar also released information about "Toy Story 4" and "Finding Dory," a sequel to the 2003 film "Finding Nemo" in which the forgetful Dory (DeGeneres) endeavors to track down her family.
Randy Newman performed "You've Got a Friend in Me" in anticipation of "Toy Story 4," which will feature a love story between Woody (Tom Hanks) and Bo Peep (Annie Potts).
Pixar's long-delayed "The Good Dinosaur" will finally be out on Nov. 25 with new director Peter Sohn. The film puts a new spin on the classic boy and his dog tale, with the "boy" a friendly Apatosaurus named Arlo (Raymond Ochoa) and the "dog" a feral child who walks on all fours.
Directors Byron Howard and Rich Moore appeared to preview "Zootopia," out in the United States on March 4, which is set in a human-like city populated by animals who walk upright, wear clothes and hold jobs.
___
Follow AP Film Writer Lindsey Bahr on Twitter: www.twitter.com/ldbahr