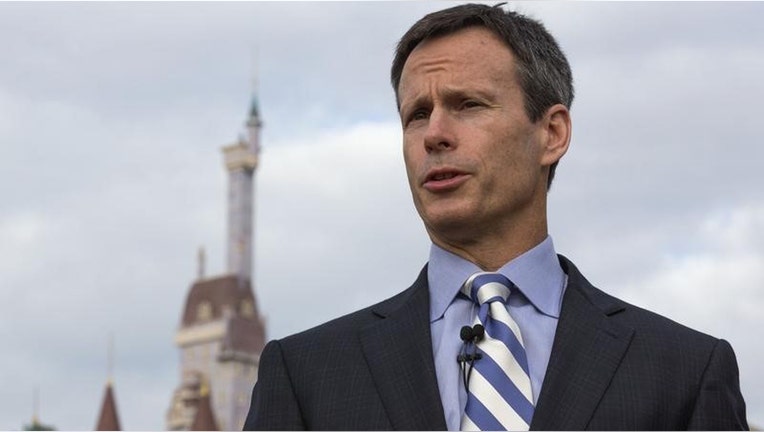 Walt Disney Co Chief Operating Officer Tom Staggs, who had been widely expected to be the media and entertainment company's next chief executive, will step down on May 6 as the board expands its search for a successor to Bob Iger, the company said on Monday.
The change comes about two years before Iger, Disney's chief executive and chairman, is due to retire.
A source with knowledge of the situation said Staggs, 55, had learned the board was going to broaden its search for a new leader, and that both parties mutually decided he would step down. The source requested anonymity because the reasons for the move have not been announced.
Disney said in a statement on Monday that the board aimed to evaluate a "robust slate of candidates."
Staggs was promoted to chief operating officer in February 2015, after heading Disney's theme parks and resorts. While Disney never referred to him as the heir apparent, his move into the No. 2 job put him in the lead to succeed Iger. Chief Financial Officer Jay Rasulo, who had been seen as Stagg's chief rival for the top position, said last June that he would step down.
Facebook Chief Operating Officer Sheryl Sandberg, who sits on the Disney board, had also been seen as a potential successor. Facebook did not immediately respond to a request for comment from Sandberg.
Iger, 65, has extended his contract twice in the past, after saying he planned to retire from Disney.
Disney's shares fell 1.5 percent to $97.18 in after-hours trade.
Staggs will remain employed by Disney as a special adviser to Iger through the company's fiscal year, which goes through September, Disney said. Staggs joined Disney in 1990 after working in investment banking at Morgan Stanley & Co.
(Reporting by Anya George Tharakan in Bengaluru and Lisa Richwine in Los Angeles; Writing by Peter Henderson; Editing by Leslie Adler and Richard Chang)