Disney and Hasbro Inc. Soar as Stocks Jump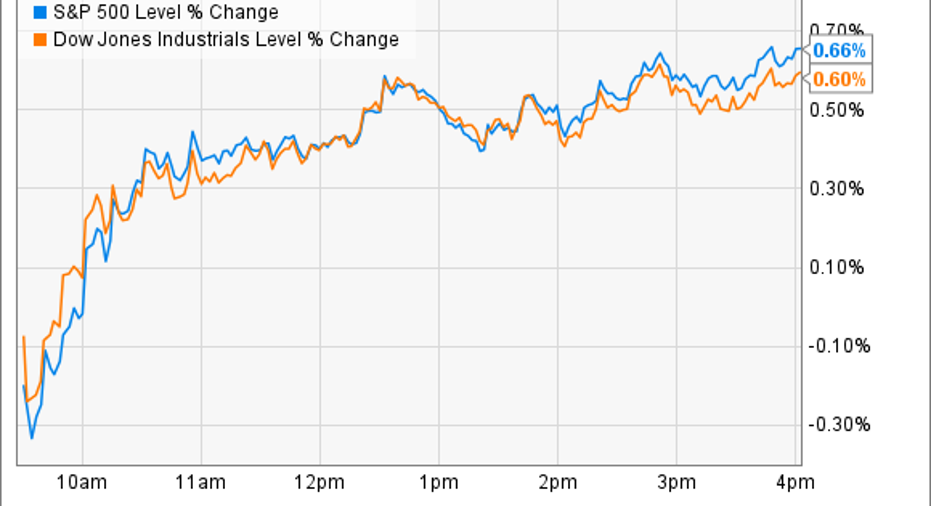 Stocks started the new trading week in rally mode. On Monday the Dow Jones Industrial Average gained 107 points, or 0.6%, to close above 18,000 points for the first time since July. The broader S&P 500 added 14 points, or 0.7%, and now sits at a 2.5% gain for year.
Consumer-facing stocks were in focus as earnings season kicked into high gear. In fact, Disney and Hasbro , which work closely together on licensing and entertainment deals, were two of the market's biggest winners on the day.
Disney's good dayDisney was the Dow's best performer as shares rose 3% to cross $100 for the first time since January. The entertainment giant extended its winning streak at the box office with a surprisingly strong outing for The Jungle Book over the weekend. The movie won a rare "A" CinemaScore rating from viewers on its way to a $100 million launch tally, for the second best April opening on record, according to Box Office Mojo. The Jungle Book now seems likely to rake in over $300 million of box office receipts, enough to qualify it as yet another successful franchise in Disney's deep portfolio of entertainment brands.
Image source: Disney.
The House of Mouse also caught a Wall Street upgrade on Monday. Pivotal Research Group raised the stock to a "buy" while boosting its share price target to $121 from the prior $99 outlook. Pivotal said that worries over Disney's ESPN business were already reflected in the stock price, and a big box office year plus the opening of a new resort in China could get investors excited about the company again.
Disney shareholders should keep their eyes on box office reports all summer. Next up on the release calendar is Marvel's Captain America: Civil War, which is estimated to draw close to $200 million when it is hits theaters in just a few weeks .
Hasbro's strong quarter Hasbro's shares spiked 6% and set a new all-time high after the toys and games specialist posted strong first-quarter earnings results. Sales rose 16% (or 20% after adjusting for exchange-rate swings) and net income bounced 82% higher as bottom line profitably expanded to 5.7% of sales from 3.7% a year ago.
Image source: Hasbro.
The company can thank Disney for much of this quarter's success. The blockbuster popularity of Star Wars branded products helped its boys segment grow 24%. Meanwhile, this was the first quarter that Hasbro benefited from exclusive access to the Disney Princess toy lineup that it won from rival Mattel .
The new business helped Hasbro's girl's division post a 41% sales spike. On the flip side, the absence of Disney Princess from Mattel's lineup is a key reason why Wall Street is bracing for shrinking sales and a net loss when it posts earnings results on Wednesday.
While its good news for shareholders that Hasbro executed so well with its licensed brands, it's just as important that its core brands are growing. As a group, these franchises improved revenue by 4% on strength from the Nerf and Play-Doh, which helped drive profitability up.
Altogether, the positive momentum is giving Hasbro's management increasing confidence about posting a solid fiscal year. "We are very encouraged with global demand and our outlook for 2016," CEO Brian Goldner said in an earnings press release.
The article Disney and Hasbro Inc. Soar as Stocks Jump originally appeared on Fool.com.
Demitrios Kalogeropoulos owns shares of Hasbro and Walt Disney. The Motley Fool owns shares of and recommends Hasbro and Walt Disney. Try any of our Foolish newsletter services free for 30 days. We Fools may not all hold the same opinions, but we all believe that considering a diverse range of insights makes us better investors. The Motley Fool has a disclosure policy.
Copyright 1995 - 2016 The Motley Fool, LLC. All rights reserved. The Motley Fool has a disclosure policy.