Disney Already Adding to $5.5B Shanghai Park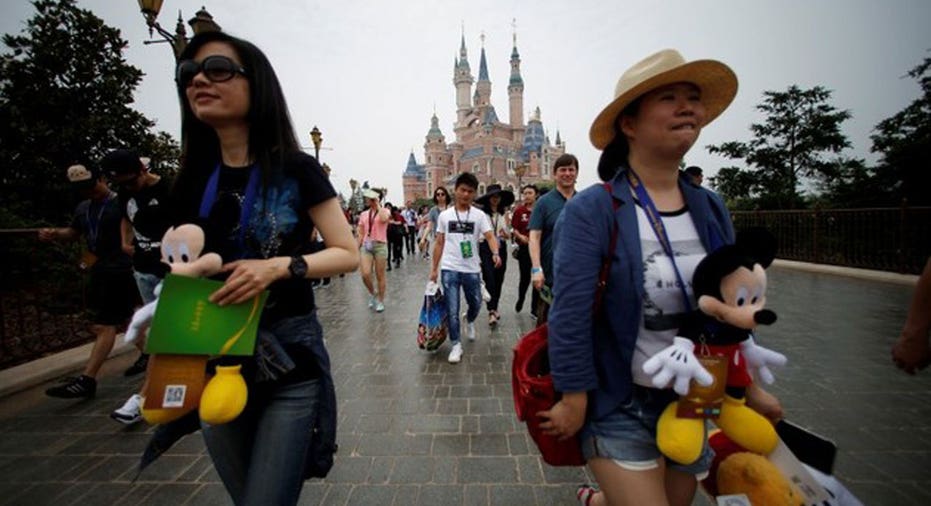 Boasting the Magic Kingdom's tallest fairytale castle and longest musical parade, Walt Disney's Shanghai park is already its biggest overseas outpost. But even as gates open to the public this week, it's still building to keep customers keen.
Disney's largest overseas investment at $5.5 billion, the park is a bet on China's middle class and its booming domestic tourism. The U.S. firm hopes it will offset an otherwise lackluster international theme park business, better known for cash-burning sites like Euro Disney.
Calling Shanghai Disney the firm's greatest business opportunity since Walt Disney bought land in the central Florida in the 1960s, the company has been at pains to woo the home crowd in a country where competition from a plethora of local theme parks promises to be fierce.
Main Street has been replaced by Mickey Avenue to reduce the feel of Americana while attractions include a Chinese-style Wandering Moon tea house, a Chinese Zodiac-themed garden and a Tarzan musical featuring Chinese acrobats.
The park's seven square kilometer plot of land means there is plenty of space to expand, Disney Chief Executive Bob Iger told reporters ahead of the official opening on Thursday.
"There is actually construction going on this week. When we open we will continue the construction to expand what's on the opening day menu," he said.
"We have plenty of space to do that and we believe we've got willing partners... We think we will probably do that sooner rather than later."
Iger, who scouted the Shanghai site in 1999, said China had incredible potential given its size. Disney estimates there are 330 million people within a three hour radius of Shanghai, the country's financial center, who would be able to afford to come to the park.
Shanghai Disney could also help lure more consumers to its films. "Zootopia", "Captain America: Civil War", "The Jungle Book" and "Star Wars: the Force Awakens" are among the 10 most-watched movies in China of 2016, reaping more than $690 million in ticket sales, according to Box Office Mojo. Characters from those films will feature at the Shanghai resort.
Disney, though, is facing intense competition from billionaire developers building homegrown parks and from domestic cartoon characters. It also faces a deeply ambivalent attitude to its products in China.
On one hand, Iger received a presidential welcome from Xi Jinping in May, and Disney has been granted "special" trademark protection. But China's main military newspaper has also warned that "Zootopia", a story about a rabbit police officer in an animal city, was a tool for spreading U.S. propaganda and ideals.
Disney is also not set to reap all the rewards. The resort is a joint venture with state-owned Shendi Group, which has a 57 percent stake - a concession agreed during lengthy negotiations.
Shendi is a consortium controlled by four large government-owned companies: Shanghai Media Group; hotelier Jin Jiang International, controlled by the city of Shanghai; supermarket-to-department store operator Bailian Group, and property developer Lujiazui Development Group.
(Reporting by Adam Jourdan; Editing by Edwina Gibbs)