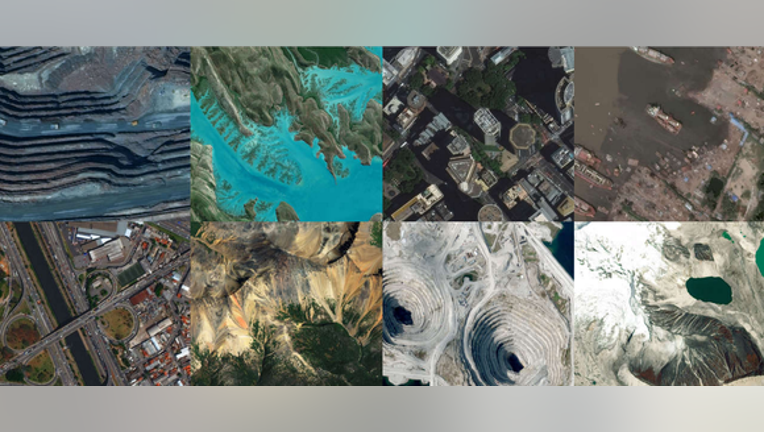 Following rumblings earlier this month that DigitalGlobe (NYSE: DGI) was in advanced talks to be acquired, the satellite-image purveyor confirmed as much, along with its better-than-expected fourth-quarter 2016 results, on Friday.
DigitalGlobe has agreed to let Canadian satellite company MacDonald Dettwiler & Associates (TSX: MDA)acquire it in a cash and stock deal worth $35 per share, representing an 18% premium to DigitalGlobe's unaffected price as of Feb. 16, the day before news of the deal broke. DigitalGlobe shareholders will receive $17.50 per share in cash and 0.3132 MDA common shares for each DGI common share they own. That deal values DigitalGlobe at an equity value of roughly $2.4 billion and an enterprise value of $3.6 billion, including MDA's assumption of DigitalGlobe's $1.2 billion in net debt. Both companies' boards of directors have already unanimously approved the deal, which is expected to close in the second half of 2017.
The acquisition is, however, still subject to regulatory approval, as well as the approval of both MDA and DigitalGlobe shareholders, and the companies will continue to function separately until the deal closes. In the meantime, let's take a closer look at how DigitalGlobe finished 2016.
Image source: DigitalGlobe, Inc.
DigitalGlobe results: The raw numbers
Data source: DigitalGlobe.
What happened with DigitalGlobe this quarter?
Revenue growth was driven by a combination of DigitalGlobe's $140 million acquisition of The Radiant Group late last year and growth in value-added services.
Q4 losses were primarily the result of a $35.7 million loss on the extinguishment of debt related to debt refinancing.
The company refinanced outstanding debt by entering into a new credit facility in December, extinguishing its $600 million aggregate principal amount of 5.25% senior notes through a tender offer and redemption completed in January.
Adjusted earnings before interest, taxes, depreciation, and amortization (EBITDA) fell 7.8% year over year, to $94.4 million.
Adjusted EBITDA margin declined 740 basis points, to 49%, because of the Radiant Group acquisition.
The company successfully launched its WorldView-4 satellite on Nov. 11, achievingcommercial operations with the first Direct Access Program customer in February.
Cash flow from operations dropped declined 5.7%, to $86.9 million.
Free cash flow grew 70.2% year over year, to $49.7 million, thanks to lower capital expenditures following the launch of WorldView-4.
The company completed the outstanding share-repurchase program, making a total of 15,365,411 shares repurchased for $335.3 million, or an average price of $21.82 per share.
The company signed Esri and Harris as ecosystem partners, who join the likes of Facebook, Orbital Insight, SpaceKnow, PSMA, Lockheed Martin, and PrecisionHawk.
What management had to say
DigitalGlobe CEO Jeffrey Tarr stated:
Tarr elaborated on the MDA deal in another statement within the separate disclosure:
Looking forward
DigitalGlobe also offered an early look at its expectations for the coming year, calling for 2017 revenue of $840 million to $865 million. That's up from $725.4 million in 2016 and well above analysts' consensus estimates for 2017 revenue of $836.7 million. Meanwhile, DigitalGlobe anticipates 2017 adjusted EBITDA of $380 million to $395 million, compared with $382.7 million in 2016, and capital expenditures of roughly $100 million, down from $192 million 2016.
In the end, there was little not to like about this strong quarter from DigitalGlobe, from the long-awaited launch of its next-gen WorldView-4 satellite to its improved financial profile. For now, however, unless the deal fails to pass regulatory muster or receive shareholder approval, expect DigitalGlobe's share price to be tethered to the ebbs and flows of its pending acquirer.
10 stocks we like better than DigitalGlobeWhen investing geniuses David and Tom Gardner have a stock tip, it can pay to listen. After all, the newsletter they have run for over a decade, Motley Fool Stock Advisor, has tripled the market.*
David and Tom just revealed what they believe are the 10 best stocks for investors to buy right now... and DigitalGlobe wasn't one of them! That's right -- they think these 10 stocks are even better buys.
Click here to learn about these picks!
*Stock Advisor returns as of February 6, 2017
Steve Symington has no position in any stocks mentioned. The Motley Fool owns shares of and recommends Facebook. The Motley Fool recommends DigitalGlobe. The Motley Fool has a disclosure policy.