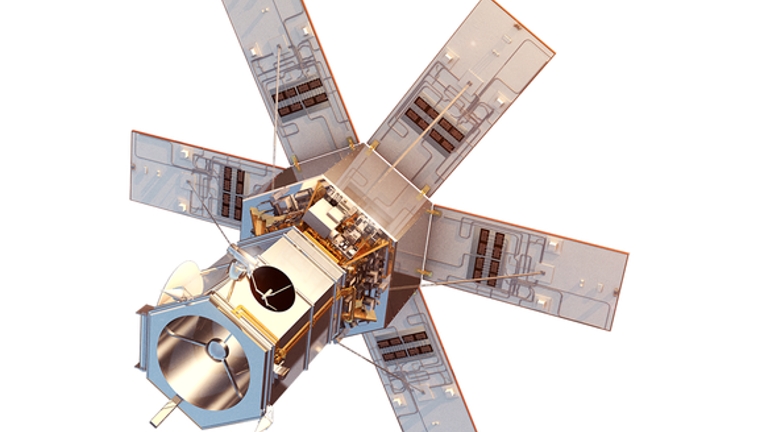 DigitalGlobe(NYSE: DGI) released first-quarter 2017 results Tuesday after the market closed, which were highlighted by broad-based, accelerated revenue growth and the first direct access capacity to international customers for its cutting-edge WorldView-4 satellite.
Considering DigitalGlobe's impending merger with Canada-based MacDonald, Dettwiler & Associates (TSX: MDA), however, we shouldn't expect shares of the satellite image purveyor to move much on the news. But let's zoom in to see what drove DigitalGlobe's business to start the year, how the merger is progressing, and what investors should expect in the months ahead.
DigitalGlobe's WorldView-4 Satellite, IMAGE SOURCE: DIGITALGLOBE, INC.
DigitalGlobe results: The raw numbers
Data source: DigitalGlobe.
What happened with DigitalGlobe this quarter?
DigitalGlobe's net losses were primarilya result of merger costs and lower capitalized interest and depreciation after placing WorldView-4 in service this past November.
U.S. government revenue increased 25.4% year over year to $28 million, thanks primarily to contracts obtained through DigitalGlobe's $140 million acquisition of The Radiant Group last year.
Diversified commercial revenue climbed 9.7% to $6.3 million, including an 8.7% increase in direct access program (DAP) revenue, thanks to demand for capacity on WorldView-4, and 10.7% growth from demand for the Global Basemap product suite.
Adjusted earnings before interest, taxes, depreciation, and amortization (EBITDA) were $95.5 million, up slightly from the same year-ago period.
Cash flow from operations declined 35% year over year to $38.7 million because of merger costs, higher WorldView-4 costs, and higher bonus compensation,given the company's stronger-than-expected 2016 performance. Free cash flow declined 14.8% to $17.8 million.
DigitalGlobe began offering direct access capacity to select international defense and intelligence customers in February.
DigitalGlobe's merger with MDA is still expected to close by the end of 2017.
What management had to say
DigitalGlobe CEO Jeffrey Tarr stated:
Looking forward
Finally, DigitalGlobe reiterated its outlook for 2017 revenue of $840 million to $865 million, adjusted EBITDA of $380 million to $395 million, and capital expenditures of roughly $100 million. In light of its impending merger with MDA, DigitalGlobe is not holding its usual quarterly earnings conference call.
As a reminder, the terms of that acquisitiondictate that DigitalGlobe shareholders will receive $17.50 per share in cash and 0.3132 MDA common shares for each common DGI share they own. With MDA shares closing today at 66.80 Canadian dollars (or roughly $48.74 U.S. dollars, based on current exchange rates), that implies an acquisition price of $32.76 per share as of this writing -- a roughly 2% premium to DigitalGlobe's closing price on Tuesday. In the end, as long as the merger remains on track, we can expect the price of DigitalGlobe sharesto remain closely tied to MDA's own movements until the transaction is complete.
10 stocks we like better than DigitalGlobeWhen investing geniuses David and Tom Gardner have a stock tip, it can pay to listen. After all, the newsletter they have run for over a decade, Motley Fool Stock Advisor, has tripled the market.*
David and Tom just revealed what they believe are the 10 best stocks for investors to buy right now... and DigitalGlobe wasn't one of them! That's right -- they think these 10 stocks are even better buys.
Click here to learn about these picks!
*Stock Advisor returns as of May 1, 2017
Steve Symington has no position in any stocks mentioned. The Motley Fool recommends DigitalGlobe. The Motley Fool has a disclosure policy.